Sponsored Article
11 Ways to Make Your Mac Menu Bar Beautifully Useful
Useful Apps Like Bartender, One Switch, and iStat Menus Help Personalize Your Menu Bar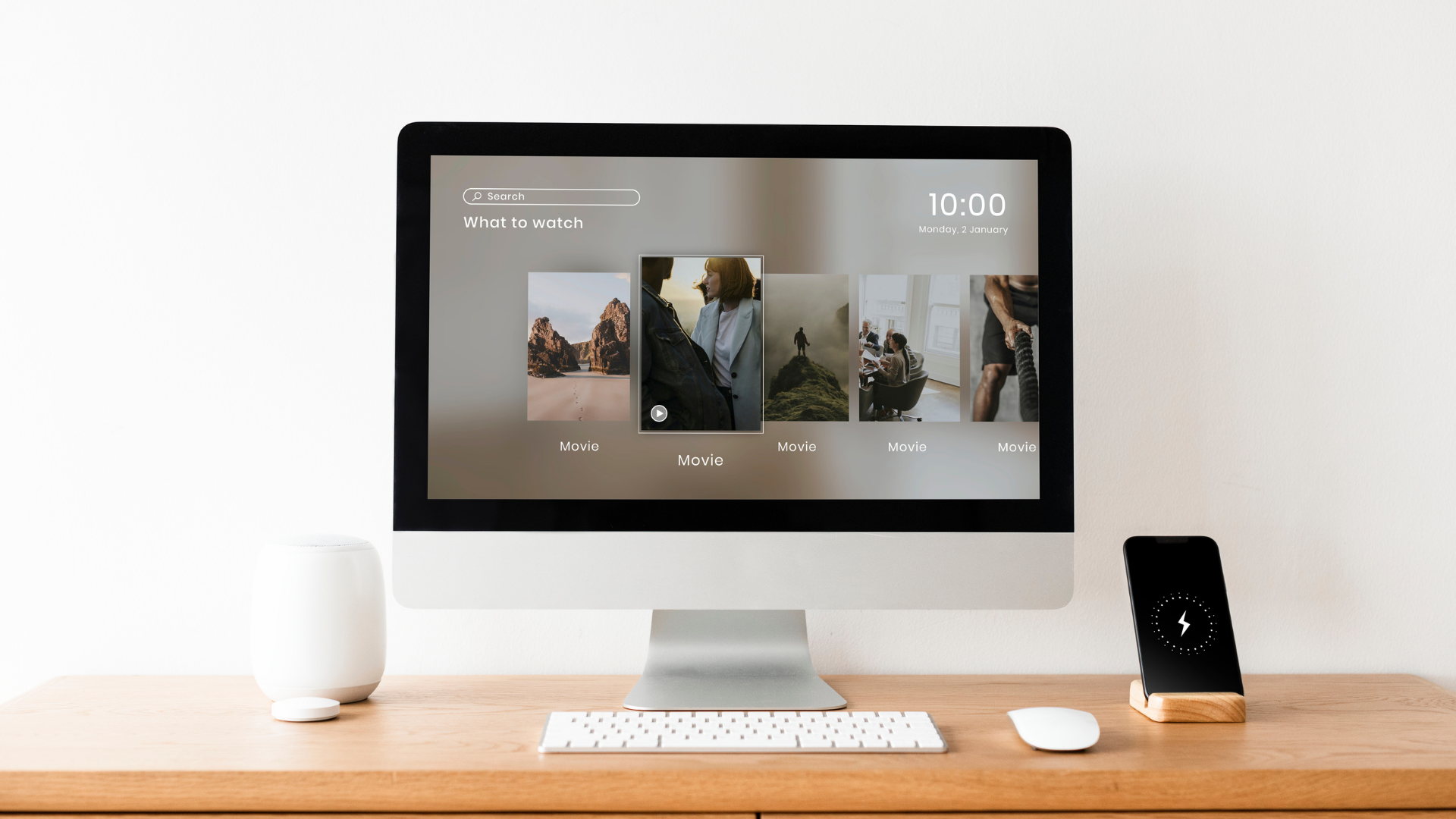 Laptop shoppers typically invest in a MacBook because of its performance and user experience. Apple fans may be accustomed to the macOS interface, which differs significantly from Windows. Even a MacBook's menu bar is different in appearance and how you can tailor it to suit personal preferences.
Many Apple users would agree that personalization may not be one of its greatest strengths for all the MacBook's high performance. Although the menu bar is probably one of the few macOS features you can personalize, it could still be more useful if customization options were available. Detailed below are some tips and tools to make your Mac menu bar convenient and even more functional.
Personalize Your Mac Menu Bar with These Tips: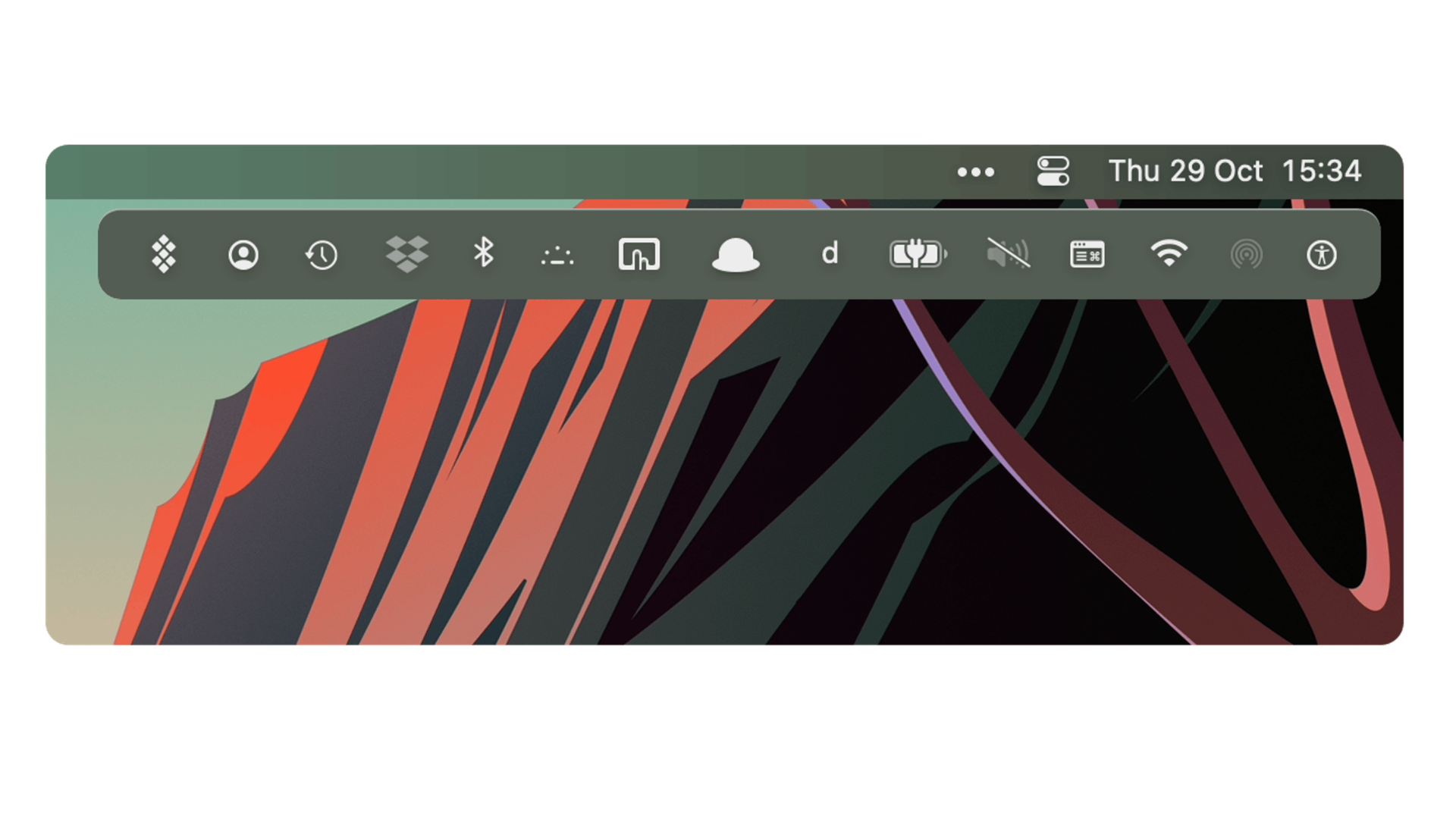 1. Choose what icons to display
The default Mac menu bar is visible on top of the screen. It contains app and status menus and the battery level of your device. If you've been using your MacBook for some time now, you might realize that you probably don't use some of the icons on the menu bar very often. You could choose to hide these icons and display only those that you need. Simply hold down the Command key and drag the icon you want to remove from the menu bar.
2. Set different spacing for icons
Depending on how many app and system icons you have on the menu bar, icons could look either too crowded or too far apart. Use Bartender, an app that lets you personalize your menu bar, to set a spacing that suits your preferences. With Bartender, you can set the spacing to Normal, Small, or No Spacing. No Spacing comes in handy when you want to fit more icons on the menu bar.
3. Only show icons on hover
It's a matter of preference, but you could opt for a menu bar that stays hidden until it's needed. It's one less item visible on screen, which could create a cleaner look. Use the Quick Reveal feature from Bartender to hide the menu bar out of sight. With this feature turned on, the menu bar only appears when your hover the mouse over it.
4. Enhance the Control Center with Keep Awake
Easily switch how long you want your MacBook to stay on by displaying Keep Awake on the menu bar. One of the handiest features from the app One Switch, Keep Awake prevents your Mac from going to sleep for a set period. Toggle it on or off and change the time settings conveniently from the menu bar.
5. Consider an immediate screen saver
Perhaps you're in a meeting and would like easy access to a blank screen after reporting. You can easily do this by placing the shortcut icon for Screen Saver on the menu bar. One Switch for Mac lets you turn on the screensaver in just one click.
6. Utilize the Dark Mode icon
MacBooks with an ambient light sensor can automatically raise or lower the screen's brightness. The ambient light sensor detects the brightness of the room and adjusts the screen's brightness accordingly. However, many would agree that this feature does not always suit the user's preferences. Consider turning off this feature and adding the Dark Mode from One Switch to your menu bar instead. Toggle between dark and light modes with just one click of the icon.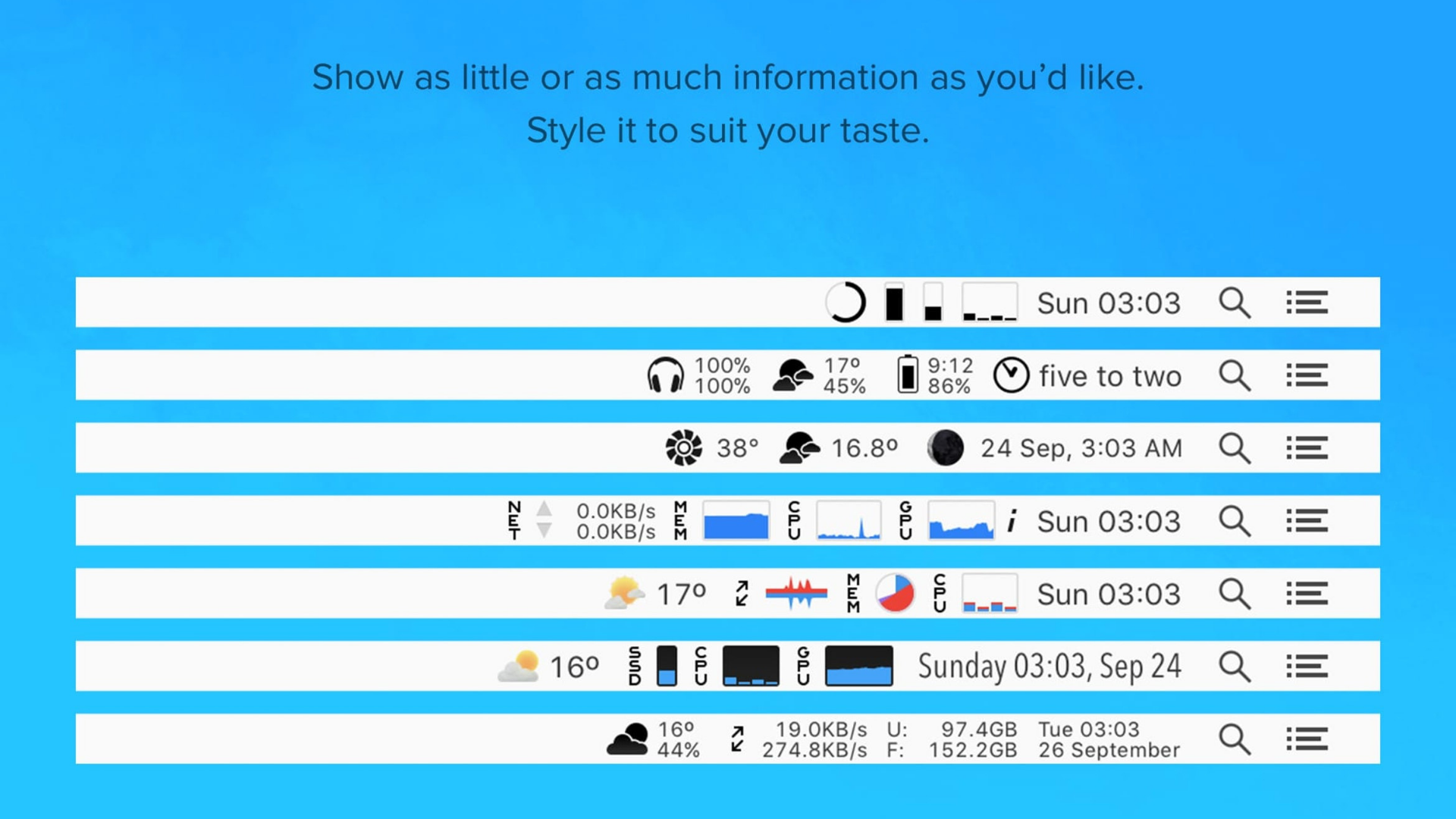 7. Show all battery levels on Menu Bar
A default menu bar typically shows a system icon for the MacBook's battery level. However, suppose you're also using wireless headphones, a magic keyboard, a magic mouse, or another wireless model. In that case, you'd also want to stay informed about their battery levels. Activate the iStat Menus on the menu bar to show all battery levels. You'd never have to guess which one needs charging.
8. Display CPU and Memory usage live
If you're someone who uses many apps and downloads multiple files each day, consider displaying the live CPU and Memory usage icon on the menu bar. View CPU and memory stats immediately with iStat Menus set up. These menus include easy access to a list of all the apps you have so far so you can see which ones are using the most memory.
9. Check your Mac's temperature monitor
MacBooks have built-in vents that keep the device cool while in use. However, many Apple users would agree that their MacBooks still feel hot from time to time. Overheating can cause permanent damage to your device. It's handy to display your Mac's temperature monitor on the menu bar to help prevent heat damage. Simply install iStat Menus via Setapp to access this feature.
10. Display the weather on the menu bar
Before heading out or reserving some outdoor seats for dinner, consider checking out the weather forecast. Display the weather icon on the menu bar to get constant information about the current climate and temperature. iStat Menus shows a temperature calendar, including the moon phases and wind speeds.
11. Display network speed and settings
Is your Wi-Fi slow when using a specific app? Stay on top of your network speed and bandwidth breakdown by displaying the Network System icon on your menu bar. iStat Menus provides a real-time graph of your network connections so you can adjust the bandwidth per-app accordingly.
There are more ways to customize icons on your menu bar according to what you need. Consider subscribing to Setapp to access over 200 tools and apps like Bartender, One Switch, and iStat Menus.
We may earn a commission from links on this page, but we only recommend products we back. Newsweek participates in various affiliate marketing programs, which means we may get paid commissions on editorially chosen products purchased through our links to retailer sites.