Full Sail University: Central Florida's Destination for Real-World Education
The university's approach to hands-on, specialized training helps students prepare for life beyond graduation.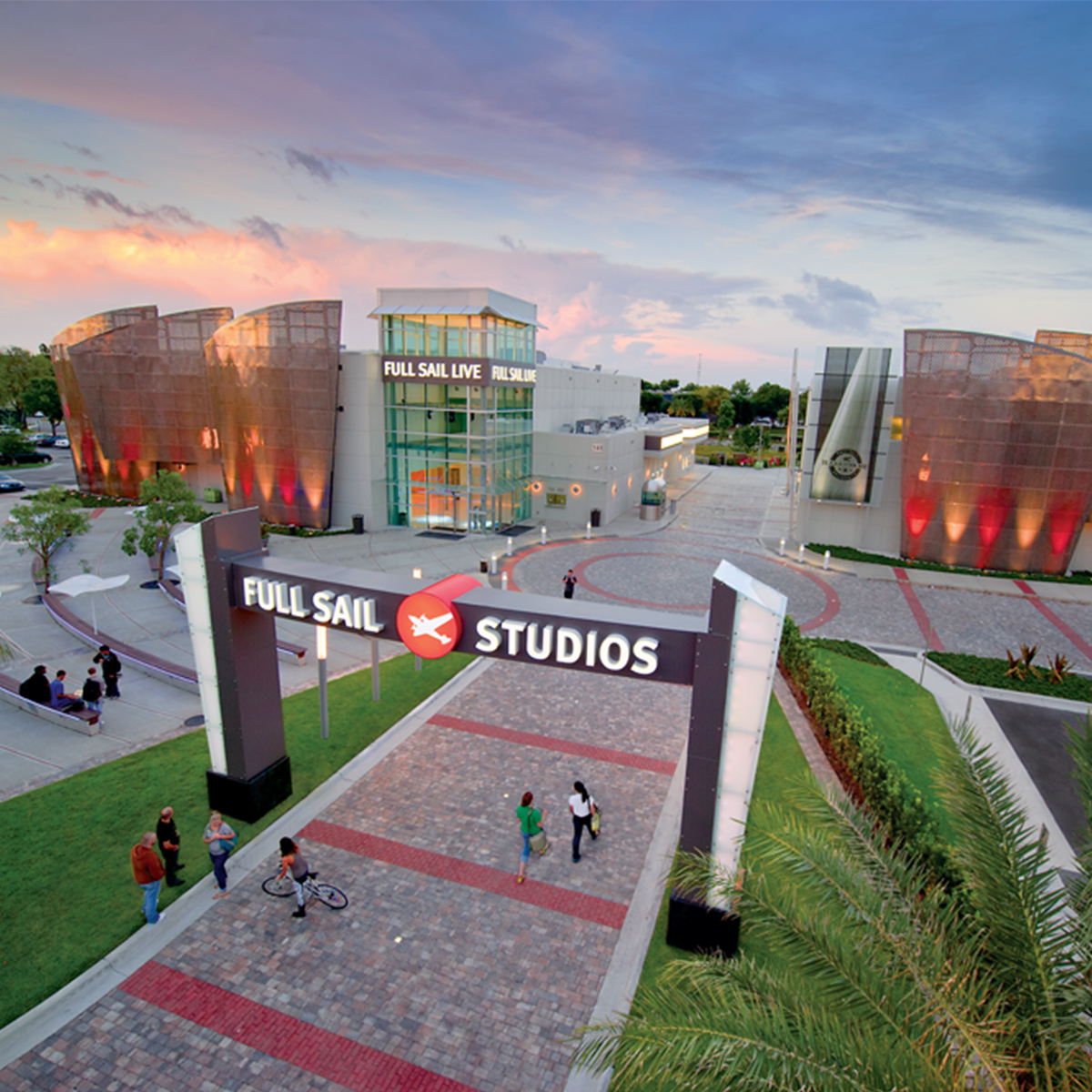 Florida is known as a spring break destination, but college students have another reason to head to the Sunshine State. Located north of Disney World and between Florida's coastal beaches, Full Sail University is a hot spot for students who are ready to work. With industry-focused, hands-on training and accelerated campus and online programs, Full Sail students can earn a bachelor's or master's degree in 29 months or less. From a student's first class to their final project and beyond, Full Sail gives students the skills and support they need to succeed in industries like entertainment, media, emerging technologies, and more.
It Starts with Students
There are Full Sail success stories in dozens of industries. Among Full Sail's 85,000+ graduates are Oscar, Emmy, and Grammy winners; programmers designing training simulations for the military; successful entrepreneurs; and many others. The school celebrates its successful grads with its annual Hall of Fame Week, where exceptional graduates are honored amid a week of conference-style panels and events.
Student success starts with Full Sail's educators, who are required to have at least four years of professional industry experience. They're also frequently acknowledged for excelling in the classroom. For example, Rob Catto, the program director for Full Sail's Simulation & Visualization bachelor's and Game Design master's degrees, was inducted into the National Center for Simulation's Modeling and Simulation Hall of Fame in 2021.
Educators aren't the only award winners at Full Sail. At the 2020 Iron Dev Competition, students from programs like Simulation & Visualization and Digital Arts & Design joined students from AdventHealth University to create a VR-based medical command center for hospitals. The project won the competition's Most Innovative Solution Award.
A Campus Designed for Professional Experiences
Full Sail doesn't just assign student projects that mimic the real world — the school brings real-world projects to campus through industry clients and professional productions. Students get hands-on experience creating their own portfolio projects and working on movies, commercials, live events, immersive technology, and more. It all begins with the studios, labs, and venues on Full Sail's 210-acre campus.
Studio V1: Virtual Production
When major studios like HBO and Disney started using virtual production technology to film hits like **The Mandalorian**, Full Sail was simultaneously working to bring the industry-changing technology to students. The school invested over $3 million in Studio V1: Virtual Production, a state-of-the-art studio where live-action footage is filmed in front of immersive sets that are built in video game engines; the studio was the site of a feature film production – the thriller 9 Windows – even before its official opening.
Full Sail University Orlando Health Fortress
Full Sail Armada, the school's collegiate esports organization, formally launched in 2016. Just two years later, Full Sail gave Armada an official home by building the nation's largest collegiate esports arena, the Full Sail University Orlando Health Fortress, home to Armada tournaments and other esports events. Full Sail hosted the 2022 Special Olympics USA Games Unified Esports Invitational, the Games first-ever esports exhibition, from the Fortress, utilizing staff, faculty, graduates and students in production roles. Additionally, the Special Olympics athletes were teamed up with Full Sail Armada athletes to compete in a **Rocket League** tournament that was broadcast on ESPN3.
Audio Temple
The Audio Temple is a combination classroom and full-featured recording studio. When students aren't putting the finishing touches on their recording projects in the Audio Temple, award-winning industry professionals are using the space for recording, mixing, mastering, and more. Gospel singer Tye Tribbett recorded his album **The Bloody Win** in the Audio Temple; and Hall of Fame graduate and Grammy-winning Mix Engineer Leslie Brathwaite mixed tracks from Ariana Grande's **Sweetener** album in the Audio Temple.
Full Sail Live Venue
Students who want to work behind the scenes on live productions after they graduate can get experience with live sound, lighting, video, and more in the Full Sail Live Venue, which recently had a round of upgrades including new wireless microphones, a complete overhaul of the lighting system, and a new laser system. Grammy-nominated metal band Trivium streamed their concert event "A Light or a Distant Mirror" from the venue during the early days of the COVID-19 pandemic.
Emerging Tech Labs
Full Sail students can keep up with the ever-changing world of tech in the school's extensive lab facilities. The Sim Lab has been home to Simulation & Visualization student projects like a Millennium Falcon simulator and a space shuttle landing simulator; in the Fab Lab, students can use equipment like 3D printers and laser scanners to build custom parts for their projects.
Tech students with a passion for virtual and augmented reality get hands-on experience in the VR/AR Lab, where they can develop applications and test them out with headsets from Magic Leap, Oculus, Microsoft, and more.
Human physiology and technology meet in the User Experience Lab, where students can measure test subjects' facial expressions, eye movements, and sweat gland activity to determine how a user feels about the technology in front of them. Full Sail's Smart Lab is a dedicated learning facility for students that features the latest technology solutions in homes, wearables, and more. The recently opened Fitness Technology Lab Powered by Echelon Fit is a partnership between Full Sail and Echelon Fitness, giving students in Full Sail's emerging technology degree programs the opportunity to participate in innovative research initiatives centered on enhancing Echelon equipment and features, as well as the development and implementation of new features for different product lines and fitness and wellness solutions.
Full Sail's Industry Accolades
Over the years, several publications have noted Full Sail's curriculum, educators, facilities, and successful grads, honoring the university with accolades. Full Sail was included on **Newsweek**'s 2022 list of America's Top Online Colleges. In 2022, the Princeton Review named Full Sail to its list of "Top 25 Best Graduate Game Design Programs" for the seventh year in a row. **Graphic Design USA** added Full Sail to its 2022 list of Top Design Schools, and graduates from Full Sail's Art & Design programs make regular appearances on the publication's yearly list of Students to Watch.
Beyond Graduation: Full Sail's Career Resources
A student's relationship with Full Sail doesn't end when they graduate: The school strives to give graduating students a leg up in their industry with tailored career resources. In addition to career skills being woven into all degree programs' curriculum, Full Sail students near graduation are paired with an advisor who helps them develop a personalized employment strategy. Upcoming graduates can hear tips and tricks from companies like LucasArts, ESPN, and more that have made on-campus presentations. Full Sail also maintains working relationships with employers across a number of industries to connect graduates with open positions. Full Sail alumni can always reach out to Career Development or Full Sail's Alumni Division after they leave; alums can also connect with fellow grads across the globe during virtual alumni mixers.
To learn more about Full Sail University, visit fullsail.edu.