Miso Robotics Automates Fast Food and Turns Profits
Robots have arrived, and they're frying chicken wings and filling drinks. Now you can invest in Miso Robotics, the startup making it possible.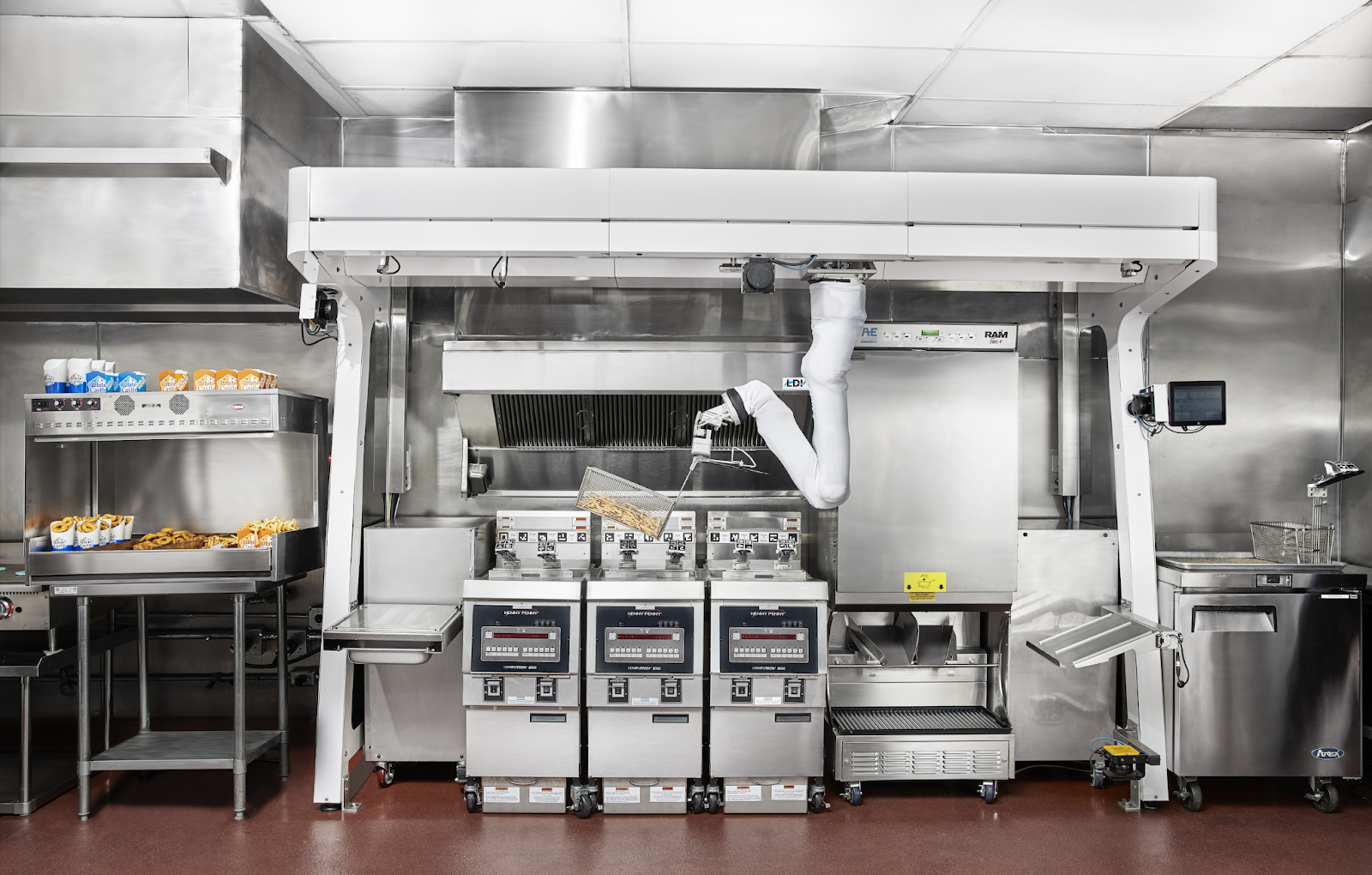 Miso Robotics' automated frying arm, known as Flippy, is gaining national traction—and now you have the chance to join it as an early backer as the company continues its fast expansion. Miso Robotics is already partnering with some of the top quick-service restaurants, including White Castle and Inspire Brands.
Here's why you can't wait any longer to invest.
Restaurants Need Automation Now More Than Ever
Everyone needs to eat, yet the food service industry has been plagued by razor-thin profit margins and a growing demand for labor that's significantly outpacing supply. The fast-food industry spends over $83 billion on wages annually, and with a nearly 150 percent employee turnover rate, only automation can fill the gap.
Miso Robotics' automated kitchen assistants can solve the problem. They do the heavy lifting of cooking, frying and grilling, as well as drink filling, so restaurant staff can focus on making customers feel welcome and generating more money for the business. The company boasts that its kitchen assistants have helped restaurants boost output by 30 percent and have improved quality and consistency. Best of all, they've grown profits.
That's why White Castle partnered with Miso Robotics to try out Flippy in 2020. The test run created such an immediate positive impact on productivity and daily operations that White Castle decided to deploy Flippy 2—Miso's latest iteration of Flippy—to 100 locations nationwide.
Global multibrand restaurant company Inspire Brands, the parent company of Buffalo Wild Wings, was next to take notice of the new and improved Flippy 2. It is now testing the robot and tailoring it to exact specifications for a project aptly named Flippy Wings. This iteration of Flippy is the only robotic chicken-wing frying solution designed for high-volume restaurants and will translate to less waste.
More recently, Jack in the Box has joined the food automation movement to maximize efficiency and deliver a top-notch customer experience. In partnership with Miso Robotics, the restaurant plans to incorporate a pilot program to test Miso's Flippy 2 and Sippy product lines in one of their standalone locations, with intentions for further integration in the months ahead.
This Is Only the Beginning for Miso Robotics
Miso Robotics' current partnerships are proof it's solving big problems for restaurants. Now it's time to grow. The company plans to continue pushing forward to capture the interest of other quick-service restaurants in need of robotic innovation.
In fact, Miso has also launched pilot programs with two major restaurant chains for its automatic beverage dispenser, Sippy, which efficiently fills, seals and labels drinks. There's also Miso's CookRight, which uses advanced AI to identify food items, monitor cooking times and alert team members to manage critical cooking tasks with greater efficiency and accuracy.
With more than 100 restaurants currently utilizing Flippy's suite of technology, Miso has the potential to expand further to the over 204,500 quick-service restaurants currently operating in the United States. A Miso Robotics kitchen assistant will likely be serving you a meal in the near future—so be sure to secure shares ahead of the company's expansion.
To date, Miso Robotics has put over $50 million in investor funding to good use, exemplified by its rapid growth and traction with major brands. Now you can join the automation revolution to power the next wave of Miso Robotics' nationwide expansion.
Invest in this food automation industry game changer today.
Miso Robotics is offering securities through the use of an Offering Statement that has been qualified by the Securities and Exchange Commission under Tier II of Regulation A. A copy of the Final Offering Circular that forms a part of the Offering Statement may be obtained from: Miso Robotics.
Newsweek Inc. may receive monetary compensation by the issuer, or its agency, for publicizing the offering of the issuer's securities. Newsweek Inc. and the issuer of this offering make no promises, representations, warranties or guarantees that any of the services will result in a profit or will not result in a loss.
The contents of this article is for informational purposes only and does not constitute financial or investment advice. It's important to perform your own research and consider seeking advice from an independent financial professional before making any investment decisions.