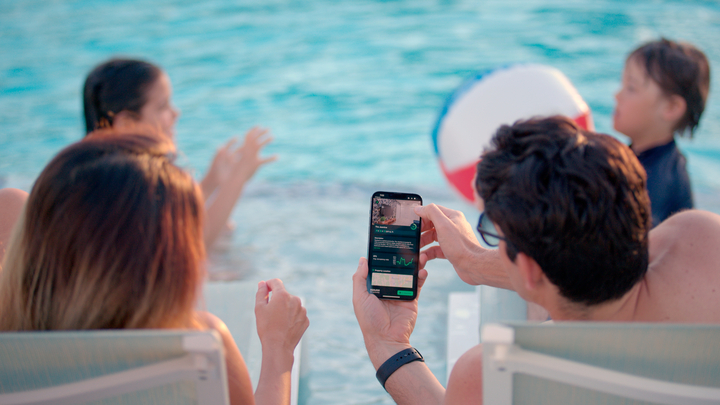 ReAlpha Is Opening the Global Short-Term Rental Market to All
Did you know half of all billionaires typically invest between 21 percent and 40 percent of their assets in real estate? Yet the rest of us wanting to get in on the returns available in the global short-term rental market, estimated at $1.2 trillion in 2020, most often lack the capital to buy into investment properties or don't have the time for renovations and maintenance.
Thanks to the up-and-coming startup ReAlpha, investors have a chance. This innovative company is breaking down barriers to entry into the vacation rental market. It allows its members to gain exposure to the industry through its digital marketplace, which brings together a powerful combination of AI-powered property selection, syndicates that enable members to commit modest amounts of capital, and sophisticated property management that removes logistical headaches from the equation.
But ReAlpha isn't just changing this market at the property level. Right now, it's giving investors another way to get in on this growing short-term rental trend–by investing in ReAlpha as a shareholder through its $75 million Regulation A stock offering. The company will use the proceeds to put 10 percent down payments on about 1,500 properties, which will take the company to $750 million in assets under management. ReAlpha will then open up its app to new members to generate more capital and add another $750 million in assets under management, bringing the company's portfolio up to $1.5 billion total.
Acquiring Outsize Returns in Short-Term Rentals
On average, Airbnb could generate up to 70 percent*​​ more than the long-term rental revenue estimates from Zillow, according to a ReAlpha analysis. Airbnb disrupted traditional hospitality so much that it expected to be short millions of homes, according to a 2021 CNBC article.
Now ReAlpha plans to transform and open the industry for ownership of short-term rental properties. By bringing together smaller investors to pool funds for property acquisitions and using its AI technology to identify, purchase and manage properties, ReAlpha could generate returns for itself, its users and its investors.
How ReAlpha Opens the Door to Recurring Revenues
The startup's digital marketplace pairs users with other like-minded investors to form a syndicate. These members can contribute a minimum of $2,500 alongside other members of the syndicate to accumulate enough equity to purchase 49 percent of a property. This opens the door to ReAlpha members who do not want to pay the many hundreds of thousands in equity and mortgage debt necessary to buy a property by themselves.
And while investment properties usually require buyers to put 25 percent down, ReAlpha's long-standing relationships with lenders allow it to cut that equity requirement to 10 percent. Since ReAlpha covers 51 percent of the cost, it manages everything from renovations to Airbnb listings and bookings to maintenance as well as an eventual sale. By investing a small fraction of the total, members could bring in steady quarterly dividends from Airbnb rental revenues as passive income.
Here's how the startup generates potential revenue: ReAlpha members could get 20 percent from any increases in its properties' value through ReAlpha's strategic buying and renovating. Reinvesting these gains in new properties through smart refinancing or sale could allow for 100 percent compounding of the initial capital into more properties.
How to Invest in ReAlpha's Groundbreaking Model
Because ReAlpha holds a 51 percent stake in each property, it collects that stake's share of cash flow from rent and the eventual sale. It also takes a 20 percent management fee from syndicate member revenue.
Right now, ReAlpha is selling equity to raise capital to scale its property portfolio. Its $75 million offering will allow it to make down payments on up to $750 million in assets under management. And since its users will ultimately provide 49 percent of the equity, it could generate enough funds for up to another $750 million. This could bring its total out-of-the-gate assets under management potential to $1.5 billion, with no dilution to its shareholders.
Investors can visit ReAlpha's website to purchase shares in the company and access offering information. ReAlpha is poised to revolutionize ownership in the short-term rental market in a new and innovative way, and savvy investors can help build the company and invest in their own futures now.
Disclaimers:
*Our claim for 70 percent or higher Airbnb revenue is from a small group of properties that we have tested in one industry. These results may vary completely and produce different yields.
An offering statement regarding this offering has been filed with the SEC. The SEC has qualified that offering statement, which only means that the company may make sales of the securities described by the offering statement. It does not mean that the SEC has approved, passed upon the merits, or passed upon the accuracy or completeness of the information in the offering statement. The offering circular that is part of that offering statement is here. You should read the offering circular before making any investment.
Massachusetts Residents
Our Regulation A offering is not being made in Massachusetts and our common stock is not available for purchase by Massachusetts residents.
Newsweek may receive monetary compensation by the issuer, or its agency, for publicizing the offering of the issuer's securities. Newsweek and the issuer of this offering make no promises, representations, warranties or guarantees that any of the services will result in a profit or will not result in a loss.
The contents of this article is for informational purposes only and does not constitute financial or investment advice. It's important to perform your own research and consider seeking advice from an independent financial professional before making any investment decisions.