Sponsored Article
Shutterfly's 10 Personalized Home Decor Must-Haves to Spruce Up Your Space
Style Your Space With Shutterfly Your Way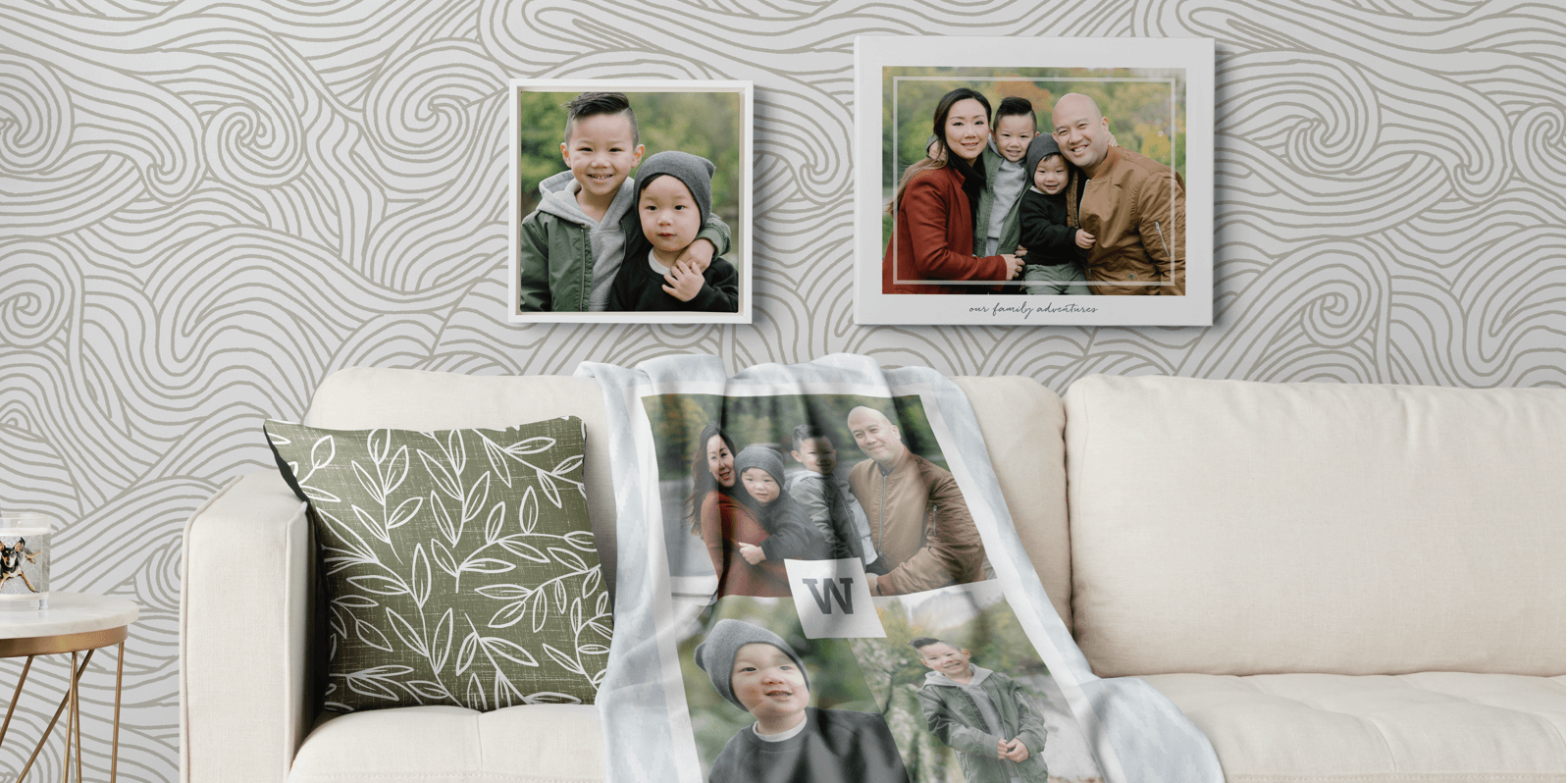 Fall in love with your life's memorable moments, time after time, with customizable home decor from Shutterfly. It makes it easy to create your personalized space that can also make great gifts, from wall decor to drinkware, coasters and cutting boards.
Shutterfly can help you refresh your home. Give your living room a sweet touch with a fleece blanket. Accent your home office decor with paperweights or pencil holders. You can even decorate your kitchen with your favorite people on potholders.
Simply No Place Like Pot Holder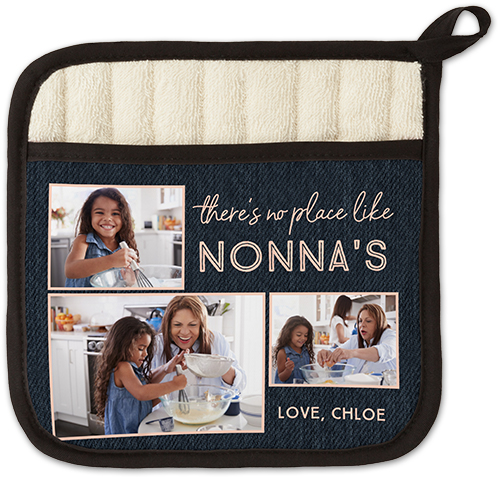 This personalized pot holder, with terry lining, will put a smile on the face of your beloved chef every day of the week. Kids will love designing these gifts, too. You have the option to upload your own design or choose from several different custom layouts. Options for photo uploads include one, two, three and four-plus images. From modern block collage to occasions like Grandparent's Day, Shutterfly offers you a lot to choose from.
Buy a personalized potholder for $15.99.
Gunmetal Splatter Desk Caddy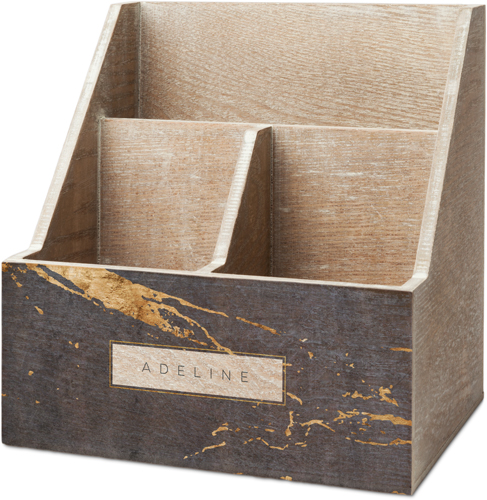 This wood desk caddy, splattered with metallic gold, can add just the right touch to any home office. You can add your name, photo, or favorite slogan to desk caddies from Shutterfly. The desk caddy also comes in other layouts and fonts with options to add images.
Buy the Gunmetal Splatter Desk Caddy for $24.99.
Captured Moment Metal Photo Tile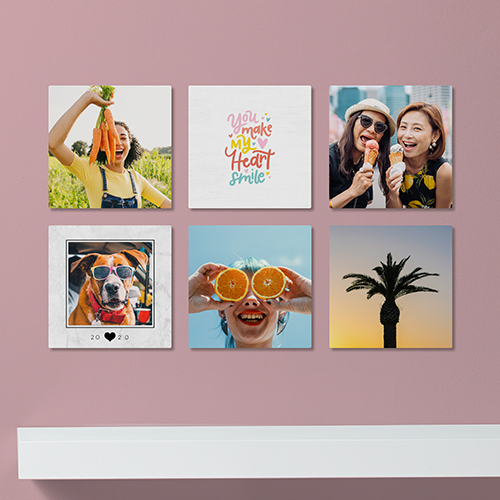 Photo tiles have taken the home decor world by storm over the last few years. Why not spruce up your walls with fun captured moments that are repositionable, lightweight, and require no nails. Frame a quote on a photo, create a collage of seasonal moments or show off a modern family portrait. The possibilities are endless with photo tiles.
Buy the photo tiles for $15.99.
Two Tones Rustic Double Wooden Print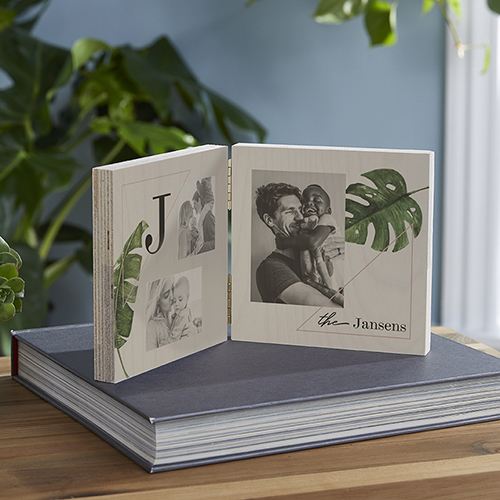 Wood frames add a modern yet rustic feel to any room in your home. This cute hinged frame lets you show off two memories side by side. Crafted on hardwood birch panels, each panel measures approximately 6 inches by 6 inches, and you can choose from various layouts to personalize your photos.
Buy this wooden print for $25.
Abstract Watercolor Fleece Photo Blanket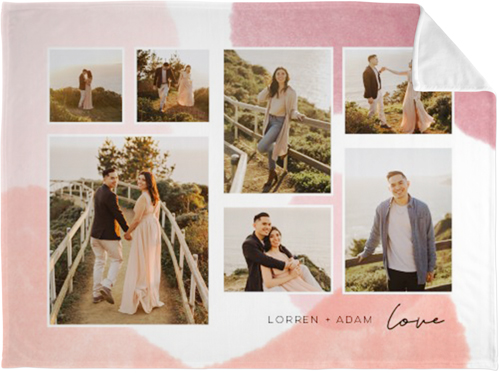 Wrap up in a warm sentiment with a one-of-a-kind fleece blanket from Shutterfly. Personalize this soft microfiber fleece blanket with photos, names or your favorite slogan. Available in sizes 30 inches by 40 inches, 50 inches by 60 inches and 60 inches by 80 inches. Shutterfly blankets are machine washable and suited for tumble drying. Pair your fleece with a personalized matching pillow to really make your space your own.
Buy a fleece blanket for $49.99.
Watercolor Gallery of Three Glass Candles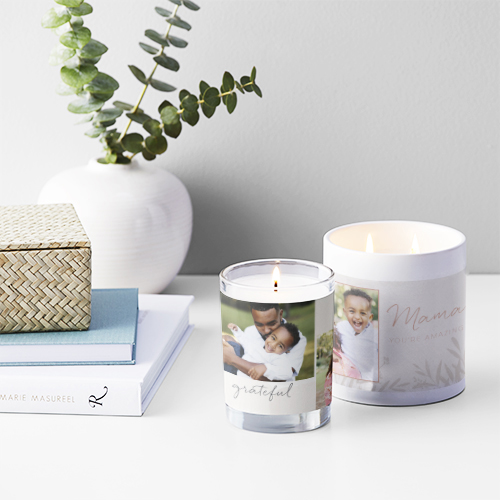 These glass jar candles can make any room feel just like home. Each candle is made with an all-natural soy blend with essential oils in grapefruit blossom, ocean breeze, fireside spice and unscented fragrances. Simply add your cherished moments for a little extra light in your home.
Buy the glass candles for $24.99.
Wild Grasses Blanket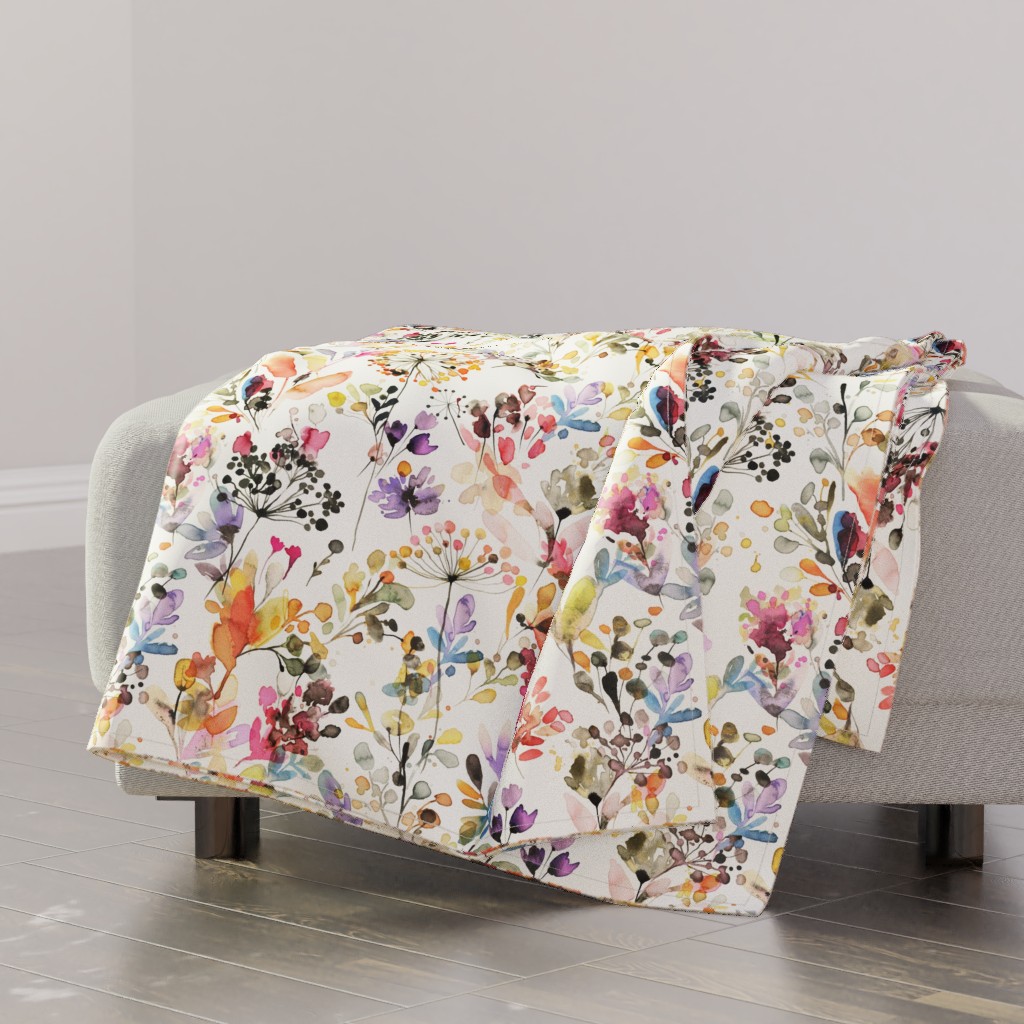 Available in fleece, plush fleece or sherpa, this blanket can add just the right amount of color to any room. While Ninola-design designed this blanket, you can customize your blanket from hundreds of prints and patterns to make it one-of-a-kind.
Buy the sherpa blanket for $59.99.
Outdoor Tavern Ceramic Beer Stein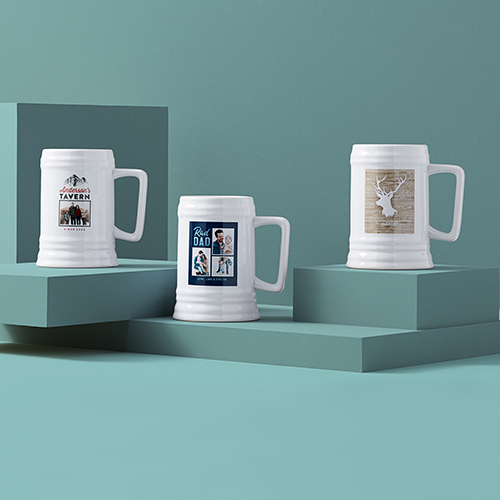 Home taverns and bars are increasingly popular these days. This stein is crafted with FDA food-safe ceramic material and holds up to 25 ounces. Give your toasts a twist with personalized ceramic beer steins.
Cheers Neoprene Wine Tote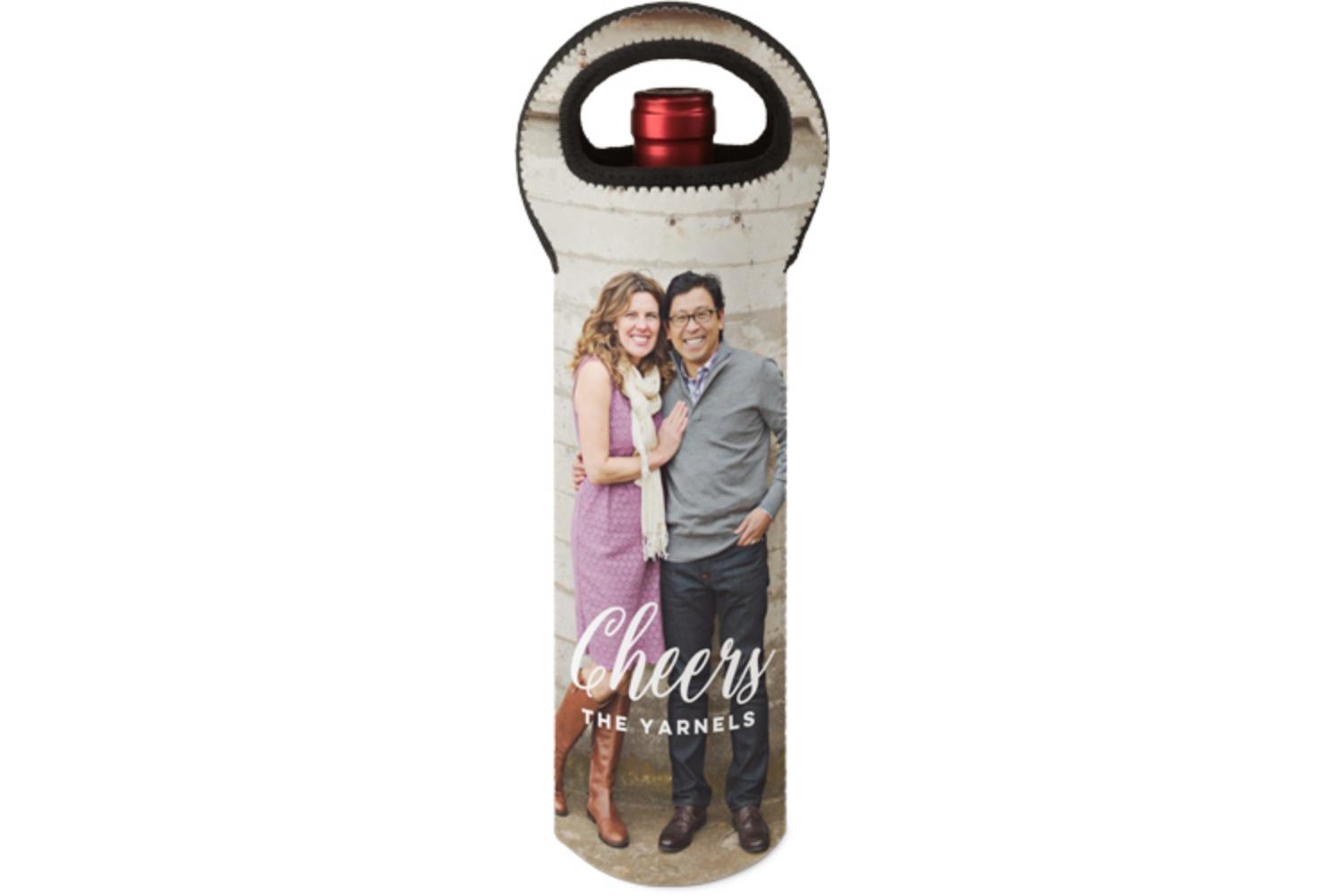 Take your memories with you when you hit the local wine and jazz festival this year or go on a picnic in the park. This neoprene tote can be personalized in various ways and carries a 750ml bottle.
Buy a neoprene wine tote for $14.99.
Stately Name Cutting Board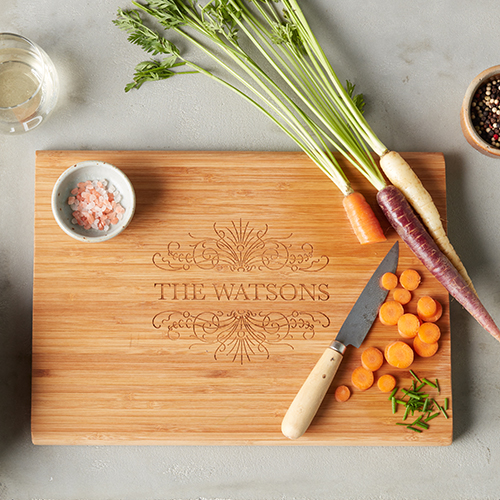 Serve up your favorite charcuterie or tapas and make a statement at your next dinner party or family game night. You can also hang cutting boards for a regal accent to any room in your home.
Buy a personalized cutting board for $25.
You can create trendy home decor with Shutterfly, no matter your style. Adding a personal touch to your space can also help you be more organized in your way. Treat yourself or a loved one with something sweet from Shutterfly and spruce up any room with a personal touch.
Newsweek may earn a commission from links on this page.