Spooky New York Cemetery Rattlesnake Sighting Leaves Locals Creeped Out and Confused
The creepiest thing in this New York cemetery wasn't the gravesites. On the evening of August 19, Cindy Hatin caught a report on her scanner that there was a snake issue near her house in Glens Falls, New York. When she and her husband, Don, arrived at the scene with a net and a plastic container, they were spooked by a two-foot-long rattlesnake. The serpent was apparently wrapped around a portion of a fence at a local cemetery.
"And it rattled," Cindy told The Glens Falls Post-Star. "It was angry."
The couple—who helps move hurt or misplaced animals for the North Country Wild Care—brought the rattlesnake to state environmental officials. The day after it was captured, the snake died.
How exactly the snake arrived at the cemetery remains unclear.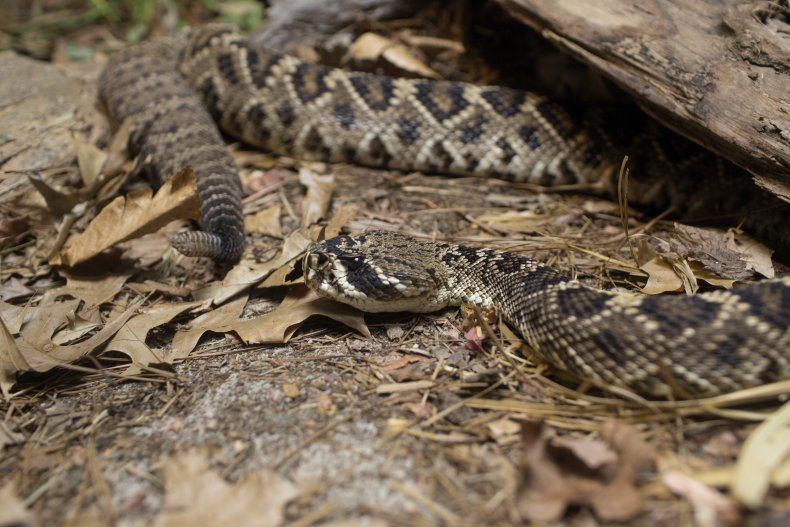 Hatin suggested to the Post-Star that the serpent had traveled to Glens Falls as a "stowaway" on a truck that was carrying supplies to a neighborhood store. When she shared photos of their discovery on Facebook, other residents of Glens Falls revealed that they spotted another rattlesnake in the area, plus a timber rattler that was recently run over by a car.
The State Department of Environmental Conservation is investigating these strange snake sightings.
"Due to the long distance between Glens Falls and the nearest known wild rattlesnake population and the busy roads and streets the snakes would have to cross to reach the cemetery, DEC does not think the snakes traveled to the cemetery on their own," DEC Region 5 spokesman David Winchell wrote in an emailed response to the Post-Star.
They also asked folks to stay away from snakes if they see them, and report any sightings.
This isn't the first time that a snake has shown up in a cemetery, of course. Back in May 2019, an eight-foot-long black snake was found in a graveyard in Pottsville, eastern Pennsylvania. The creature had taken up residency at Charles Baber Cemetery, ABC affiliate station WNEP reported at the time. Those visiting the cemetery at the time were advised to be on the lookout for the slithering reptile.
This summer, though, snake sightings have happened in all kinds of places. A massive snake was found slithering across a subway platform in Brooklyn this August. Over in west Texas, a man saw a snake poke its head out of the bottom of his toilet, which sounds like the stuff of literal nightmares. Twenty deadly snakes were found in a couple's home in Australia, and they were fortunate enough to escape without suffering any snakebites. One British man even found a corn snake slithering in his bed one night.
It's also baby copperhead snake season, so folks should be on the lookout for that serpent for now, until the start of September.