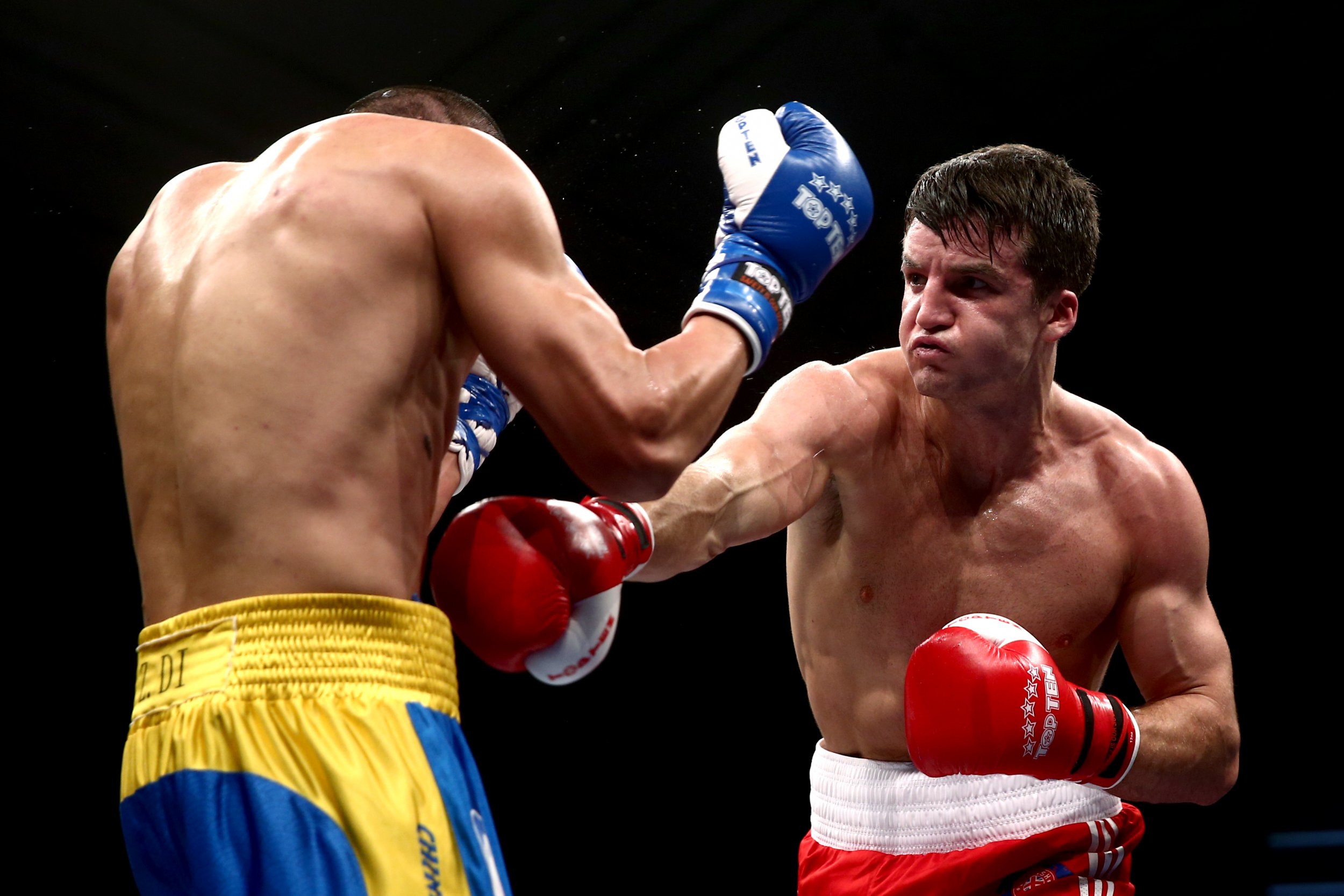 The name Fowler has been synonymous with a lethal, prolific Premier League striker for the past two decades. In nine years, Liverpool's Robbie Fowler helped the club to six major titles and was recognized as the country's best young player for two consecutive seasons.
But, now, a decade on since his swansong at Anfield, Robbie's cousin Anthony is determined to build on his family name in Rio this summer.
"Growing up, Robbie was playing for Liverpool and everyone was following his career," Anthony Fowler, Team GB's gold medal hopeful in the middleweight boxing division, tells Newsweek. "I played football but I wasn't the best and then, when I started secondary school, there was a lad in my class who boxed. I'd never had any intention of boxing in my life but I went down the gym with him and absolutely fell in love with it."
It was at the Golden Gloves gym in Toxteth that an 11-year-old Fowler first climbed into the ring and realized he had a natural talent as he beat at the pads and learnt the footwork of a fighter.
"One of the main reasons [I loved it so much] was the coach there, Joe Harper, an old fella who was really funny and always had me laughing," the 25-year-old says. "He made boxing enjoyable rather than serious. At the start, it wasn't all about the hard work, it was enjoying myself: doing pads and learning new moves, learning how to defend myself. It was interesting for me. I was good at it."
Such was the impression he made on the coaches at Golden Gloves, Fowler was entered into his inaugural fight at a gym in Keighley, Leeds, just five weeks after throwing his first punch. "I didn't even know what was going on to be honest," he says. "I just remember going out on the bus and I always remember Kev [his coach] asking me if I had my gumshield. I didn't, so they had to turn the coach around and go back to Liverpool to get it. I had no idea what was going on, I didn't even have boxing boots."
Fowler soon became aware of what he was getting into when they arrived: face-to-face with another young hopeful for three two-minute rounds. "I wasn't nervous until I got there and then it was like, 'Woah! This is a bit of a big event, this.' I thought it was a sparring session but it was a proper fight. I remember winning and just feeling so happy."
Even at such a young age, Fowler knew this was not a hobby. Boxing would be a profession for him, and it began early on. He spent most days in the gym, which pleased his father "as it kept me from knocking around the streets," and was representing Great Britain by the age of 13, looking up to the likes of Tony Bellew and David Price.
By now cousin Robbie had left Anfield and was plying his trade on the football pitch for Manchester City, having spent two seasons at Leeds United. Although extremely respectful to his cousin's achievements, Anthony slightly prickles at the comparison between his and Robbie's careers. He is keen to stress that Robbie's success has not benefit him in any way.
"He was in his prime when I was young, doing his thing as a world-class footballer, so I didn't get to see him too much," Fowler says. "As I got a bit older, he knew I was boxing and gave me a bit of advice and a helping hand to keep me grounded because he's been there and handled all the pressure.
"People think it helps me in some way, but it doesn't help me at all. He's a footballer; I'm a boxer. It's completely different and some people are under the impression that it helps me because my cousin is a millionaire, but it's never helped me financially or in any other way. He wishes me luck but that's as far as it goes.
"Football has got ten players to help you out but when you're in the boxing ring you're on your own. I think it is kind of a different pressure to football but the same thing applies; you're under a lot of pressure and you have to deal with it in your own individual way."
Fowler has certainly dealt with it well so far. He won a bronze medal at the 2013 World Championships in Kazakhstan, having been unable to continue to the final due to an injury. But a year later Fowler, known as "The Machine," went to Glasgow for the Commonwealth Games, where he got his first taste of gold by beating Indian Vijender Singh by unanimous decision.
Two years on, a step closer to the prime of his career, Fowler should be facing the greatest pressure of his life as he prepares for an Olympic Games.
"It's a big thing but I try not to think about it," he says. "The Commonwealth Games was huge as well with a home crowd and a lot of pressure, but I just try to take it every step as it comes and doing my best. In a way, I don't feel like there's any pressure because I'm going to do my best and that's all I can ask."
On August 20, Fowler hopes to fulfil what he describes as the "ultimate prize" in boxing, but it will also act in helping achieve another goal of his.
"The more time goes on," Fowler says, "the general public and the people of England will see Fowler as a boxing name and not just a football name."
Uncommon Knowledge
Newsweek is committed to challenging conventional wisdom and finding connections in the search for common ground.
Newsweek is committed to challenging conventional wisdom and finding connections in the search for common ground.