Watch Mexico's Confederations Cup Tie With New Zealand Erupt into Mass Brawl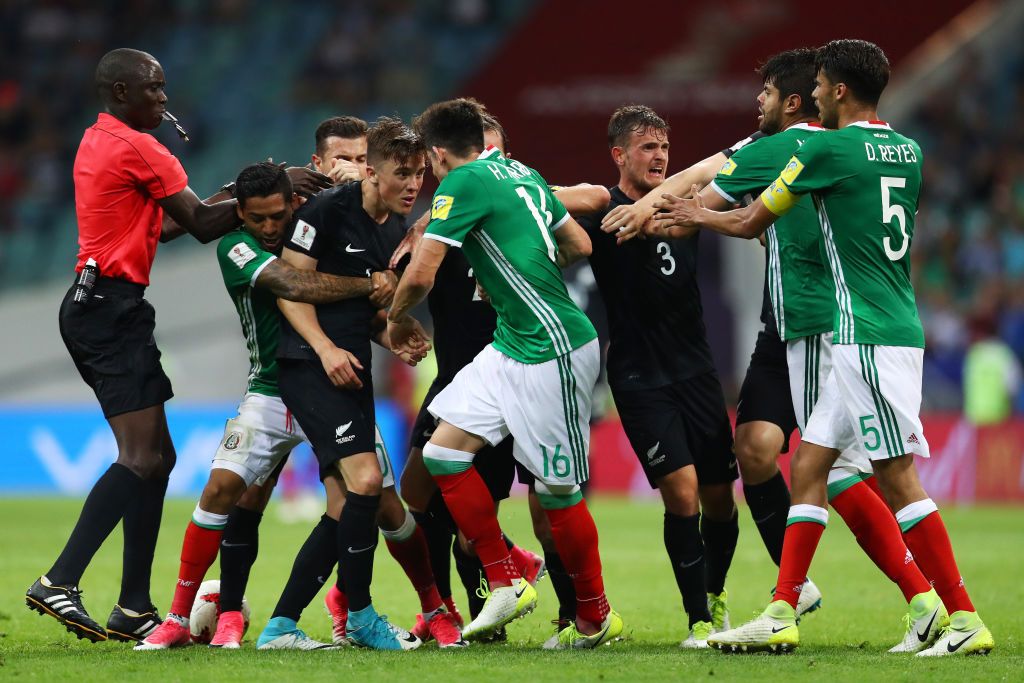 Mexico's Confederations Cup win over New Zealand on Wednesday night was marred by ugly scenes as players from both sides got involved in a mass brawl in injury time.
The melee began when Mexico captain Diego Reyes pulled back on Michael Boxall, who then lunged toward Hector Herrera, before the rest of the players got involved.
Pushes, punches and pokes were traded but more controversy followed afterward when Bakary Gassama, the Gambian referee, reviewed the incident using VAR but decided to issue just a yellow card to the three players involved in the initial stages.
Take a look at the brawl here:
The football has mostly been forgotten after the scenes at the end of the match, but Mexico had to come from behind to go top of Group A in the Confederations Cup.
Chris Wood put New Zealand ahead three minutes before half-time at Sochi's Fisht Olympic Stadium, but the team squandered several chances to go further ahead.
Little under 10 minutes into the second half, Raul Jimenez brought Mexico level and then Orile Peralta grabbed the winner with 18 minutes remaining.
Mexico tops Group A after two games, with defeat sending New Zealand to the bottom of the group with zero points.
Portugal and Russia make up the rest of the table, with Cristiano Ronaldo's goal in a 1-0 win seeing the Portuguese go second in the group with four points.
Mexico will face Russia next at the Kazan Arena in Kazan on Saturday, with victory confirming the nation's place in the second stage of the competition.