Exclusive: 'The Beast' Adebayo Akinfenwa on His Perfect Strike Partner, FIFA Ratings, Retirement Plans and the NFL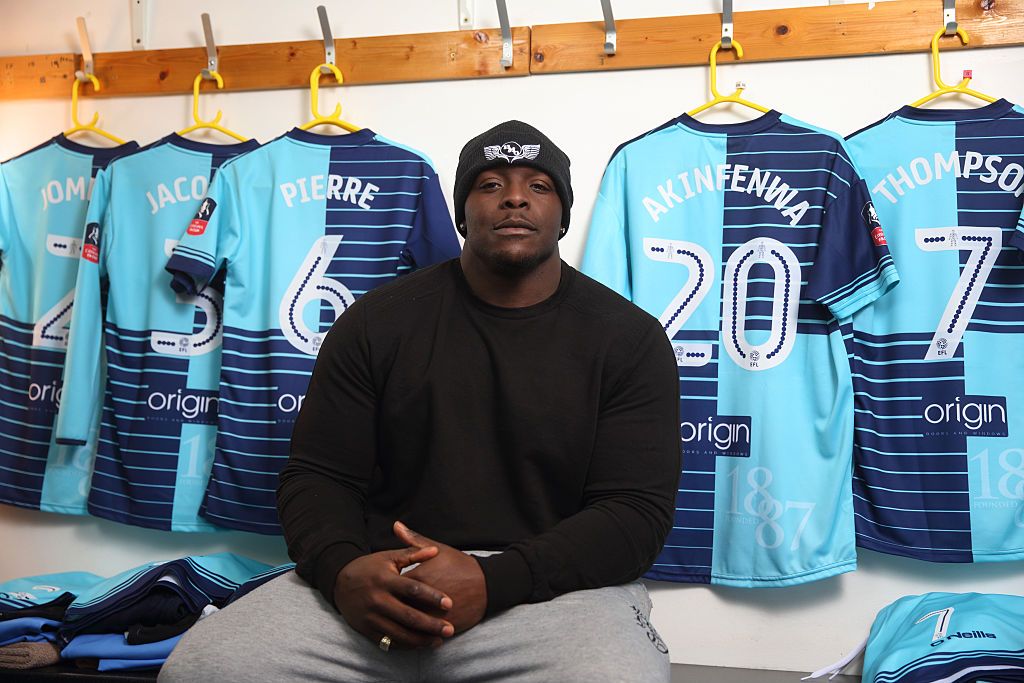 Adebayo Akinfenwa has become a cult icon in the footballing world, with a big personality and even bigger biceps.
He rose to fame in youth culture after his rating as the strongest player on FIFA, the vastly popular football simulation video game, and procured the name 'The Beast' due to his size and power. His time playing for Wimbledon AFC grabbed the nation's attention with an FA Cup-run reaching the third round in 2015 and then a promotion winning penalty in 2016.
So he is no stranger to the spotlight, despite playing in lower leagues for most of his career. Which is why he gives the strong sense he really enjoys the publicity surrounding his autobiography, The Beast: My Story, published this week.
"It's just become life, I prefer to be busy than not busy," the Wycombe Wanderers striker told Newsweek.
"Putting my life on a piece of paper, it's mad for people to want to read it."
As a life-long Liverpool supporter, Akinfenwa was delighted that Liverpool legend Steven Gerrard contributed to the book.
"For one of England's best ever players to write a foreword for my book, I would hope that that would inspire people to say you know what the sky is not the limit and anything can happen. For me, it's humbling in that sense."
The striker has joked about his frustration with FIFA after he scored 18 goals last season and yet his stats on the videogame had not improved this year.
"That's what's driving me you know! The aim out here is to try and beat 18!"
On the videogame he revealed he always plays with whatever team he is currently playing for in real life, so that he can play as himself.
"I shout at myself all the time! I put myself on corners and free kicks just to see how it feels to take dead balls because I'm never good enough to take them in real life!"
When asked who his dream strike partner would be, Akinfenwa unsurprisingly named Lionel Messi, the five-time Ballon D'Or winner and arguably the best player in the world. In terms of who he thinks would suit his style of play, Leicester City striker Jamie Vardy was his choice though.
"If I were to say someone who would complement me, it would have to be someone really quick because he'd have to do my running for me! I do think me and Vardy would work well together, just because his whole game is about running in behind and it works well when you've got someone who is – well I won't say I'm slow but let's just say I'm less fast – and someone who is faster!"
The Wycombe wonder clearly knows his strengths and weaknesses. Now 35, Akinfenwa has had a long career in football, an aspect he is grateful for.
"Sometimes you're not blessed with the materialistic stuff but you're blessed with a work ethic," he said, attributing his determination to his upbringing.
The striker was born and raised in Islington, London, and grew up in a council estate. He says football is all he knew from the age of five, when he would play every day until his feet hurt. His work ethic and discipline was instilled in him from a young age by his parents.
"I think you're a product of your environment so I will be teaching my kids the same that you can strive to achieve whatever you need to achieve but it doesn't come easy, you have to put in the work."
Akinfenwa has been putting in the work for almost 18 years now and is conscious of people categorising him as 'past it'.
"I'm feeling good and I'm still scoring goals so it's a mind-set for me – don't allow anyone to put you in boxes and keep defying limitations," he says.
"I'm no spring chicken but as long as I feel good mentally and physically I'll keep playing as long as possible."
Mentality is one of his main focuses in life and he has now put plans in motion for a footballing academy and a mentoring scheme to help young people across London deal with the trials and tribulations of trying to make it in the game, open to "any and everybody who wants to play football."
Set to start in summer 2018, Akinfenwa said psychological mentoring will play a crucial role in what he teaches the youngsters.
"I feel that the mind is as important as ability in the body," he says.
"People concentrate on 'oh you can't do that', or 'you're a bit too big for that' or whatever, rather than just concentrating on what you're good at.
"It's about being comfortable with the skin you're in, being comfortable within your own mind."
His philosophical attitude may stem from his long stint in the game, playing for 13 clubs to date including teams in England, Wales, and Lithuania. As a footballer in the autumn of his career he feels he can now give something back to the sport.
"I do think there is a responsibility for myself as being a senior professional footballer to be able to pass on my experiences to the younger generation.
"As a leader, as a way to try and channel and get the best out of people, I think I'm pretty good at that."
However, Akinfenwa is also known for not taking life too seriously and advocating the lighter side of sport.
"For the last four years I've really tried to embrace the enjoyment of football, I know sooner or later I'm going to hang up my boots.
"As long as I'm enjoying it I'll keep putting my body through it."
Another sport he feels he would enjoy is American football and supports Miami Dolphins.
"I'm a real fan, the last couple of years I've been learning and I've been watching and the atmosphere is insane. I've played in a play-off final, I've watched the FA Cup final and then I watched just a normal NFL game and you would think it was a final because the atmosphere was so electrifying.
"I think I would have held my own in the NFL… but I like being the biggest on the pitch so I'll stick to football!"
Akinfenwa certainly is the biggest on any pitch he walks on, but his character off the pitch is just as giant, moulded by the experiences of many years in the footballing trade and a career including lows as well as highs.
Adebayo Akinfenwa's book, The Beast: My Story, details his life and is available from booksellers across the U.K. and online.