Exclusive: Deontay Wilder On Fighting for his Daughter and Facing Anthony Joshua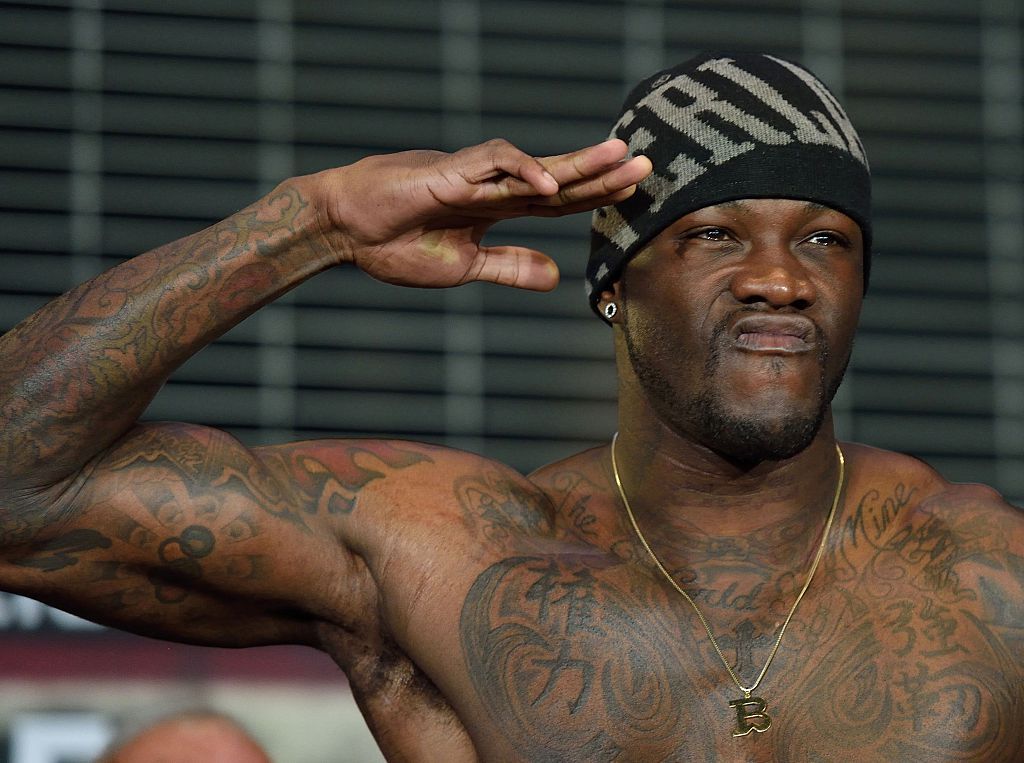 Deontay Wilder pauses to compose himself. For the last 10 minutes, Wilder, the undefeated World Boxing Council champion of the world, has been explaining how he plans to unify the heavyweight division over the next decade, taking on the biggest and best in the business in a series of superfights.
As is common in boxing, Wilder has a brash streak. "I pity any fool that gets in the ring with me," he says. He talks of "whoopin' ass" and becoming the division's dominant force. But mention of Naieya, his eldest daughter, sees Wilder unclench those giant fists, drop his guard and soften his tone.
Naieya, now 12 years old, was born with spina bifida, a condition that stops the backbone from developing and leaves the spinal cord exposed. In 2005, when Wilder was preparing for fatherhood at the age of 19, he took up boxing in order to provide for his little girl, and he credits her for becoming the first American heavyweight champion since Shannon Briggs in 2007.
Wilder, nicknamed The Bronze Bomber, is now a multimillionaire. His children — Naieya, Ava, Dereon and Deontay Jnr. — live a comfortable lifestyle, their futures secured. But Wilder is not ready to throw in the towel just yet; the job, he says, is not quite done.
"I keep boxing for my children, for all of them," the 31-year-old tells Newsweek . "I'm building a legacy for my children. I'm making wealthbread for them. Not only what they eat but for their families, too, so their kids and their kids' kids. There's going to be a long history line of Wilders eating.
"My children give me the ambition and motivation that I need. I make sure I see them before and after I go to war and battle; it's good for me. I love them to death and I will do everything I can for them: protect them, provide for them, like I've always done, and they can count on me. I'm not going to let them down."
Staying in the fight game does not come easily and he doesn't take his durability for granted. Wilder is conscious of his own mortality every time he climbs into the ring.
"We never know if we're going to get out of the ring the same way we came in. Some people talk about the money they're paying [to watch] but we pay a more precious part: you pay with your life, and a life given for entertainment is not worth it. So that's why fighters ask for a lot of money."
This Saturday, Wilder will be working as a pundit for Sky Sports during the highly anticipated world heavyweight title fight between Anthony Joshua and Wladimir Klitschko. Joshua, 27, the IBF champion, is facing his biggest test in the Ukrainian, a three-time world champion, as he looks to defend his title and claim the vacant WBA belt.
It is, Wilder says, a big fight for the sport. He says he has identified weaknesses in Klitschko's armory — none he's willing to reveal here — that Joshua can exploit. Should he lose, Wilder believes the 41-year-old will have to retire. But he expects to see a "different Klitschko" this weekend.
Read More: Klitschko Should Retire If He Loses To Joshua, Says Deontay Wilder
Of the 90,000 spectators at London's Wembley Stadium, Wilder will perhaps have the keenest eye on the outcome. His plans to unify the division will mean overcoming either Joshua or Klitschko, and he says a fight with the former could come as early as this year.
"It would be the biggest fight in history," Wilder says, the hyperbole flowing unchecked. "Everybody wants that one. Even though he's fighting Klitschko, people are still hollering, 'I wanna see Wilder-Joshua.' And I wanna give them that. But I want the unification so that's why I'm trying hard for the Joseph Parker fight. Joseph Parker [the WBO champion] don't have an opponent; I would love to fight him in July, take his belt and then at the end of the year have a mega unification bout. We can do it at the end of the year, give the world a Christmas present."
Four of the last five fights Wilder has been involved in have been held in his home state of Alabama, but he insists he would be happy to travel to the U.K., where he beat Audley Harrison in 2013. "I have no preference," he says. "When I end my career, I want to leave my legacy behind as a man that feared nobody: I'll come in your backyard and whoop yo' ass if I have to. That's my mentality.
"I never shy from no fight no matter who it is and how many it was. I'll fight anywhere. It doesn't matter at all whether he wants to come to America and make his name or if he wants to stay in his hometown and people can witness greatness."
Critics of Wilder, including Joshua, say he has yet to beat anyone good enough to be considered among the greats of the sport. His record (38-0-0), which includes 37 knockouts, includes him beating notable heavyweights such as Eric Molina and Bermane Stiverne but avoid the likes of Klitschko. Wilder insists he fears no-one and believes the same could be said of Joshua.
"People say a lot about my opponents," he says, "but being realistic, ain't nothing they can really say about me because of what I've done in this sport and what I do. Being realistic, if you look at the opponents, you gotta say c'mon now… you gotta say c'mon. I got guys on my resume who would beat everybody [on Joshua's]. Just one guy would beat the whole resume."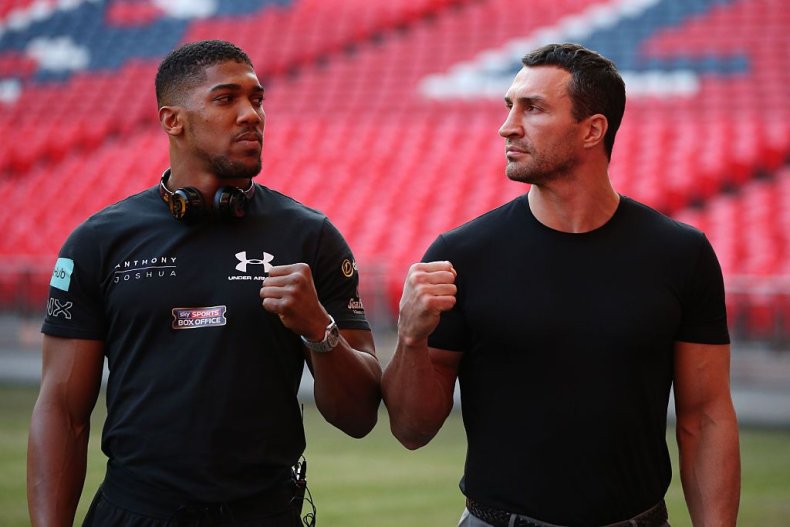 This, Wilder says, is no criticism of Joshua, for it is his promoter Eddie Hearn who selects the fighter's opponents. "I'm not knocking it," Wilder says. Regardless of Hearn's plans, though, both Joshua and Wilder agree a fight between the two is inevitable, especially if the former is victorious in London on Saturday.
Joshua goes into the fight with a perfect record: Eighteen bouts with 100 percent knockouts. On average, it takes him 2.4 rounds to dispatch his opponents, but Wilder, who won bronze at the 2008 Olympics in Beijing, says the Briton still isn't ready for him.
"I feel that I've seen a hell of a lot of styles in my career. I've been through a lot of camps and stuff like that, and that's what it's all about: seeing different styles and being able to adapt to it. And then, challenge yourself from there," Wilder explains. "That's why I'm able to do what I do, knocking guys out and setting them up, because I can figure the style. The Olympics helped me a lot, going to different countries with different styles."
Despite his longevity, Wilder has a plan for retirement. "I don't have an estimate but let's put it like this: my goal is to unify the division and I got 10 years. That's all I got. When I get to 50-0, all my accomplishments and goals I want to do with, then I've done it and I'm over. Fifty and 0 but I gotta accomplish all my goals. We've estimated we'll be able to do that by then, it might be before 10 years but after 10 years, I'm out of here."
Wherever he goes in that time, whoever he climbs into the ring with, Naieya will be watching. "All of them do," he says. "Imagine, my two-year-old with socks on his hands and teaching the other kids in daycare how to box, and stuff like that. He can get his iPad and look daddy up. He wants to emulate me on different things, which I think is pretty cool, but I don't want them to fight. I don't want them to fight." The repetition perhaps pointing to the strain of the sport.
While he looks to unify the division, he also aims to prepare his children for adulthood. "I'm straight up with my kids, especially my daughters," Wilder says. "I keep it real with them, even at a young age. I tell 'em: no boy should come up and say he loves you. He a liar because your daddy loves you. If a man can't show you the same love as your father then that ain't true love."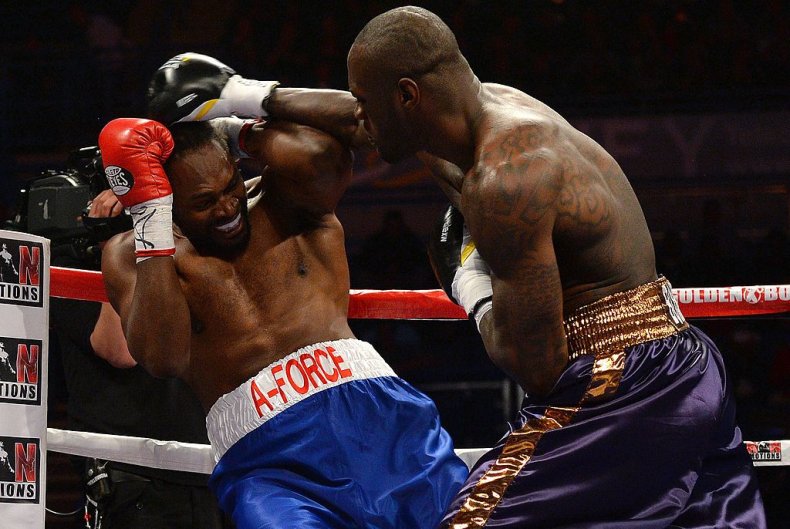 Wilder chuckles, adding: "I been a boy: I know how you think, I know how you walk, I know how you talk, and it's true. We done stuff as little boys and when you have kids at home, you let them know without taking away their childhood. There comes a time when you have to have that talk.
"My daughter is 12 years old now and she's well aware; she knows and I have to put it into a sense where I can break it down so easy that a child can understand. You have a grown-up conversation with a child but keep it at child front, you feel me? That's what I do. They say little things about a boyfriend and stuff but, you know, I'm the cool one," Wilder says.
Cooler still if he becomes the undisputed heavyweight champion of the world.
"People look at me as a fighter, that I whoop ass and I'm gonna be intimidating, but that's don't come automatically. Respect is a must and that don't come automatically. I'm not going to have to spook no one. I'm the cool one. I'm the cool one."