Arsenal: Meet The Man Who Could Rein In Arsene Wenger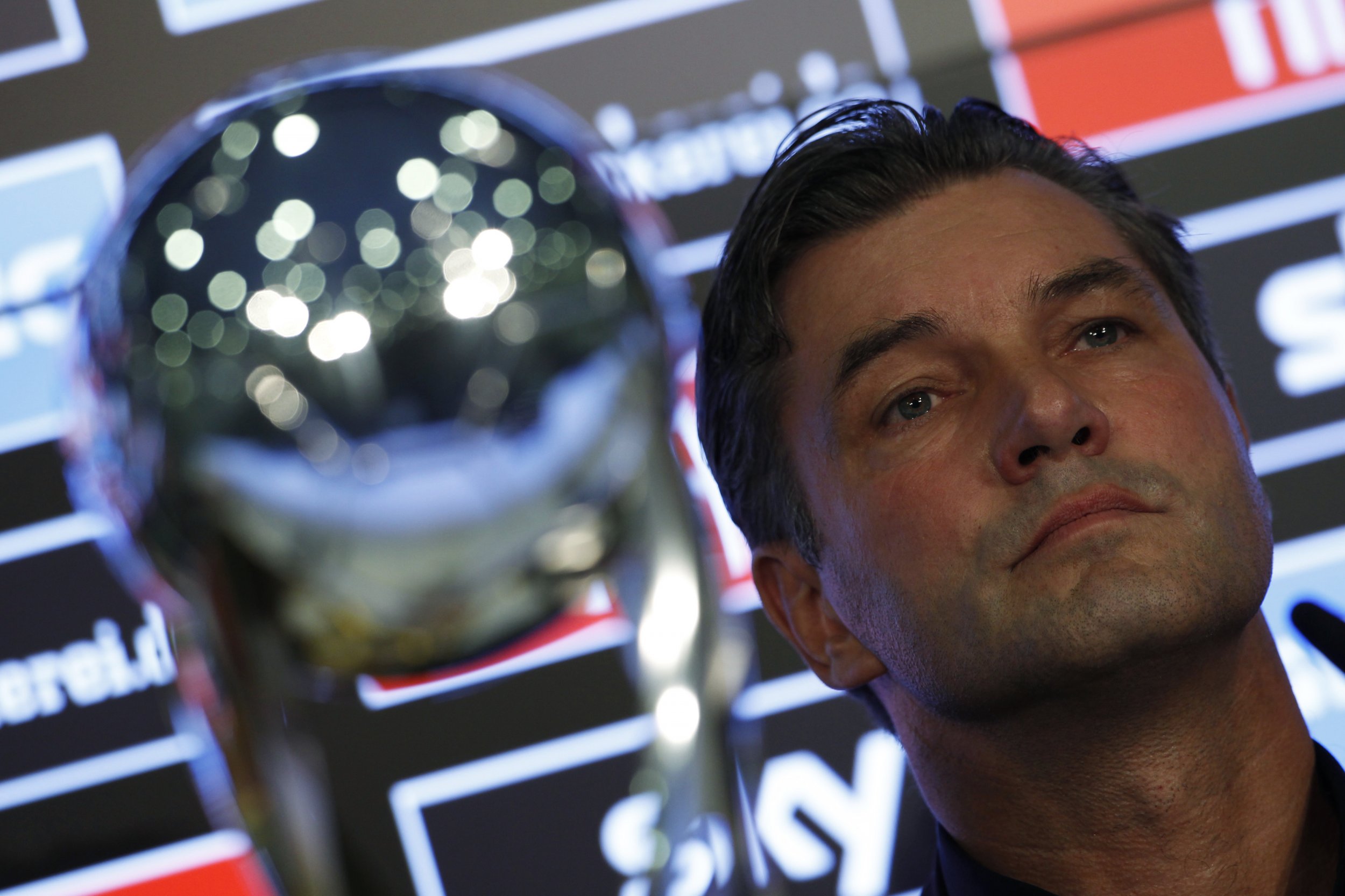 Whether Arsene Wenger stays or goes, the manager's role at Arsenal will change next season. Chief executive Ivan Gazidis is determined to appoint a sporting director to work alongside Wenger or his replacement. That man could be Borussia Dortmund's Michael Zorc.
According to The Daily Telegraph, a London-based headhunting firm used by Arsenal, has been in contact with Zorc, who currently works for the Bundesliga club, about a move to England. Zorc is believed to be interested in the role.
So, who is the man who could be charged with reining in Wenger and helping return Arsenal to the summit of English football?
Playing Career
Zorc was a one-club player. Having progressed through the Dortmund academy in the late 1970s, he made his debut for the first team in 1981 and stayed there for the next 17 years. Despite being a midfielder, Zorc scored 131 goals for the club in almost 600 games, thanks largely to his role as the team's primary penalty taker.
He wore the shirt of the German national team in the final years of his career, making his debut in 1992 as a 30-year-old in a 3-1 defeat to Brazil.
Success
It was in the final three years of his career that Zorc won his most prestigious medals. Dortmund won the Bundesliga title for successive years in 1995 and 1996, as well as lifting the Champions League trophy the following year.
After Hanging Up His Boots
Upon ending his playing career, Zorc was immediately instated as director of football at Dortmund in 1998 at the age of 36. He was part of the management team that won the Bundesliga title in 2002 and then with Jurgen Klopp in 2011 and 2012.
The Future
In 2014, Zorc signed a contract at Dortmund until 2019 that would take him to more than four decades at the club. At the time he said : "I sense that we haven't reached the end of our development."
Reputation
Known as the "silent manager" at Dortmund, Zorc's influence in the club's success is heavily acknowledged and led to clubs, like Arsenal, showing an interest in taking him away.
What They Say About Him
Dortmund chief executive Hans-Joachim Watzke said: "Michael Zorc stands for Borussia Dortmund like no-one else. He's been at the club since 1978 and has celebrated a great deal of success, first as a player, then as sporting director."
In 2011, German magazine Der Spiegel said the two words to summarize Zorc would be "continuity and sustainability."
Could He Work With Wenger?
Possibly not. Wenger suggested on Friday that he would leave the club if he didn't have total power over sporting decisions. "I'm not prepared to talk about that," he said. "I'm the manager of Arsenal Football Club and as long as I'm manager of Arsenal Football Club, I will decide what happens on the technical front. That's it."
In the past, Zorc himself has suggested he would not leave Dortmund. Asked whether he could see himself working elsewhere, he said: "I cannot imagine it."
Who else is in contention?
Marc Overmars, the Ajax sporting director, is also reportedly on the list of candidates Arsenal is considering for the job. Overmars spent three years playing at Highbury, from 1997 through 2000, and has a connection with the club.