Lionel Messi's Landmark Goals: A Look Back at the Footballer's Career After Netting 500th in El Clasico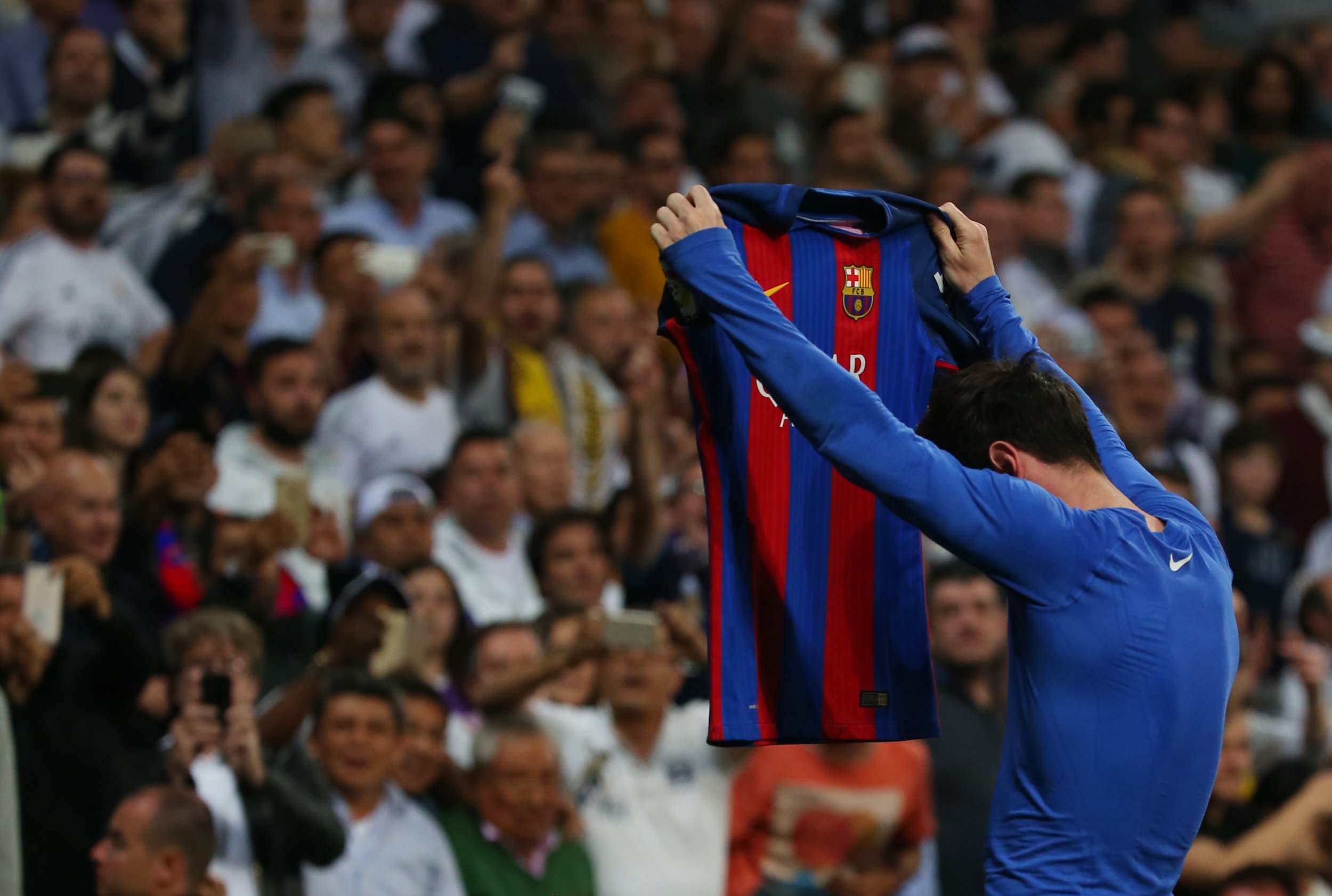 Lionel Messi's dramatic stoppage-time winner at the Bernabeu stadium Sunday night settled El Clasico and took Barcelona to the top of La Liga table.
Messi's goal was extraordinary—allowing Barcelona to overcome its psychological battle with rival Real Madrid; it helped Luis Enrique's team leapfrog Zinedine Zidane's to the top of the table; and it was also a personal landmark for the goalscorer.
The prolific Messi, 29, had scored his 500th goal for Barcelona. Here, Newsweek looks at the other landmark goals for the five-time Ballon d'Or winner:
First: Barcelona vs. Albacete, La Liga, May 1, 2005
In front of the Camp Nou fans, making his eighth appearance for the club, Messi opened his account for Barcelona. His mentor at the time, Ronaldinho, the great Brazilian midfielder, played Messi into the area and watched as the then 17-year-old looped the ball over the goalkeeper and into the net. Little did the Catalan faithful know this would be the first of 500.
100th: Barcelona vs. Sevilla, La Liga, January 16, 2010
Far from a typical Barcelona or Messi-style goal, full-back Dani Alves picked up the ball wide on the right. He crossed to Messi whose instant control killed the ball and he slipped it past the Sevilla goalkeeper for Barcelona's third in a 4-0 win.
200th: Barcelona vs. Viktoria Plzen, Champions League, November 1, 2011
In the Czech Republic, Messi completed the next hundred goals of his Barcelona career against Viktoria Plzen. Messi scored the goal from the penalty spot in the Doosan Arena in Pilsen to send the Catalans through to the last 16 of the Champions League. He went on to add his 201st and 202nd later in the game.
300th: Barcelona vs. Granada CF, La Liga, February 16, 2013
Already running away with the La Liga title, Messi scored twice to beat Grenada, having fallen behind in the game. His first, the goal that took Messi to his third century, was a tap in and his 301st came from a free-kick.
400th: Barcelona vs. Valencia, La Liga, April 18, 2015
With Barcelona leading 1-0 at the Camp Nou, Valencia chased an equalizer in stoppage time. So when the ball fell to Neymar and he whipped it forward, Messi was able to net his 400th goal. By now, he had already easily taken the place of Barcelona's leading all-time goalscorer, taking over from Paulino Alcantara who scored 369.
500th: Barcelona vs Real Madrid, La Liga, May 23, 2017
Without doubt the most dramatic of them all. In the third minute of stoppage time, with the scores level at 2-2 in the Clasico, and a place at the top of the table available, Messi latched onto a Jordi Alba free-kick and beat Keylor Navas to stun the Bernabeu into silence.