Real Madrid vs. Barcelona: El Clasico Could Provide Premature End to Zinedine Zidane's Title Hopes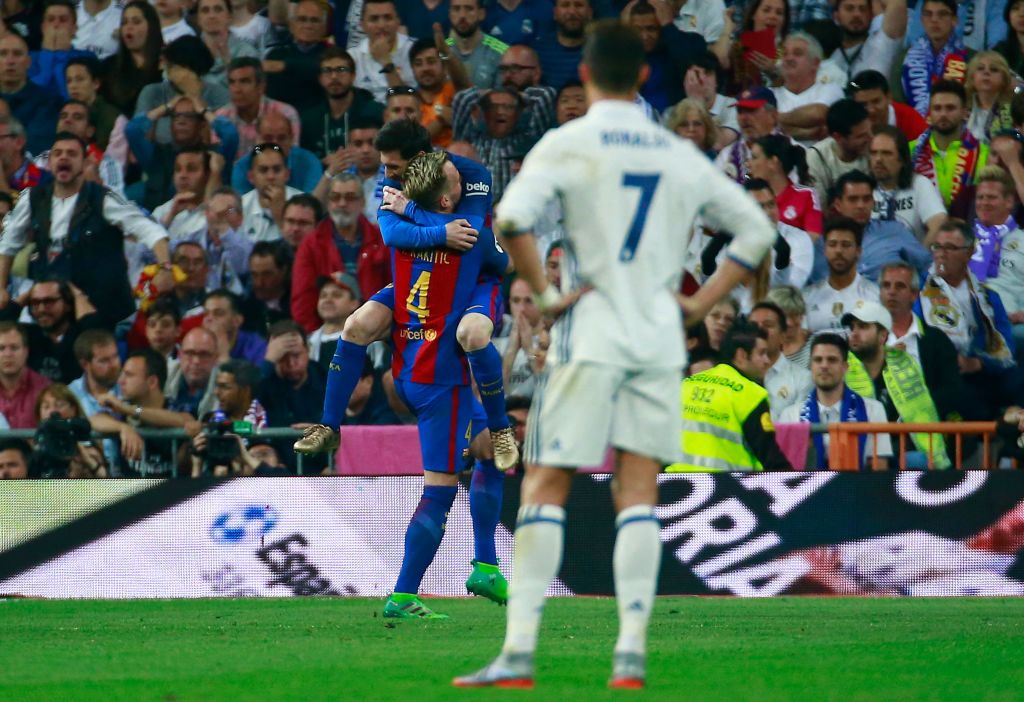 Ernesto Valverde may have only been in the hot seat at Barcelona for six months, but he already knows what to expect from Saturday's (December 23) El Clasico. Valverde, who replaced Luis Enrique as the Barcelona head coach, has led the team against Real Madrid on two occasions where his team was dominated.
In August, the Spanish Super Cup ended up going to the league and European champions Real Madrid, continuing their dominance in recent years with a 5-1 aggregate win. But Barcelona has recovered while Madrid has faltered.
Valverde's team is now six points clear at the top of the league, and though a team from the Spanish capital is leading the pursuit, it's not Real. Zidane's team has slipped to fourth in La Liga, 11 points behind Barcelona but with a game in hand to play. Atletico Madrid and Valencia currently fill the gulf that has formed between Real and Barca.
On Saturday, that gap could get wider. Victory for Real is imperative when Barcelona's team comes to town if they are to have any chance of catching their long-term rivals this season and winning their 34th Liga title. But Barcelona has enjoyed traveling to the Bernabeu in recent years.
Over the past five seasons, it has been the Catalans who have come out on top most often in this fixture, winning four of the six Liga matches at the Bernabeu. Last season provided the most dramatic finish to a Clasico with Lionel Messi delivering the winner in injury time. The year before, Barca's 4-0 demolition of Real in their own home saw the beginning of the end for Rafael Benitez's tenure. It was also the only time in the past six seasons that one of the teams failed to score, stretching across 22 games.
The rivalry between the two teams also tends to see discipline disappear; dismissals are almost as frequent as goals when Barcelona and Real Madrid face off. The past six seasons have seen seven red cards and 97 yellow cards distributed in the Clasico.
Despite Barcelona's lead in the Liga table, both teams go into the game in positive form. Valverde's only defeats as Barcelona head coach came in the first two games of the season, against Real in the Super Cup. Zidane's team is on a four-game winning run but only one of those victories came in La Liga, a 5-0 thrashing of Sevilla.
Barcelona have been able to rely on their talisman, Lionel Messi, again this season, with the forward scoring 14 goals in 16 Liga games, while Luis Suarez has provided nine in 13 and new signing Paulinho has hit the net six times. In Madrid, Cristiano Ronaldo has 20 goals in 25 appearances this season, but his return in the league has fallen short of his normal standards—he's scored four times in 11 appearances.
So the Clasico is once again a mouth-watering prospect. Usually, this is the battle between the big two in Spain, a chance to see where the Liga title may be heading. But, this year, it offers Valverde the prospect of killing off Real before the new year. He couldn't ask for a better Christmas present.
Real Madrid vs. Barcelona: El Clasico Could Provide Premature End to Zinedine Zidane's Title Hopes | Sports