For How Long Will Gordon Hayward Be Out? Celtics Star Breaks Ankle Five Minutes Into Season Opener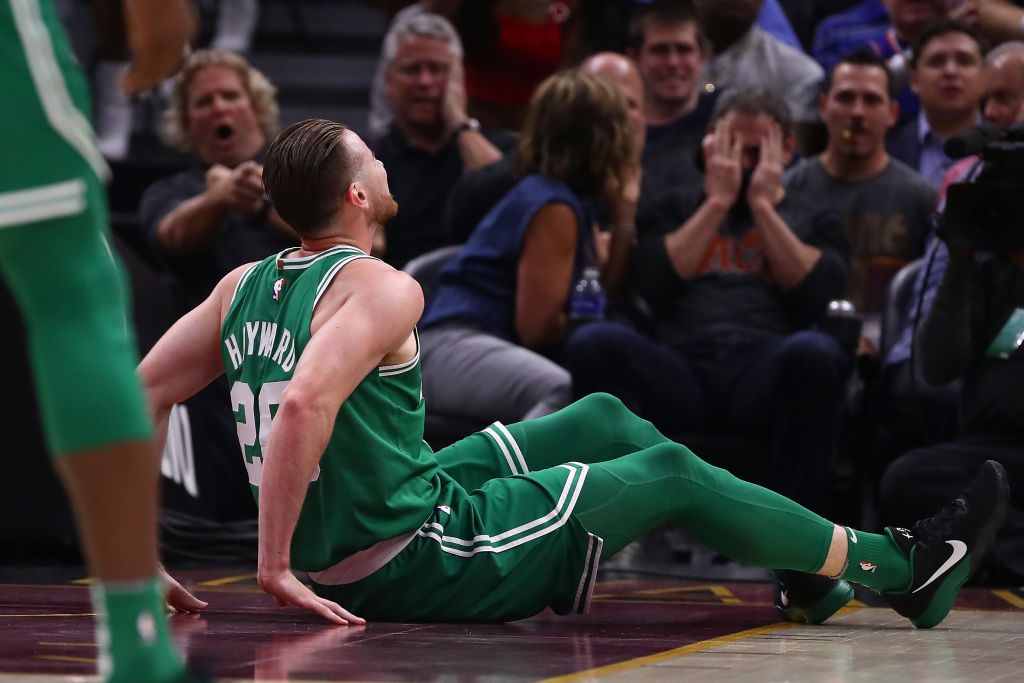 Boston Celtics small forward Gordon Hayward suffered a gruesome broken ankle just five minutes into his debut for the team on Tuesday night in the opening game of the 2017-18 season.
Hayward signed for the Celtics on a four-year, $128 million deal during the offseason after seven years with the Utah Jazz. But the 27-year-old now looks set to miss the rest of the season after fracturing his left tibia.
Hayward collided midair with LeBron James as he went for an alley-oop, and as he landed, his legs twisted beneath him. Hayward was taken away in an air cast shortly after James came over to console him.
"My thoughts and prayers go out to Gordon's family. Hope for a speedy recovery, a healthy recovery," James said, as quoted by the Associated Press. "Those are the injuries that you never see coming, you never want to happen, no matter who it is, no matter what the stature, no matter how much competitive nature that you have. It's just very unfortunate."
Full recovery from a broken ankle can take some patients up to a year, the American Orthopaedic Foot & Ankle Society states. Professional athletes tend to have better care and recover more quickly, but they do need to rebuild the muscle around the ankle before returning to full action.
Related: Trump is a "soulless coward," says Popovich in scathing attack on the president
James said the injury had reminded him of the leg break suffered by Paul George, when the then-Pacers forward fell awkwardly playing for Team USA in August 2014. George suffered a compound fracture, the bone piercing through the skin. His recovery took eight months and saw him miss 76 games.
Even when George returned to action, it took a while for him to recover the form he had shown prior to the injury. But he did, and excelled further. Less than two years after the fracture, George was posting a career high in points, averaging 23.3 per game.
"I felt I was immortal," George said in January 2015, as quoted by Sporting News. "I was invincible. I've made so many plays where guys go down, and I walked up clean from it. I did feel that nothing bad could ever happen to me on the court.
"The pain was tough. As soon as the air hit my bone, where the open wound was, it just shot through my whole body. Everything just slowed down. Like, I could hear every individual in the arena talking."
Although the injuries are different, Hayward can look to George's rejuvenation for inspiration in the months ahead.