Cheick Tiote Death: Football World Mourns Ivorian Who Died Monday, Aged 30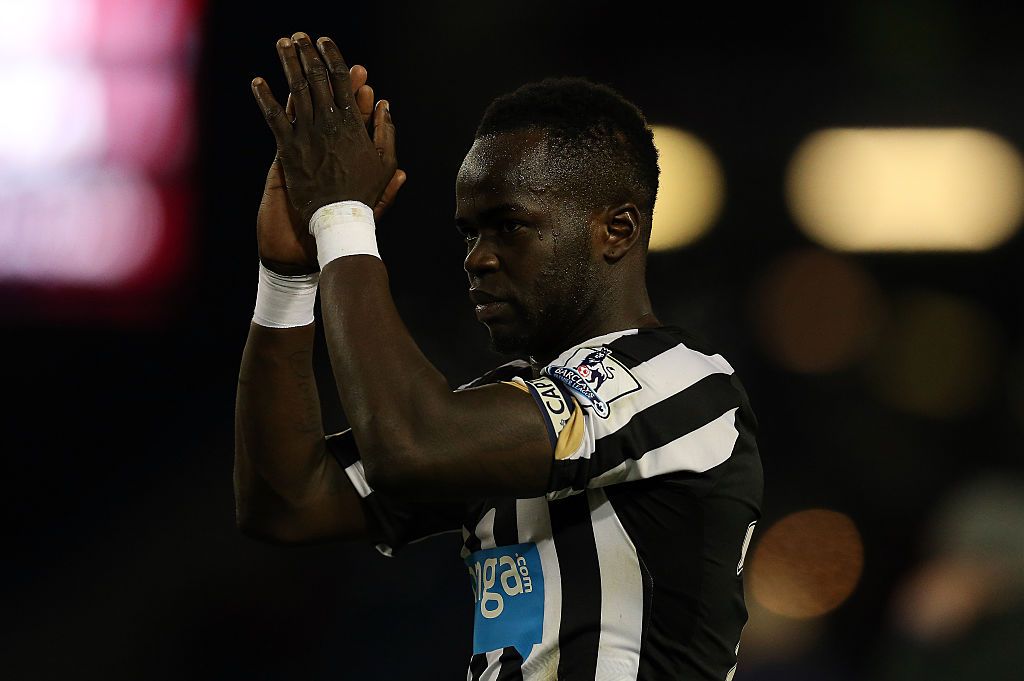 Teammates and fans have paid tributes to the former Newcastle United and Ivory Coast midfielder Cheick Tiote who collapsed and died during a training session in China on Monday.
Tiote, 30, was taken to hospital after collapsing during training with Beijing Enterprises, which he joined four months ago. His agent Emanuele Palladino confirmed his death later that day.
"It is with deep sadness that I confirm that my client Cheick Tiote sadly passed away earlier today after collapsing in training with his club Beijing Enterprises," Palladino said, as quoted by Sky Sports News.
Tiote represented the Ivory Coast on 52 occasions, and was with the national team from 2009 through 2015. His teammates expressed their sorrow at the news of his death on Twitter to express the upset at the news of his death.
Former Ivory Coast captain and Chelsea striker Didier Drogba said he had "no words" while Manchester City's Yaya Toure described Tiote as his brother. "I cannot believe you're gone. I will never forget you," he wrote.
Tiote spent six seasons with Newcastle United, and the city's newspaper, The Chronicle, paid tribute to him on its front page:
Chris Hughton, manager of Brighton and Hove Albion, signed Tiote for Newcastle in 2010 from Dutch club FC Twente. Speaking to BBC 5 Live, Hughton described him as the "perfect fit" for Newcastle.
"The thing that struck me was how humble he was. It was such a big thing for him to sign for Newcastle," Hughton said. "I remember speaking to Steve McClaren [Twente manager at the time] before we took him and Steve spoke very, very fondly about him, not only as a footballer but as a person and a person that wouldn't let you down.
And McClaren described Tiote as a man with "the most beautiful smile in football." Also speaking to BBC 5 Live, McClaren said: "He was the toughest player I've ever seen.
"Some days we would have to pull him out of training because he was such a ferocious competitor, such a winner. He was a warrior and could play too. It was his dream to play in China and I was so delighted for him when it happened. He earned money to look after his family."
The current Newcastle boss Rafa Benitez said: "In all the time that I have known him, he was a true professional, dedicated and above all, a great man. Our hearts go out to his family and friends at such a sad time."
Tiote began his career in Belgium, as one of the stars in a young Anderlecht squad that included Vincent Kompany, the Manchester City defender. Kompany called Tiote one of the "nicest and toughest" teammates he'd played alongside.
Kompany also spoke to Sky Sports News. "I've got very vivid memories of him. He was one of the young guys coming up when I was coming up at Anderlecht and he was a warrior even at that age," Kompany said. "He was one of the toughest players I have ever played with and everybody remembers the greatest Newcastle team of recent years and he was at the heart of that."
Tiote played alongside Vurnon Anita in the middle of that Newcastle midfield, and the Dutch international has spoken of his character at the club. "I'm completely at a loss for words on the passing of my great friend and team-mate Cheick Tiote," he said, as quoted by The Chronicle.
"You were always a light in a dark room. Your presence, your jokes and personality made us all very happy," he said. "To know that our conversation two days ago would be our very last is heartbreaking."