Chelsea vs. Tottenham: Five Things We Learned as Antonio Conte's Team Gets Dramatic Late Winner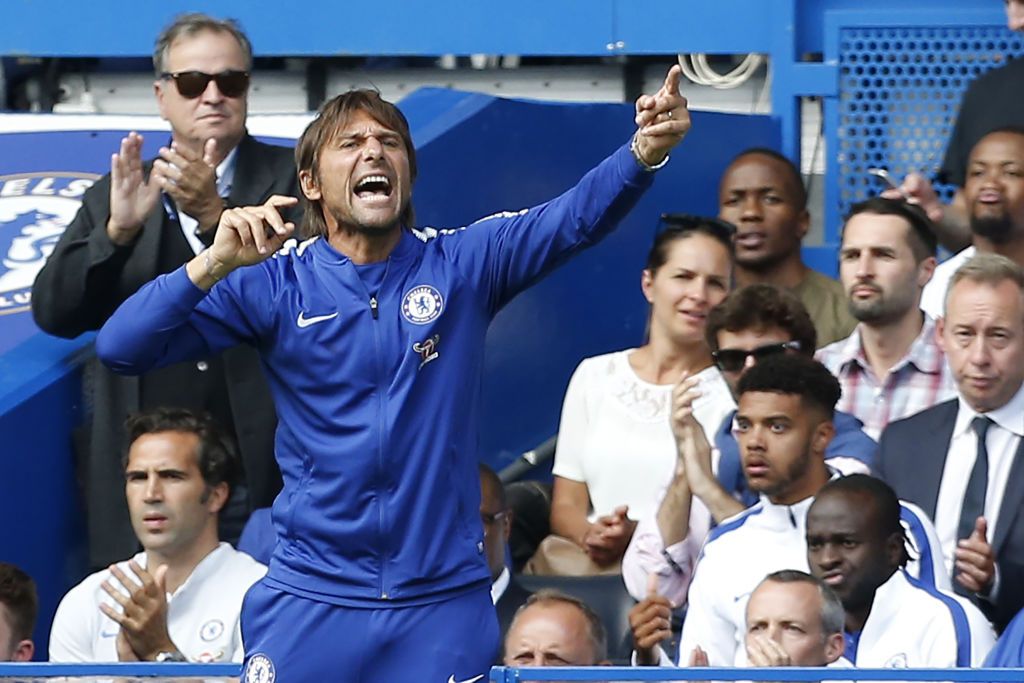 Last weekend, there was a suggestion that Antonio Conte was sending a message to the Chelsea board with his team selection. This week, it was his team that was sending the message.
Marcos Alonso scored twice to hand Conte and Chelsea their first win of the season, having lost the opening game at Stamford Bridge to Burnley. Alonso hit a perfect free kick in the 24th minute to put the away side ahead, but Spurs looked set to take a point when Michy Batshuayi headed into his own net with his first touch of the game.
But, as the game opened up, and it looked like either side could win, Chelsea showed why it was Premier League champion. Alonso broke into the penalty and, with two minutes to go, shot hard and low. His shot squirmed under Hugo Lloris and drew Conte into wild celebration.
Here, Newsweek looks at five things we learned from Tottenham's first Premier League game at Wembley Stadium:
Takes Time to Settle In
Tottenham did all it could to make Wembley feel like home. 'To Do is To Dare' and 'The Game is About Glory', Spurs' two mottos, were everywhere you looked inside and out of the stadium. Some 67,000 white flags waved from side to side before kick off. And then there was the drum, the dreaded drum (we'll get to that later). But whatever Tottenham did, this was still Wembley; it still felt like a place in the FA Cup final was up for grabs for the winner. This rented accommodation will become more homely in time, but the Premier League doesn't allow for much of that. With so many teams in contention for the title, Pochettino's team will have to bed in quickly.
We Don't Like to Bang Out Own Drum
But Spurs, apparently, do. Maybe it was through fear of seeing what happened with West Ham last year, when the east London club moved out of Upton Park and into the London Stadium. The atmosphere was flat, and the results were even worse; Tottenham can't afford that. So, in the planning for the first Premier League home game at Wembley, someone at Spurs suggested an artificial drum. It boomed across the stadium, intended to raise the volume of the home fans. It brought jeers from the 3,000 away fans packed into the corner of Wembley, and a sense of embarrassment from the majority of fans under the arch. And, in the end, it was highly unnecessary, especially when Tottenham's equalizer went in. Had the roof been on Wembley, it would have been blown off.
Conte's Men Step Up to The Task
Injuries and ill-discipline has left Antonio Conte well short at the start of this season. Four of his substitutes were aged between 19 and 21, while Tiemoue Bakayoko was rushed back from injury to start the game while six defenders were named in the starting line-up. David Luiz was deployed in midfield, alongside Bakayoko and N'Golo Kane, and was magnificent. The Brazilian put in the all important tackle that set up Alonso's winner. Up front, Alvaro Morata missed a glorious opportunity in the opening minutes of the game to put Chelsea ahead, but looks a lethal striker. He was bullied at times by Tottenham's powerful defense.
Vertonghen Should Have Seen Red
This being a London derby, played in a venue that felt like home to neither team, there was always going to be a feisty edge to the game. A few bullish challenges went in between these two physically powerful teams, but Jan Vertonghen could—and probably should—have been sent off just five minutes into the second half. The Belgian center back saw the ball get away from him on the half-way line and, in a desperate attempt to get the ball back, he lunged toward Victor Moses. High and reckless, Vertonghen's studs scraped along Moses' kneecap, leaving the Chelsea man writhing in pain. Anthony Taylor, the referee, reached for his pocket but produced only a yellow card. It wasn't too dissimilar to the challenge that saw Chelsea's Gary Cahill receive a straight red card against Burnley last weekend, and Conte made that clear to fourth official Mike Dean.
Who Needs Danny Rose, Anyway?
A hand flies up from Jose Mourinho and, possibly, Antonio Conte as well. Rose, the outspoken Spurs defender, has upset his club by telling The Sun newspaper that he deserved more money than he was paid; Mourinho and Conte's clubs would both be able to offer more. Rose remains sidelined at the start of this season, not due to being disciplined but injury. Pochettino has turned to Ben Davies, and the 24-year-old Welshman has filled in well. His ability to get forward, with a dangerous left boot, has always been his strength; it is the defensive work that has the question marks. But already this season he has shown improvements, with perfectly timed challenges. Pochettino may not want Rose to leave, but he may not be missed too sorely with Davies around.