The Hard Cash and Soft Power Driving China's Footballing Ambitions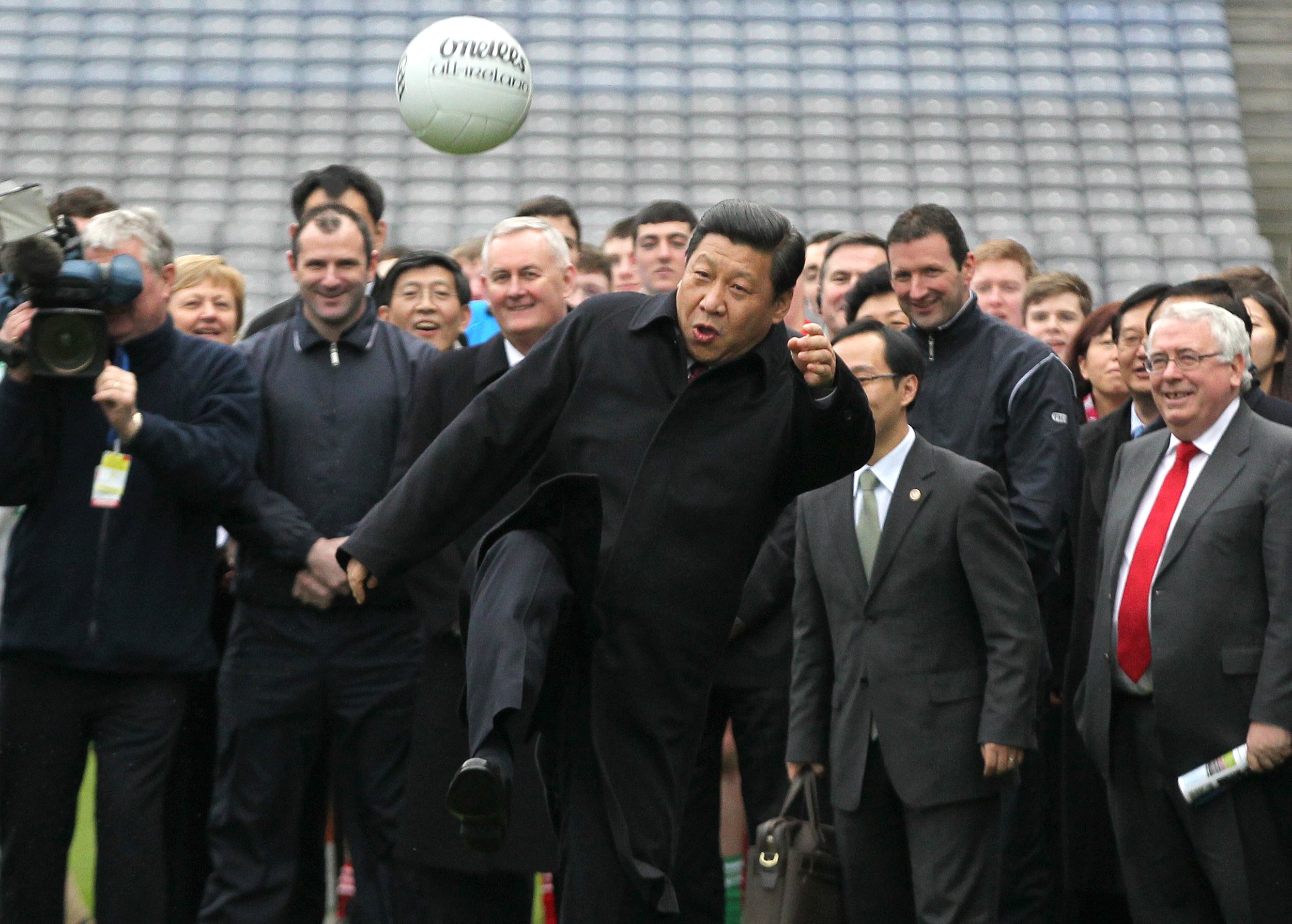 President Xi Jinping's letter came as a surprise to everyone. Late in 2015, the Chinese Football Association (CFA) was preparing a football reform and development program aimed at improving the sport across the nation. The board had sent ideas to the government for consultation and, when they received a response, it was accompanied by a 500-word, handwritten note from the president himself.
Known to be a football fanatic, Xi has visited German club Bayer Leverkusen, toured the facilities of Manchester City in the English Premier League, and met with David Beckham during his time at Los Angeles Galaxy, in the United States. On a bookshelf in his office, Xi has a photograph of himself wearing a suit, kicking a ball into the air during a trip to Ireland's Croke Park stadium in Dublin from a visit in 2012. Having shared his thoughts with the CFA, the program, known as the Master Plan, was published and Xi's dream was clear: He wanted China to become a "football powerhouse" by 2050, making the men's team the best on the continent, and the women's the best in the world, as well as hosting the prestigious World Cup.
Since then, spending in the Chinese Super League has soared. Clubs have broken the transfer record six times, with £370 million ($450 million) spent in transfer fees last year, more than the English Premier League for a second year running. Players are believed to be picking up salaries of around half a million dollars per week as they're plucked from the European leagues.
"You know China. When they decide to do something, they don't wait until tomorrow, they just do it," says former England manager Sven Goran Eriksson, who was one of the earliest big names to make the move East, first at Super League club Guangzhou Evergrande and then Shanghai SIPG. But exactly how this profligate spending will help China catapult itself up from its current position in the FIFA world rankings—86th for men, 13th for women—is unclear. Investment in Western stars, on the pitch and in the coaching staff has not yet borne benefits. Yet, companies across Asia have invested heavily since Xi's letter.
Take Shanghai SIPG, owned by the multi-billion dollar terminal operator Shanghai International Port Group (SIPG). Early in the afternoon of February 13, a convoy of coaches pulled onto the Donghai Bridge in the south of Shanghai carrying cargo worth more than $183 million. The coaches made the 40-minute journey across Hangzhou Bay to Yangshan Deep Water Port, one of the busiest in the world, owned by SIPG.
Dressed in a maroon tracksuit, SIPG head coach Andre Villas-Boas, the 39-year-old former manager of Chelsea and Tottenham Hotspur, stepped off the coach and into the sunlight. Villas-Boas was appointed to the role in November, succeeding Eriksson, with a reported salary of £11 million a year. Behind him was the club's latest and most expensive acquisition, Oscar, a 25-year-old Brazilian bought from Chelsea for $73 million in December and Hulk, the 30-year-old Brazilian signed for $56 million from Zenit St Petersburg in June. The duo are believed to collect a combined salary of £720,000-a-month.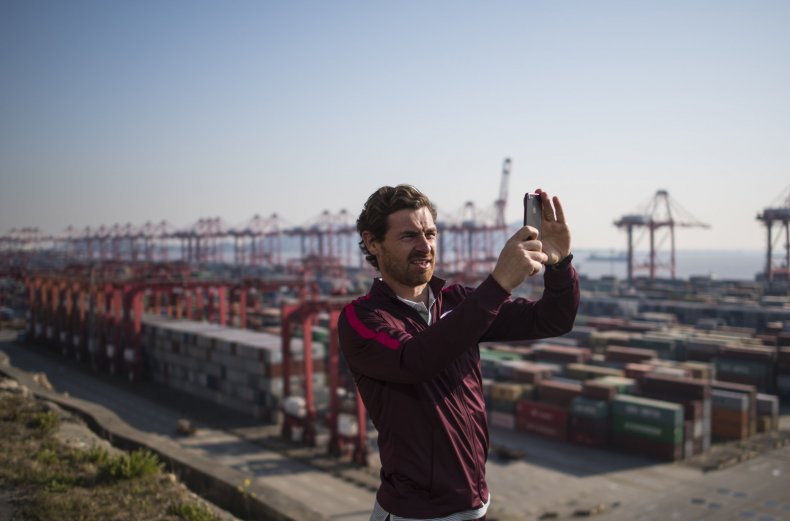 Ahead of the new season, players and coaches were at the port for the 2017 Season Mobilization Meet, an annual event the club has held since it was taken over and rebranded by SIPG in 2015. Here, SIPG Chairman Chen Xuyuan spoke about the importance of developing young Chinese players at the club. He explained that the likes of Oscar and Hulk were here to help achieve that goal. But one of the main men at SIPG charged with executing this plan was absent. Mads Davidsen, a 34-year-old Dane, was busy at work at the club's headquarters in Shanghai.
Davidsen came to China in 2012 to run a football academy launched by fellow Danish footballer Ebbe Sand. After 12 months, he was offered a job by Eriksson at Guangzhou Evergrande as an assistant and then followed him to SIPG. Last year, he was promoted to technical director, at the heart of the club as head of football development and philosophy.
The standard of Chinese football, Davidsen says, has progressed dramatically in his five years in Asia. "The first matches I saw here, the game was very slow, the players were not even spectacularly fit, the foreigners were often older players, here for the last job, a kind of retirement home," he recalls. "Today, not only are the Chinese players fit, they are developed and more professional, in attitude, training and the environment, and the foreigners are on a completely different level. We not only bring in good players, but players in their best age."
Since SIPG completed its takeover of the club in 2014, investment in foreign players has rocketed. In the 2014/15 season, the club spent £5.95 million on overseas players; the following season, that rose to £23.38 million; and in the lead up to the new season, the sum was almost five times higher, at £113.38 million. On top of that, the club has set up 31 academies across China aimed at advancing the level of domestic footballers. The most promising young products from those academies are invited to the center in Shanghai when they turn 13. But, even with such huge investment, Davidsen isn't expecting an immediate transformation. "I have told them in my club, if you look at it from a scientific perspective, the development from building an academy will take seven years to set the right structure, right environment, and we are only [in] year two," he explains.
An hour's drive outside China's most populous city, SIPG rival Shanghai Shenxin looks to homegrown talent on the pitch, but went abroad for the leadership to develop it. Gary White, an English manager living in Asia, was appointed head coach in May 2016. He recalls the day he was due to meet Shenxin owner Xu Guoliang at his office but was whisked off to the center of Shanghai in a chauffeur-driven car. The vehicle pulled up outside the opulent five-star Peninsula Hotel that overlooks the River Bund. White was shown inside, led through the foyer and into a private members conference room. "It was like walking into a scene out of The Sopranos," White tells Newsweek. "Inside, the room was all marble floors and gold walls. It got darker and darker the further we went in. And there, at the end of the room, was a single figure smoking an expensive cigarette, looking like a million dollars, waiting there for me in a cloud of smoke."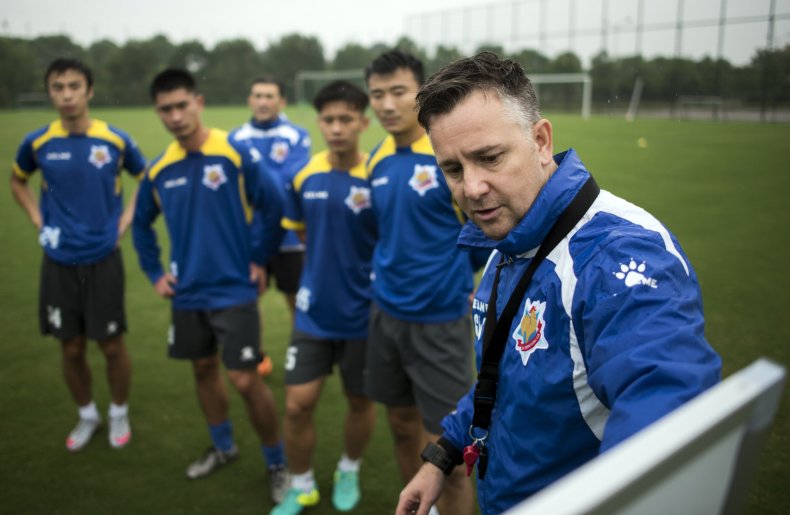 Shanghai Shenxin had been on a downward spiral for some months, heading toward relegation from the Chinese League One, and Guoliang wanted a change. White knew Chinese football well as a spectator, having spent much of the last five years watching the sport while visiting his wife who lives in Shanghai. Under White's leadership, Shenxin's results improved and the club finished 10th in League One.
"My focus was not on the foreign players," says 42-year-old White, from Southampton, England. "It was on 98 percent of the playing staff, which is Chinese. They were the foundation of the dressing room."
"The biggest issue with the Chinese [national] side and the foreign coaches coming over is that they don't invest in the Chinese [...]players," he says. "They invest in the foreign stars, and a lot of the attention is on them. If you give Chinese players—or any players—that kind of faith, they will perform for you." White took on teams managed by Italian World Cup winning captain Fabio Cannavaro, cerebral Dutch midfielder and Champions League winner Clarence Seedorf, and Eriksson.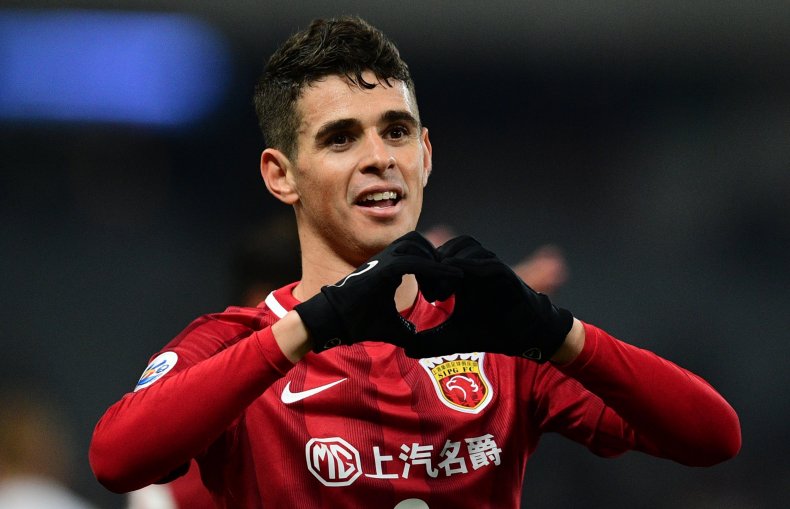 Though White would prefer more investment in domestic players, he can't deny the money being spent upstairs in the Super League has benefited Shenxin. "The infrastructure has changed," he says. "The fact there is so much money involved in that league, so much prestige and exposure, the leagues underneath have also developed."
One thousand two hundred miles north of Shanghai, in the industrial heartland of Changchun, another Englishman makes a living in Chinese football. Defender Jack Sealy—who was born in the U.K. but grew up in Hong Kong—was signed by Changchun Yatai two years ago.
He stands out in this city. "There aren't many foreigners at all, so sometimes when I'm walking along the street people just stare at me," the 29-year-old tells Newsweek. Sealy leads a simple life. Speaking to Newsweek early in February, he is nearing the end of a pre-season tour of Korea which has lasted two-and-a-half months. An average day consists of a gym session in the morning, lunch back at his apartment, before a Mandarin lesson in the afternoon followed by training. The routine rarely changes.
But, for Chinese players, it is even more regimented. Players, coaches and medical staff from China would live in a hotel for the duration of the season. "It's things like that that are annoying, it's unnecessary," Sealy says. "In our team they have a military style of looking after players."
At the helm, Changchun head coach Lee Jang-Soo, a 60-year-old Korean, issues instructions to the team. During training, an interpreter has to translate into seven different languages. By the time he's done, training is almost over.
Another coach helping to develop grassroots football in China is Tom Byer, a 56-year-old American from New York who is two years into the project. Working in Asia for the past 30 years, Byer has consulted with Chinese football clubs and schools to help promote the sport. In 2015, he was employed by the Ministry of Education as head consultant to oversee football development and implement a program for 50,000 schools in China. "This isn't bricks and mortar," he tells Newsweek over the phone from his home in Tokyo. Byer focuses on teaching children to retain the ball with skill instead of running away from the opponent.
The program was developed as a result of the Master Plan, but Byer believes this is solely aimed at increasing physical activity within China. "When you actually read the government policy, it doesn't say host, win or participate in a World Cup," he says. "It is [designed] to position football and use it in a way to put sports back in schools, point children toward a healthier wellness of lifestyle. President Jinping has given those soundbites but there's no policy like that. I haven't seen it." Byer is partially correct. As mentioned, the Master Plan targets "an active bid to host the men's World Cup."
Even so, Byer says exercise is deemed a waste of time in some circles here. "When you go round all the schools like I do this isn't just a football policy," he explains. "This is to make up for a lost generation of kids who have grown up with a lack of physical activity. The educators see sport as a distraction to education, so they kick it out of schools. This [football program] is an attempt to get that right."
Byer is not alone in his belief that there's an ulterior motive behind Xi's Master Plan. Professor Simon Chadwick, of the University of Salford, an expert in soft power and geo-politics of sport in Asia, says China has used football as a form of international diplomacy in recent years. "The way in which China and Chinese football is intended to work is not just playing football for football's sake," Chadwick tells Newsweek. He believes China uses the sport as an "extended economic and industrial network linked to football" that serves as leverage for international interests.
Chadwick points to the African Cup of Nations, a biennial football tournament held on the continent in January, as an example. Two of the four stadiums in Ghana that hosted the 2008 tournament were built using soft loans from China; in Angola in 2011, all four stadiums were Chinese-backed; and the most recent event, this year in Gabon, used four stadiums built with Chinese loans.
Stadium diplomacy is commonplace for China across the east coast of Africa and South America. "Essentially [the Chinese] want natural resources," Chadwick explains. After Angola in 2011, China became the biggest export for Angolan oil. In December 2016, a month before the African Cup of Nations began in Gabon, Xi met with Gabon President Ali Bongo Ondimba, and the two heads of state announced an advancement in their status as trading partners, progressing to a special status. China will now provide major financial support to Gabon's infrastructure plans.
English football appears to be another target for China's soft power ambitions. In December 2015, President Xi was given a tour of Manchester City's Club's facilities while on a state visit to the U.K.. The Chinese president even posed for a selfie with City striker Sergio Aguero and then U.K. Prime Minister David Cameron. Two months later, the club owner Abu Dhabi United Group sold 13% of Manchester City, worth £265 million ($USD), to a consortium of Chinese investors, including China Media Capital (CMC). This was followed 15 months later by Abu Dhabi issuing oil and gas exploration rights to China Energy Company Limited, the first time a Chinese company had gained equity rights in Abu Dhabi oil and gas. This also means China will have more involvement in determining the price of such resources.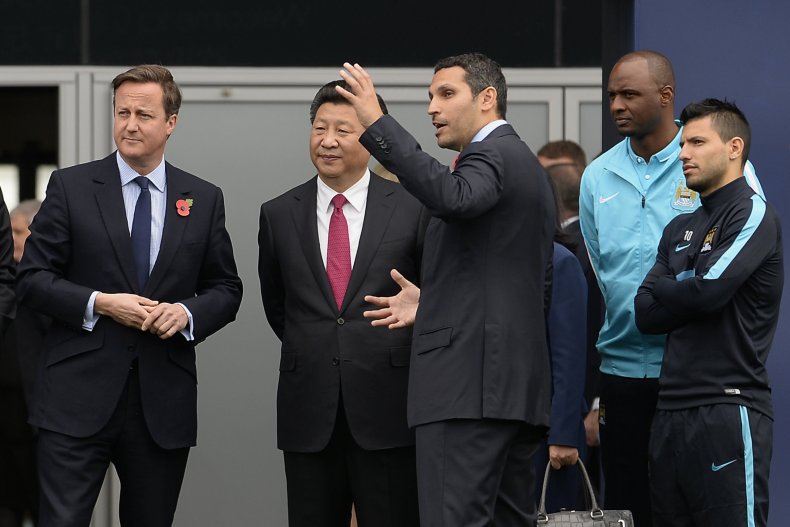 President Xi's visit to Manchester City also raised eyebrows given his allegiance to the club's arch rivals, Manchester United. And those brows were lifted even further when The Sunday Times reported an £800 million bid from China Everbright, a state-backed financial giant, for Liverpool Football Club, the other so-called nemesis of Manchester United. "I think Xi is presented in a particular way because it suits the narrative. Manchester United is the biggest club in the home of football," Chadwick says. "So there's a reason to be associated with United but there is no tangible evidence of this." The reports of a bid for Liverpool, Chadwick stressed, are unconfirmed. Chadwick also believes the photo in Xi's office of him kicking a ball is, in fact, a Gaelic football rather than a soccer ball.
While football is a tool China uses internationally, there seems to be a similar scenario back home. Evergrande, one of the largest property developers in China, bought Guangzhou Football Club in 2010 and renamed it Guangzhou Evergrande; the club has won the Super League for the past six seasons. In doing so, Chadwick believes the real estate group has been playing a "political game" by investing in football. Equally, he believes some companies have seen investment as a "strategic opportunity" to build businesses. "[Evergrande's] business is real estate and to build a shopping center, accommodation, industrial units, they need land," Chadwick says, "and to be able to acquire the right to build on that land, and get planning permission, they require the support of the state. So, therefore, if you are publicly seen to be supporting the state, in my view, Evergrande is more likely to be given the right to build if they are supporting the football vision."
Xi's proclamation, his letter and the Master Plan have set out a long-term target for China. The master has issued his orders and the servants are delivering. But with a general election scheduled for next year, whoever leads the nation over the next few decades will be stuck with Xi's dream. "Now China is publicly committed," Chadwick says, "it must follow through with its investment. As a nation, it will lose face if it doesn't. And, as you know, losing face in East Asian culture is not a good thing."