Mo Farah Tells Newsweek: Donald Trump Could Force Me Back to Britain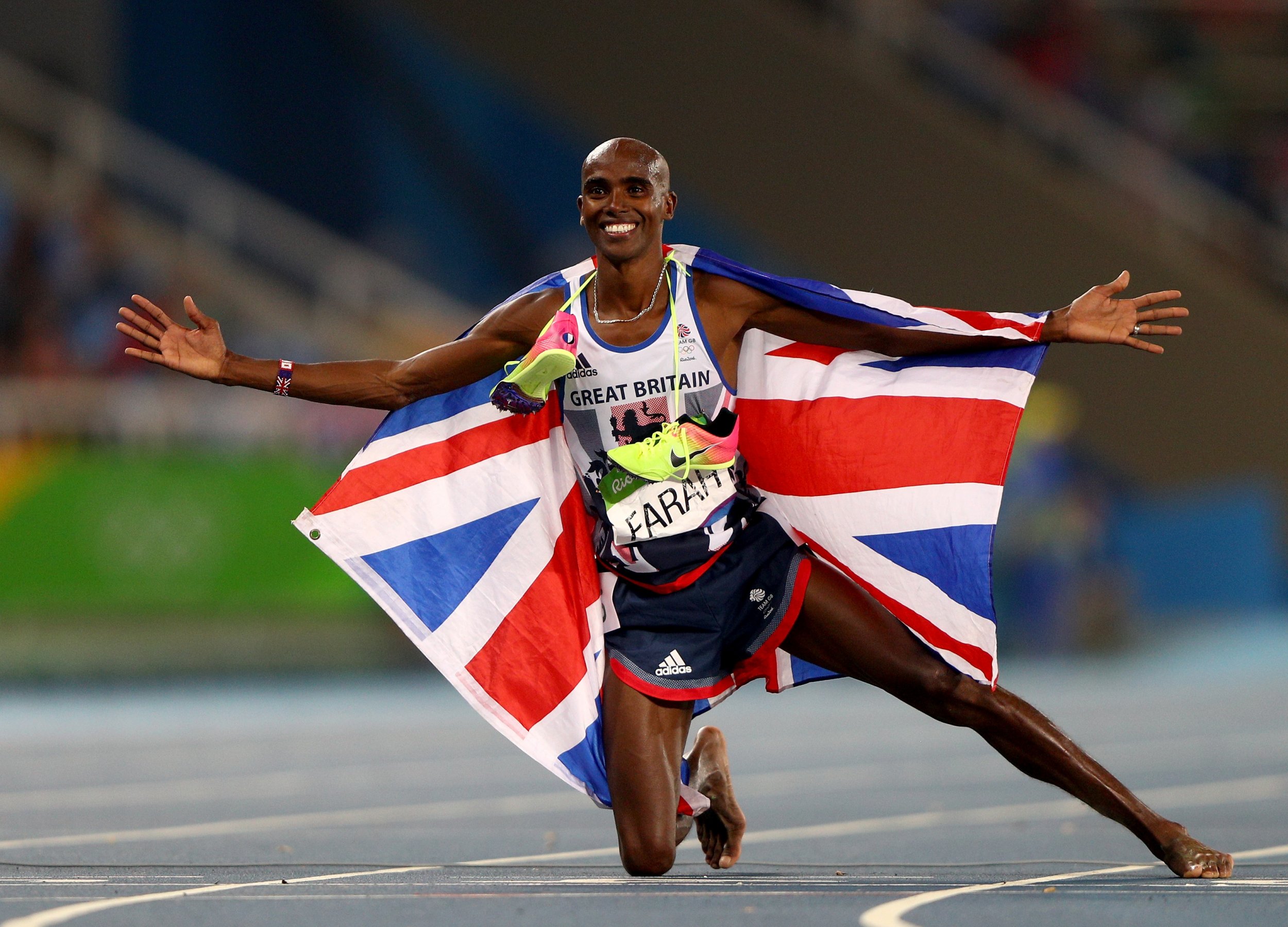 As the clock ticked toward 9 p.m. in a suburban house in Portland, Oregon, on November 8, Mo Farah's 11-year-old daughter adopted the role of political correspondent. Republican presidential candidate Donald Trump had taken a surprise lead over his Democratic opponent Hillary Clinton on election night. Trump was heading to the White House, and Rihanna had to tell her father.
"Dad, you know what? Trump's winning," she said, as Farah, Britain's most successful track athlete in Olympic Games history, relaxed in the family living room.
"Yeah," he replied, "but he's never gonna do it. It's gonna be Hillary [who wins]." Farah was confident but, like the polls, he was also wrong. At noon on January 20, 2017, the inauguration of President-elect DonaldJ. Trump will take place on the steps of the United States Capitol building in Washington. As a black Muslim, the prospect of this still sends a shiver down Farah's spine little over two weeks on from the election, as he perches on a plump sofa in a plush hotel room in the heart of Soho, London.
"Oh God, it's scary isn't it? I am just grateful I have a British passport and a country here," he says in an exclusive interview with Newsweek. "For all the stuff [Trump] has been saying, I don't know how serious he is [but] I fit in with all the stuff that he wants to reject." Farah is shaking his head. It is the only period in our time together that he loses his usual exuberance. "It's hard but I don't know what's going to happen. [It's] scary, but you know what? This is my country, this is where I grew up. Worse case scenario: [If] things go tits up, I'll be back here."
The United States is the third country Farah has called home. Born in a dusty Somali shanty town in 1983, Farah emigrated to the U.K. at eight, where his family settled in west London and Farah began running seriously. After excelling in long-distance running at a local athletics club, he ran competitively at school, entered the European Athletics Junior Championships at the age of 17 and honed his ability at St Mary's University in Twickenham.
In June 2010, Farah became a leading figure in long-distance running after winning the 5,000 meters at the European Championships in Barcelona, Spain. But, that year, he was on the road again, heading across the pond to train for his Olympic dream in London two years later. His base on the west coast of America has allowed Farah to be closer to his coach Alberto Salazar and Nike's top-of-the-range facilities. The move proved successful. In 2012, Farah won Olympic gold in the 5,000 and 10,000 meters in his home city of London, and this summer he successfully defended the titles in Rio de Janeiro to secure the "double-double."
But Farah's success this past year has been clouded by controversy through his association with Salazar. In June 2015, a BBC Panorama television documentary investigated the 58-year-old American's work at Nike Oregon after Steve Magness, a former assistant to Salazar, made claims of doping against him. Magness alleged that Farah's training partner Galen Rupp had taken the banned anabolic steroid testosterone since the age of 16 under the guidance of Salazar. He claims he saw testosterone named on a report on the blood levels of Rupp. Salazar and Rupp have denied the allegations, while Farah insists he has not taken banned substances nor has Salazar suggested he take any. On the day of Newsweek 's interview, questions on this topic are banned. Farah will not talk about Salazar or doping issues within athletics; the elephant trumpets plaintively in the corner of the room, ignored.
What Farah is comfortable talking about is the new documentary filmed this year, Mo Farah: No Easy Mile , released on Monday, that charts his journey from east Africa to London, the city he so clearly loves, and on to the States. "Long term, I always want to come back here [to London]," he says. "Coming back for four or five days makes [me] realise that I'm still in love with this country." The documentary has been a moving experience for the 33-year-old, as he also returned to his birthplace of Djibouti where he was separated from his twin brother Hassan, who was too ill to travel at the time and never ended up leaving.
"It was quite emotional," the father-of-four says. "As a kid, your parents make the decisions and they make the best choice for you over the years, and we should be grateful to our parents for having us, but at the same time it would have been twice as hard to separate two siblings. It was difficult [making the documentary] but I just wanted to show people that's who I am."
In person, Farah is even slighter than he appears on screen. He is drowned by the large cream couch as he leans forward throughout our conversation, picking at the arrangement of fruit from the silver tray between us. The purpose of the documentary, he explains, is to show the world the hard work and commitment needed to become an Olympic champion.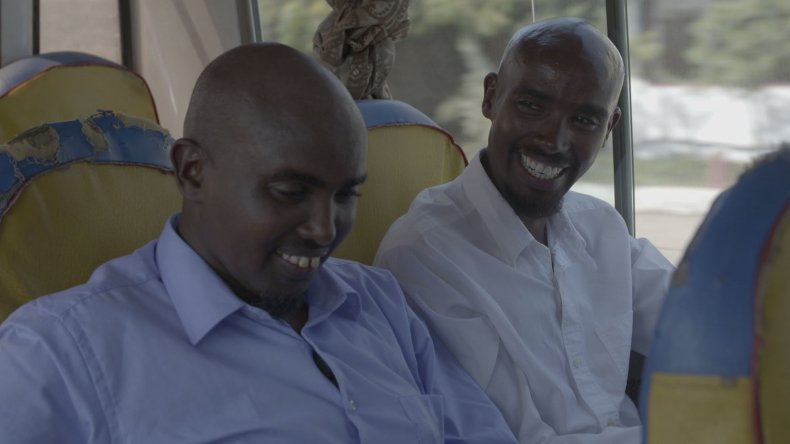 The film opens where his efforts were rewarded, with Farah revisiting the Olympic Stadium in London, recalling his thoughts and emotions from the day he won his first gold medal. Jamaican sprinter Usain Bolt, coach Salazar and Farah's wife Tania describe the jubilant and deafening atmosphere in east London on August 4, 2012. Sebastian Coe, president of the International Association of Athletics Federations (IAAF) and head of London's 2012 bid, then appears on screen to summarize Farah's achievement.
"Mo is, quintessentially, the great and modern story of immigration," he says. "He arrives as a young child. He makes his home away from a large part of his family, in a country he doesn't know. He becomes a national hero in that country. Mo has opened that book to a generation of young people."
But Lord Coe may be proven wrong. That particular book is in danger of closing after Britain hit the Brexit button on June 23, when it voted to leave the European Union. Newspaper columnists have used Farah as an example of the negative impact the departure could bring, particularly in a period of heightened anti-immigration sentiment. Some of Team GB's most successful athletes have parents who emigrated to the U.K.; Jessica Ennis-Hill's father is Jamaican; Katarina Johnson-Thompson's father is from the Bahamas.
"When [the vote] happened I was in France, so I didn't see much of it, but I remember during it I was like, 'Really?! We're out?'" Farah says. His brow furrows as he considers the pros and cons of the vote. "You've got to let people make that decision," he says. "As a country, we want to make the most of it and, for us, we are a very welcoming country. London, in particular, is very multicultural and [has a] diversity of different people. It is known as that, but we have to do what's best for our country. For myself, I was lucky that I was given a chance to be able to come to Britain and join my father but at the same time [you need to] make the most of it, don't think, like, 'I'm gonna sit back'. Work for it."
Images of refugees fleeing war-torn countries, just as Farah did 25 years ago, have caused him discomfort, but he wants to see those granted asylum take the opportunity in the same way he did.
"In life, if people need help then we should try and help them out," he adds. "In this day and age, it's hard. You try and help something and later on it bites you so it's a hard decision, but as a country, as a nation, people need our help.
"I've been around the world and we're lucky enough to have what we have as a country. We should hold onto it. I don't know much about politics but you have to look at it with the bigger picture and think what's best for us now, what's best for us in 10 years' time, what's best for our kids' kids' future — and I don't know."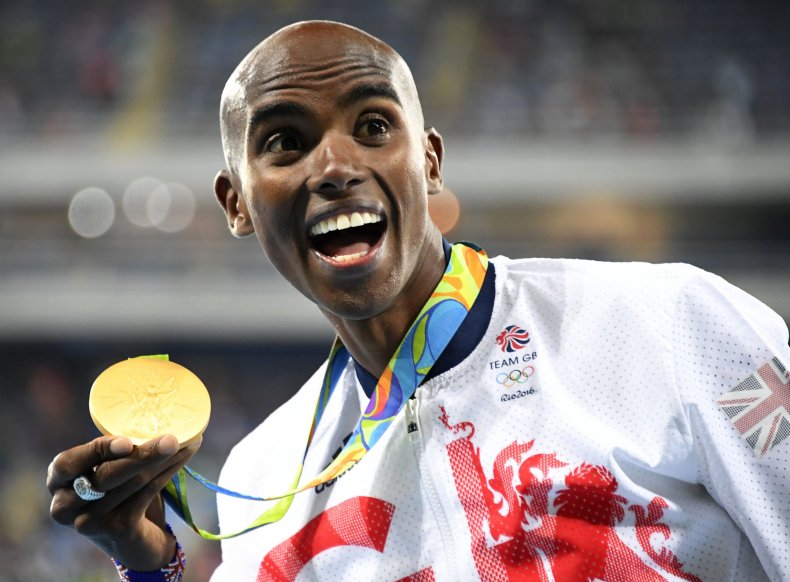 What Farah is fully aware of, however, is how his achievements on the world stage have elevated to a status, where his achievements resonate outside the sports world. He accepts, and enjoys, the notion he is an inspiration to aspiring Muslims and minorities. "We have to show people that we can do things and we can mix it with the best," he insists. "We can do many things. I never saw this—" he points to his skin "—as myself; I don't see you as different. I see us as equal, as the same thing. But many people you ask might think, 'Oh, he's this and he's that.' It's important we see all people as under one roof."
In August, Farah will be back under his favorite roof. The 2017 World Championships will be held at the Olympic Stadium in London, the new base for English football club West Ham United. Before then, though, Farah faces a race off the track. Last month, he was shortlisted for the BBC Sports Personality of the Year award, up against a 16-person shortlist including tennis world number one and Wimbledon champion Andy Murray, two-time Olympic gold medal triathlete Alistair Brownlee, and Olympic boxing champion Nicola Adams.
"I remember being a kid watching Sports Personality of the Year and seeing so many great athletes win that, and it's nice to be in the shortlist," he says. "But what will be, will be. It's not like a track performance or a performance by you. It's out of my control; it's the public vote."
Farah plans to be in attendance on December 18 when the winner will be announced at the Genting Arena in Birmingham, where he believes Murray could be victorious. But the blow wouldn't be too painful for Farah.
"It would be another amazing thing for me but it's not what drives me," he says. "What drives me is being on the podium and hearing the national anthem, and that's what keeps me going every day."
Mo Farah: No Easy Mile is available on DVD and digital download Monday.