Fly With Géraldine Fasnacht, the Woman Fighting BASE Jumping's 'Crazy' Stigma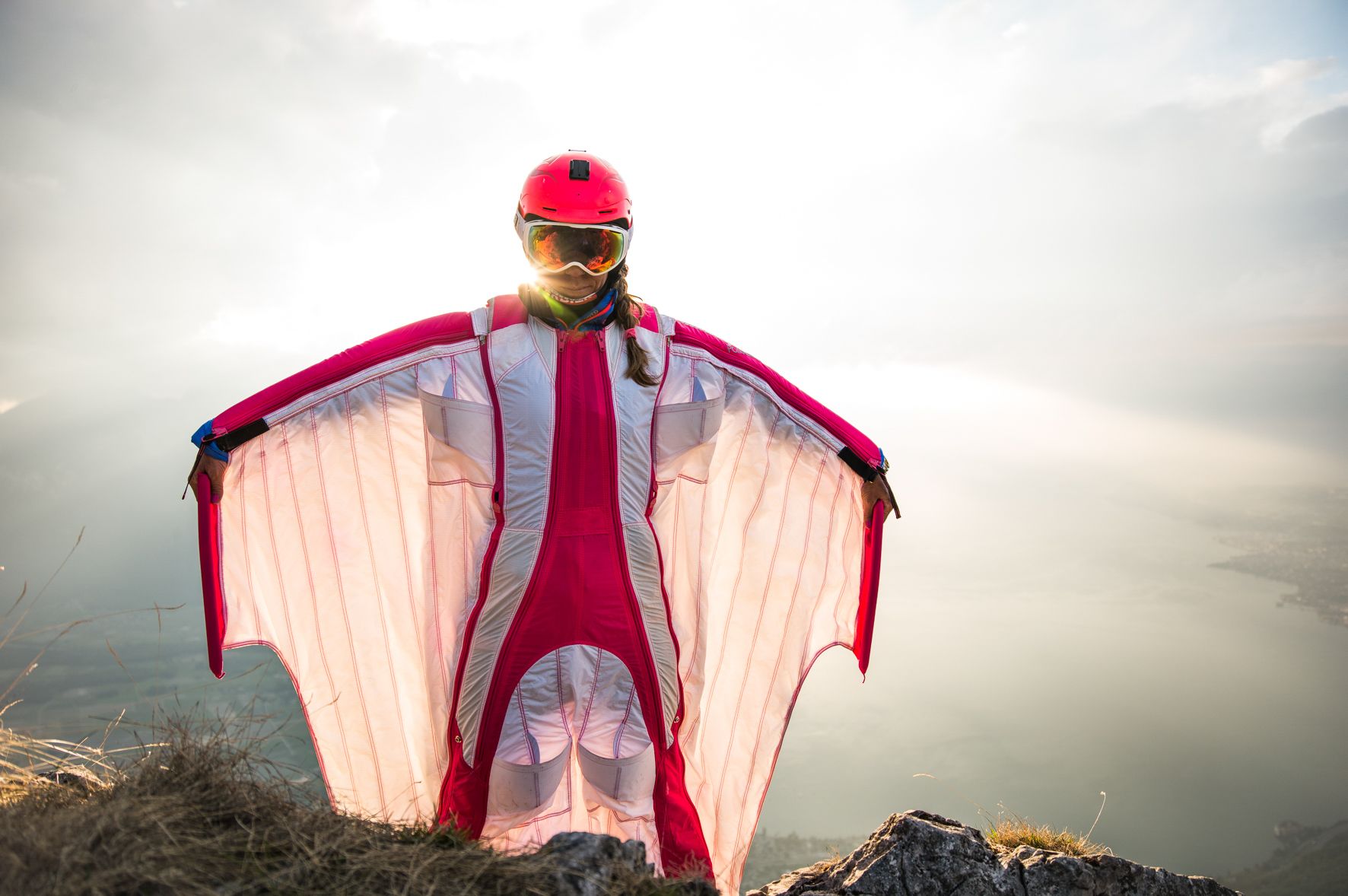 Dressed in a bright pink and white wingsuit, Géraldine Fasnacht makes her way to the edge of the cliff. She stands at the summit of the Malatraix, a mountain in the west of Switzerland, overlooking the small town of Villeneuve and the vast expanse of Lake Léman. It's a long way down; Malatraix is 1,931 meters high.
The sun begins to disappear behind the mountains on the far side of the valley as Fasnacht steadies herself on the precipice. Her breathing eases. She blinks. And then the countdown begins.
"Trois…deux…un… BASE!" Her muscular legs bend and she explodes away from the side of the cliff. She spreads her arms instantly and the air begins surging into the small pockets dotted around the lining of her wingsuit, inflating the material and allowing her to glide away from the face of the mountain. She weaves from side to side, high above the fir trees that cover the mountainside, reaching speeds of up to 180 kilometers per hour, gradually becoming just a dot almost as small as the period at the end of this sentence. Three minutes and 12 seconds after she jumps into thin air, her feet touch the earth once again. She calls me to confirm she's okay.
"Yes, I'm fine," she says, as I peer over the edge of the cliff at the field where she has landed. "I will meet my friends for a glass of wine and see you when you get down."
The activity she has just completed is an extreme sport that is gaining in popularity rapidly. BASE jumping—BASE is an acronym for Building, Antenna, Span and Earth—sees participants throw themselves into the air from great heights before flying back down to the ground in a specially-designed wingsuit made of sturdy fabric. Fasnacht, 36, has been BASE jumping for 15 years, and she's jumped off mountains more than 3,000 times.
Experts regard Fasnacht as one of the most experienced and responsible BASE jumpers in the world. She has been a professional since 2001, receiving sponsorship from brands like Swiss watchmaker TAG Heuer; she also gives talks on risk management to companies across Europe and instructs aspiring BASE jumpers.
Today, however, she is in test mode, warming up the wings of a brand new suit designed by Robert Pecnik. Pecnik, founder of Phoenix-Fly, a leading designer and producer of wingsuits, hopes to create a model that will allow BASE jumpers to glide for greater distances, augmenting the feeling of flying. A jumper, at the moment, can achieve an average reach of 3.5 meters forward for every one meter gravity takes hold; Fasnacht wants to raise the reach to 10 meters. This is her latest endeavor after years of opening the biggest mountains around the world.
In 2012, Fasnacht became the first person to jump from Les Drus, the highest point of Mont Blanc in the French Alps, at 3,754 meters. Two years later, she leaped from the top of the 4,478-meter-high Matterhorn, Switzerland's most famous mountain; no-one had ever flown from the peak before. And, on August 8 this year, Fasnacht completed her most daunting challenge yet. After climbing for two days up the snowy Monte Rosa, in the heart of the Pennine Alps, she reached the Nordend peak and jumped from 4,609 meters, taking off from Switzerland and landing in Italy. Only birds had flown from the top of Monte Rosa before August 8.
The sport has made her a big name in extreme sports but when she started taking leaps that many people would see as borderline crazy she kept her new passion to herself. "When I started, I didn't want anyone to know I was BASE jumping because I was scared to explain what I was doing," Fasnacht says. "It was not normal to say what I was doing. Nobody was jumping around me. When you were a BASE jumper at that time it was not a shame, but it was out of the normal way of life."
Many people would still struggle to accept this as a "normal" activity, but interest and participation in the sport has spiked. Although global figures are unavailable, the Swiss BASE Association, which was established in 2007, says the number of jumpers in Lauterbrunnen, the sport's most popular location in Switzerland, has almost tripled, from around 7,000 to 20,000 in nine years. With this increase comes inevitable accidents. Year on year, while the ratio of jumpers to deaths falls, the fatalities rise; 36 athletes have lost their lives so far this year, which makes 2016 already the deadliest year on record in the sport's history.
With the evident danger and risk Fasnacht takes every time she jumps, it leads me to wonder what could possess her to gamble with her life so often for just a moment's thrill?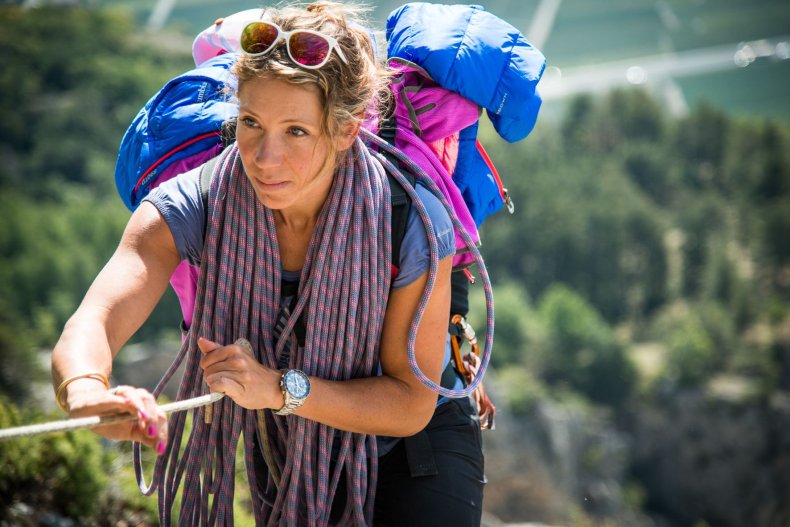 I first meet Fasnacht for breakfast in her home village of Verbier, a popular ski resort situated at the top of a winding road in the Swiss Alps. During the winter season, the sidewalks here are packed full of skiers and snowboarders looking for the adrenaline rush of the slopes during the day and the alcohol-fuelled release of après ski in the evenings. For now, though, it is almost silent.
Fasnacht bounds in, dressed in tracksuit bottoms, a bright pink t-shirt and a grey beanie. Her nails, sprinkled with glitter, match her top. Her blonde hair hangs over her shoulder in a plait. She is athletic and graceful, with toned biceps peaking out from under her sleeves and bulging calves pushing on her trouser legs. Outside, the cloud hangs low in the valley and the snow begins to fall; the reduced visibility makes the conditions unsafe for jumping. There will be no flying today.
Growing up in a small village near Lausanne among the neighboring farmers, Fasnacht began to explore the surrounding mountains at a young age. Soon after learning to walk, she took up skiing. And soon after skiing, she learned to snowboard. It was an active childhood.
"When I was a child, I always dreamed about flying," says Fasnacht, a trained pilot. "I wasn't a great student at school; I wanted to be outside all the time. My teachers were saying, 'You have to study if you want to have a good job or if you want to succeed in life.' I was thinking yes, for sure, but what I have learned is that if you have a dream you better pursue it to the end, because even the craziest dream in your mind can be true—and that's the case with flying."
Fasnacht is not alone in this fascination; human beings have always craved the ability to glide and soar like a bird in the sky. It is the unknown that makes us curious. Franz Reichelt, an Austrian tailor, is widely believed to be the first ever wingsuit flyer, after jumping from the Eiffel Tower in 1912, filled with hope that the contraption attached to his back would see him fly. His wingsuit, a baggy great mass of cloth that hung high above his head and surrounded his body, bears only a slight resemblance to the streamlined, sophisticated modern-day models. Reichelt, unsurprisingly, plunged to his death. According to Blinc magazine, 311 people have lost their lives through BASE jumping.
For Fasnacht, the yearning to fly started early. At the age of seven, she would rappel down ropes she had set up from the six-meter high ceiling of the converted barn she lived in with her mother and four siblings. But it wasn't long before she traded it in for the mountains she now describes as a "playground."
In 1995, at the age of 15, she took up the sport of freeriding. This is a type of snowboarding in which competitors aim to get from top to bottom of a mountain as quickly as possible, negotiating sheer cliff faces without a set course to guide them. She turned out to be good at it, gaining sponsorships and winning the Verbier Xtreme, the final and most prestigious stage of the annual Freeride World Tour, in 2002 and 2003.
Fasnacht started BASE jumping because of a shortage of snow. When the summer sun came out in 1996 and the winter ice melted away, the then 16-year-old Fasnacht looked around for a sport that would provide the same satisfaction and keep her in physical shape for when the snowflakes began to fall again. "I tried rock climbing, I tried biking, I tried hiking—hiking up is good but it is the down I hate," she says. "I saw some footage about BASE jumping and I was like, 'Oh, maybe this is what I want to do.'" From the research she conducted, Fasnacht learned that she should master skydiving first, so completed 200 to 300 dives before attempting to BASE jump. In 1996, Fasnacht got a job as a controller for Swiss Air at Geneva Airport in order to raise money for the equipment she needed.
Five years and months of training later she completed her first BASE jump, taking off from a friend's tandem paraglide as they flew from Verbier into the valley below. The thrill was instant. "It is a feeling which is unreal when you fly," she explains. "It is unbelievable. It is so powerful because you feel even more alive when you are part of the elements. I feel that I breathe more with my chest wide open. It is hard to describe."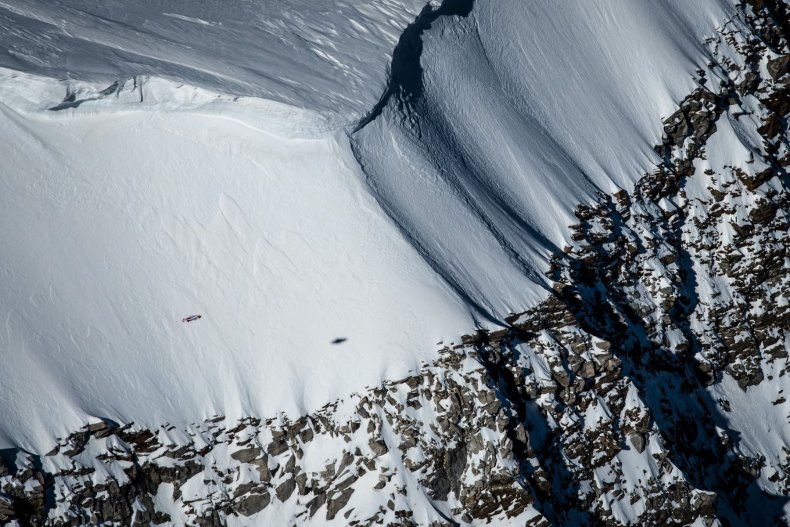 Not long after Fasnacht began jumping, she suffered her first and only near-miss. Leaping again and again from the Yellow Ocean, a cliff in Lauterbrunnen, she taught herself how to fly away from the rockface. In the process, the buzz of being so close became addictive. "I was doing my first fly next to the wall and it's incredible because you see the rock next to you and you feel part of the nature. You feel like a bird flying next to the cliff. It's unbelievable, and every jump I wanted to be a little bit more next to the wall, a little bit more next to the wall, and a little bit more once again, just one more second. And one of the jumps I did too much."
As she turned to glide away from the wall, the canopy in her backpack opened with a twist. The parachute deployed but the cords tangled together. She couldn't turn left or right. Fasnacht was hurtling toward the ground below at great speed, unable to slow herself down. "Luckily, I landed into the field and not into the houses or the road," she says. "I twisted my ankle and was really in pain. I was far from the car and a friend came and said he would go and get the car, and I'm like, 'If I can be stupid enough to do this, I can be good enough to walk there.'" Fasnacht stumbled to the car on her throbbing lower leg but passed out from the pain and was taken to hospital. She was trying to punish herself for the mistake, she says.
Fasnacht vowed from that day never to allow herself to sway from the intricate calculations and planning that go into each and every jump she does. Now, there are only two periods in her life when she will take a break from the sport. The first is when she is feeling emotionally down and her mind is elsewhere: "When you're low, that's when you've got to be with your family and take care of the base—the real base." The second is when she's feeling too confident, too at ease with herself. She recognizes the danger this brings. "You have no fear," she says. "That's when you're going to die."
Death tends to be a frequent and unwanted visitor in the world of BASE jumping and extreme sports. Nathalie Winter, a close friend and member of Fasnacht's team, says there is an acceptance in their world that you will lose one or two members of the sport every year. Fasnacht recalls a friend, Frenchman Ludo Woerth, who was killed instantly in 2014 after flying too low during a jump in Bern. "Ludo was someone that I liked a lot," she says. "But he already had one trouble, one time finishing in the trees. I had a big chat with him. I said: 'Ludo, come on, you are flying so low now. Don't expose yourself so much. I don't want you to die.' He said I was right and not to worry, that he was going to stop flying so low. And then, a month later, he died."
Fasnacht has lost loved ones and friends, even outside of BASE jumping. In January, her father, Robert, committed suicide after a long illness in what is the latest family heartbreak. In 2000, her youngest brother, Gregory, a keen climber, was killed in a car crash. Six years later, her first husband, Sebastien Gay, was involved in a fatal accident while speedriding, a sport that combines skiing and paragliding.
On a sunny day in the mountains of Verbier, Fasnacht and Seb were soaring across the dusty snow on their skis with the canopies following above, something they had done many times before. Seb glanced over to his wife to make sure she was okay but caught the ground awkwardly and lost his balance. "He hit a big rock with his head," Fasnacht recalls. "It was a human mistake. He couldn't escape his human mistake."
Fasnacht rushed over and called the emergency services. She held Seb in her arms. "Can you hear me?" she asked. "He just answered with his eyes and then it was over. He died in my arms after ten seconds. It was terrible because I've called the rescue services and normally it takes only 15 minutes for them to come to Verbier. I said it was really an emergency and they have to come quickly but it took them over an hour to come to me. I was one hour with the body of my dead husband in my arms."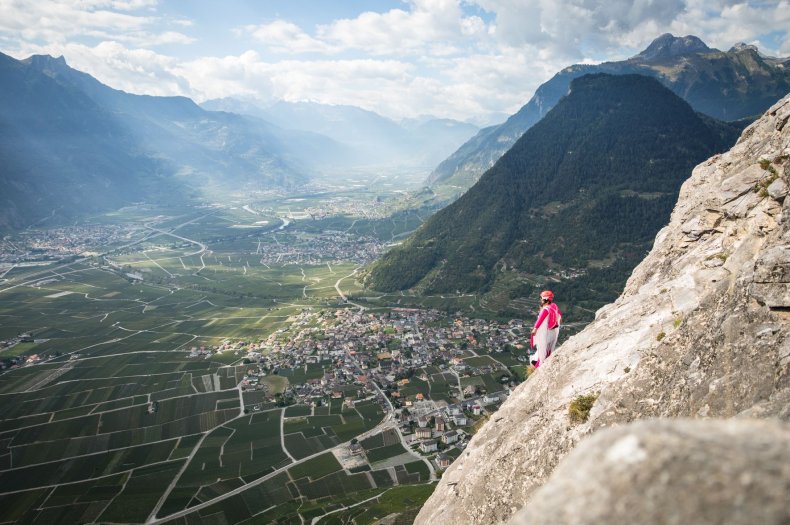 It is late in the evening on the final day of my trip. Fasnacht and I are sitting in a restaurant at the highest point of Verbier. I've now spent three days with Fasnacht and I've found her focus on safety impressive; she insists she will not jump if the conditions are anything less than perfect and lists a handful of occasions as evidence. But, having stood on the top of the Malatraix myself, gripping the earth for dear life while she moved confidently across the ridge, I can't help concluding that BASE jumpers have a different relationship with mortality than most of us.
"Do you not fear death?" I ask. She pauses for a long time and then she laughs—but it's a suppressed, almost shocked kind of laugh. She places her cutlery down on the oak table. "I am not afraid of dying," she says. "But that doesn't mean that I want to die. I don't want to die at all because my life is so beautiful and I want to do a lot more things. My list is still big."
We talk about the people she has lost. "We think that death is the end and we think everything is finished. I don't think it is," she says. "That's my point of view. It may be wrong but that makes me feel happy and that's really what I feel deep down."
Fasnacht is not religious, but this sense of peace she holds—a spirituality that underlines her belief that her father, brother and Seb will be waiting on the other side—continues to give her the strength to keep jumping.
So, if not in more tears for the Fasnacht family, how does this end? A family of her own, she says, could lead to scaling back the risk and jumping from lower heights that are less technical—but she insists her flying days would likely continue.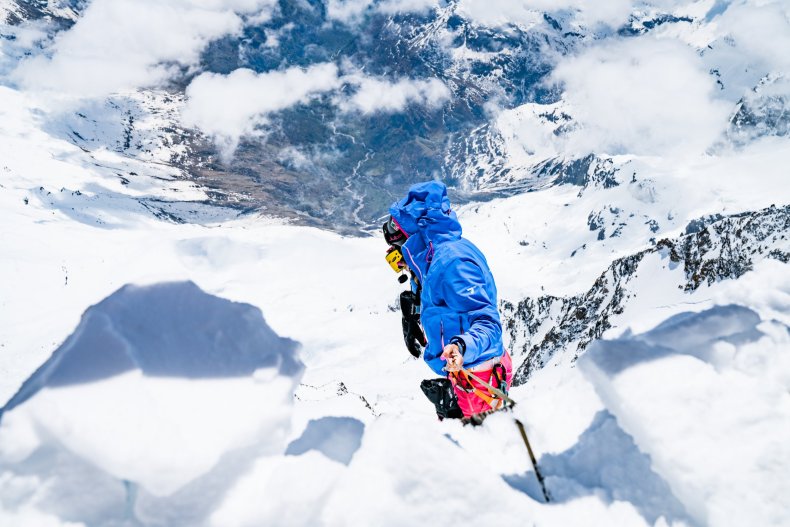 Fasnacht says BASE jumpers often find it hard to quit. She has friends who have given up the sport after getting married but she says they always end up coming back to the mountains, whether it be a year or five later, and many are divorced.
"If I quit what makes me happy, it needs to be my choice," she says. "I don't want to take this decision for someone else." The only person to have asked her to stop was an ex-boyfriend. "I had to choose between jumping and him so it was a pretty easy answer: 'Say what?! Ah, okay, the door is over there. Bye.'"
Right now, the only thing she can see prompting her to quit would be the failure of wingsuit manufacturers to develop better equipment.
"The day that I feel the wingsuit has gained the top level and I cannot do something else, okay, fair enough, I will just have to find something else." But, for now, she will continue to spread her wings.