FA Cup Final: How Arsenal and Chelsea Records In The Final Compare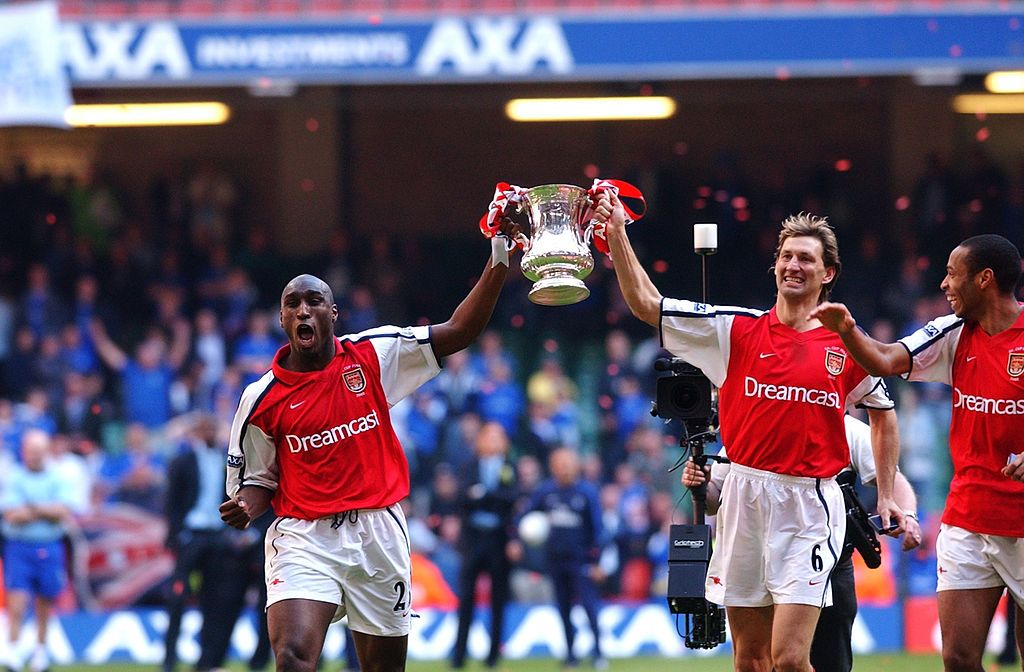 In the 146-year history of the FA Cup, Saturday's finalists—Chelsea and Arsenal—have made it this far on 30 occasions between them.
Arsenal shares the record for the most successful club in the competition, alongside Manchester United, after lifting the trophy 12 times. On Saturday, Arsene Wenger has the chance to take the lead and win his only trophy of a season that has seen Arsenal miss out on Champions League football.
Antonio Conte has the chance to win the double in his first campaign at Stamford Bridge after Chelsea lifted the Premier League trophy on Sunday. The Italian manager has joined a club used to success in English football's oldest competition, having won the cup four times during the past decade. Here, Newsweek takes a look at the history of the two clubs in the FA Cup final.
Arsenal:
1926-27—Cardiff City 1-0 Arsenal
A Hughie Ferguson goal in the 74th minute was enough to beat Herbert Chapman's Arsenal in the club's first FA Cup final at the original Wembley Stadium.
1929-30—Arsenal 2-0 Huddersfield
Chapman led the Gunners to the club's first win three years later, with Scot Alex James and Jack Lambert scoring the goals.
1931-32—Newcastle 2-1 Arsenal
A regular at the latter stage of the competition now, Arsenal took the lead in the final through Bob John but Jack Allen struck twice for Newcastle to win the trophy.
1935-36—Arsenal 1-0 Sheffield United
George Allison became only the second manager to win the FA Cup for the north London club, as Ted Drake's 74th-minute winner beat the Sheffield side.
1949-50—Arsenal 2-0 Liverpool
Arsenal's first post-war final saw a comfortable victory for Tom Whittaker's team as a double from Reg Lewis condemned Liverpool to its second FA Cup final defeat.
1951-52—Newcastle 1-0 Arsenal
Two decades after Newcastle beat Arsenal in the FA Cup final at Wembley they did it again. Chilean forward George Robledo scored the winner with six minutes remaining in the match.
1970-71—Arsenal 2-1 Liverpool
Liverpool, under Bill Shankly, suffered its second FA Cup final loss to Arsenal with all three goals coming in extra-time. Substitute Eddie Kelly cancelled out Steve Heighway's opener before Charlie George got the winner and secured the double for Arsenal.
1971-72—Leeds 1-0 Arsenal
The north London team was denied a first successive FA Cup title by Allan Clarke's second-half goal at Wembley Stadium.
1977-78—Ipswich Town 1-0 Arsenal
The first of three successive finals for Arsenal finished in defeat due to Roger Osborne's winner in the 77th minute.
1978-79—Arsenal 3-2 Manchester United
Terry Neil's team finished on top in one of the most dramatic cup finals in the competition's history. Two goals from United, in the 86th and 88th minute, ruled out Arsenal's two-goal lead, but Alan Sunderland grabbed the crucial goal a minute later.
1979-80—West Ham 1-0 Arsenal
Again, Arsenal couldn't hold on to the FA Cup for consecutive seasons after Trevor Brooking scored for West Ham in a team including Alan Devonshire, Frank Lampard Snr. and Alvin Martin.
1992-93—Arsenal 2-1 Sheffield Wednesday
After a 1-1 draw, Arsenal won the replay at Wembley five days later in extra time. Center back Andy Linighan bagged a dramatic 119th-minute winner when the game looked like it was heading for penalties.
1997-98—Arsenal 2-0 Newcastle
Marc Overmars and Nicolas Anelka eased Arsenal into its second double in the club's history in Arsene Wenger's first of seven FA Cup finals.
2000-01—Liverpool 2-1 Arsenal
Freddie Ljungberg looked to have won the final at Cardiff's Millennium Stadium, before two Michael Owen goals in the last seven minutes won the trophy for Gerard Houllier's team.
2001-02—Arsenal 2-0 Chelsea
Saturday's finalists met for the first and only time so far in 2002. A long-range drive from Ray Parlour beat Chelsea goalkeeper Carlo Cudicini and flew into the top corner of the net before Ljungberg scored his second cup final goal to kill the game.
2002-03—Arsenal 1-0 Southampton
Wenger's team retained the cup for the first time in its history with fellow Frenchman Robert Pires scoring the only goal of the game.
2004-05—Arsenal 0-0 Manchester United (Arsenal win on penalties)
Arsenal ended up the victor in its first FA Cup final that went to penalties. Wenger's team scored all five spot-kicks meaning Paul Scholes' miss gave the London club the trophy.
2013-14—Arsenal 3-2 Hull City
In Arsenal's first FA Cup final visit to the new Wembley Stadium, it fell two goals behind in the first ten minutes. Santi Cazorla and Laurent Koscielny pulled Wenger's team back and Aaron Ramsey scored the winner in extra-time against Steve Bruce's Hull.
2014-15—Arsenal 4-0 Aston Villa
The last trophy Wenger won as Arsenal manager came with ease against Aston Villa, as Theo Walcott, Alexis Sanchez, Per Mertesacker and Olivier Giroud pummeled the fellow Premier League club.
Chelsea:
1914-15—Sheffield United 3-0 Chelsea
David Calderhead's Chelsea was easily beaten in its first FA Cup final, at Old Trafford. James Simmons' first-half goal was added to by Stanley Fazackerley and Joseph Kitchen.
1966-67—Tottenham 2-1 Chelsea
In Chelsea's first final at Wembley Stadium, in front of 100,000 people, Tommy Docherty's team lost its second final against London rival Tottenham.
1969-70—Chelsea 2-1 Leeds (after extra-time)
After drawing the first match 2-2, it took another 104 minutes of the replay for David Webb to score a winner that Don Revie's Leeds couldn't overcome.
1993-94—Manchester United 4-0 Chelsea
Sir Alex Ferguson won his second FA Cup with ease against Glenn Hoddle's Chelsea at Wembley, with Eric Cantona scoring two penalties in six minutes.
1996-97—Chelsea 2-0 Middlesbrough
Roberto Di Matteo scored the fastest goal in the competition's history with a long-range drive in the 42nd minute that Eddie Newton added to seven minutes from the end, to win the cup for Ruud Gullit's team.
1999-2000—Chelsea 1-0 Aston Villa
Di Matteo, the Italian midfielder, was on hand again at Wembley to win the game for Gianluca Vialli's team.
2001-02—Arsenal 2-0 Chelsea
Saturday's finalists met for the first and only time so far in 2002. A long-range drive from Ray Parlour beat Chelsea goalkeeper Carlo Cudicini and flew into the top corner of the net before Ljungberg scored his second cup final goal to kill the game.
2006-07—Chelsea 1-0 Manchester United
In the first FA Cup final held at the new Wembley Stadium, Didier Drogba's extra-time winner delivered Jose Mourinho's only FA Cup victory.
2008-09—Chelsea 2-1 Everton
Louis Saha's first-minute goal was ruled out by Drogba and Frank Lampard as Guus Hiddink won the trophy after replacing Luiz Felipe Scolari as manager midway through the season.
2009-10—Chelsea 1-0 Portsmouth
Drogba proved to be a man for the big occasions by scoring the winner, and his third in three cup finals that saw Chelsea win the league and FA Cup double for the first time in the club's history.
2011-12—Chelsea 2-1 Liverpool
Having scored in two cup finals for Chelsea, Di Matteo led the club to its last FA Cup final win in the same year the club won the European Cup for the first time in its history.
FA Cup Final: How Arsenal and Chelsea Records In The Final Compare | Sports