FA Cup Final: Arsene Wenger and Antonio Conte in Their Own Words Ahead of Their Wembley Clash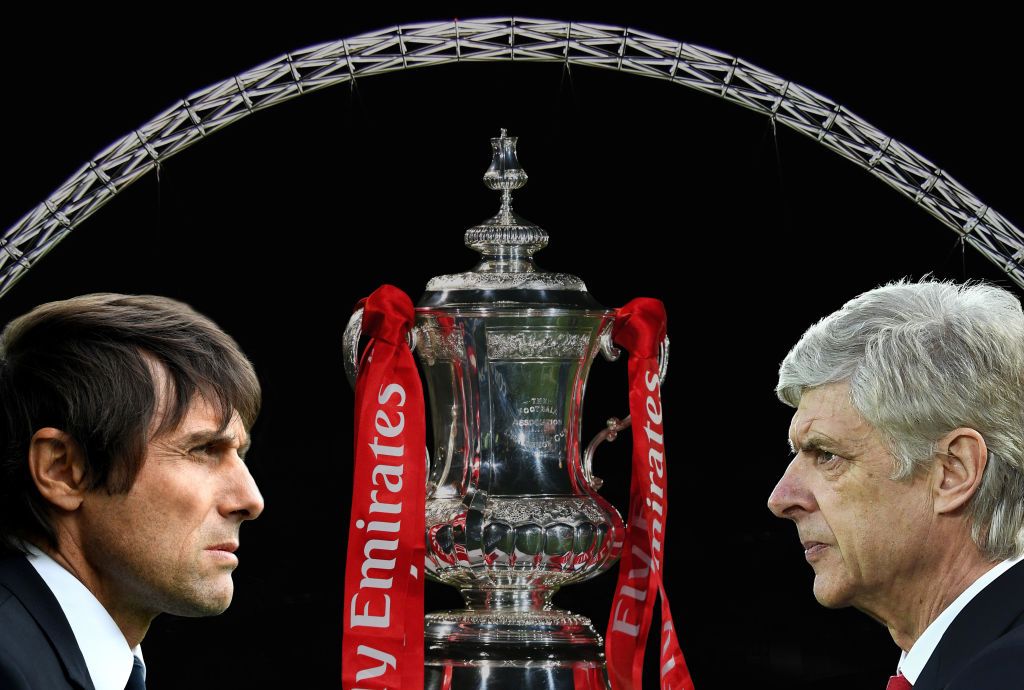 Saturday's FA Cup final at Wembley Stadium represents two managers and clubs in very different positions.
Chelsea boss Antonio Conte has just won the domestic title and is on the verge of becoming the first manager in his first year to win a Premier League and FA Cup double. Arsene Wenger, meanwhile, is looking to the FA Cup as a consolation after Arsenal failed to qualify for the Champions League for the first time in 19 years.
Conte and Wenger have faced the media to talk about their respective clubs' seasons, their chances in Saturday's final, summer transfers, plus security at Wembley following the Manchester attacks. Here, Newsweek picks out the key topics the two men have been discussing.
On injuries
Wenger: "Gabriel is out for 6-8 weeks. We had a scare about his cruciate but it's medial. He avoids surgery.
"Alexis Sanchez is OK, Oxlade-Chamberlain is in contention for final. [Shkodran] Mustafi is still sick and hasn't trained yet."
Conte: "Everyone is good.
"In a final it's not important to miss one, two players. It's important to play with the right hunger, will, desire."
On Saturday's final
Wenger: "I just want to win the cup. The team has addressed the situation on the sporting side and that would be a good crowning of the last two months. The players really want to win something. If I have some benefit on top of that too it's OK."
Conte: "It's important to keep the right concentration. In this aspect, we start as underdogs because we face a team that lost Champions League football.
"To play at Wembley is a fantastic experience for me and my players, above all if the stadium is full. We have to try to put our best."
On their futures
Wenger: "I do not know if it will be my last match at Arsenal—but it will not be my last match whatever happens because I will stay in football."
Conte: "I don't trust that tomorrow will be the last game for Arsene.
"For sure. When you stay in the same team for such a long time, we must consider him one of the best.
"I have two years contract with the club. Then if they give me possibility to stay, I'm available to do this."
On qualifying for the Champions League. Or not…
Wenger: "It's not only about money. We are in a much better position. I guided this club for years with very limited resources and we had to sell our best players. Some clubs are stronger financially. We have a strong enough basic squad to compete at top level."
Conte: "Only this year Arsenal missed out on the CL. For 19 years they played in this competition and this shows his [Wenger's] work."
On the attacks in Manchester
Wenger: "I was in Paris in November for the attacks. It's a huge shock and our solidarity and compassion is with the city of Manchester."
Conte: "Before we start the press conference, we don't forget what happened in Manchester. We are very close to the people who died."
On security at Wembley
Wenger: "Usually when you are involved you don't realise what is happening all around, we are in a bubble and isolated from all that but you want of course the best level of security."
Conte: "This situation creates difficulty in your mind, but if we think we are always in danger, we are dead before we die."
On the summer transfer window
Wenger: "[We are] not braced to lose players. We have nobody at the end of contracts. That will be completely our decision.
"I believe we have a big job to do in the summer. We want to keep players like Alexis and all the speculation can happen."
Conte: "We have to finish this season, but we've started to work for next season. We have the same point of view [Chelsea and Conte].
"For sure, we'll try to strengthen our squad because we have to face an important competition in the Champions League."