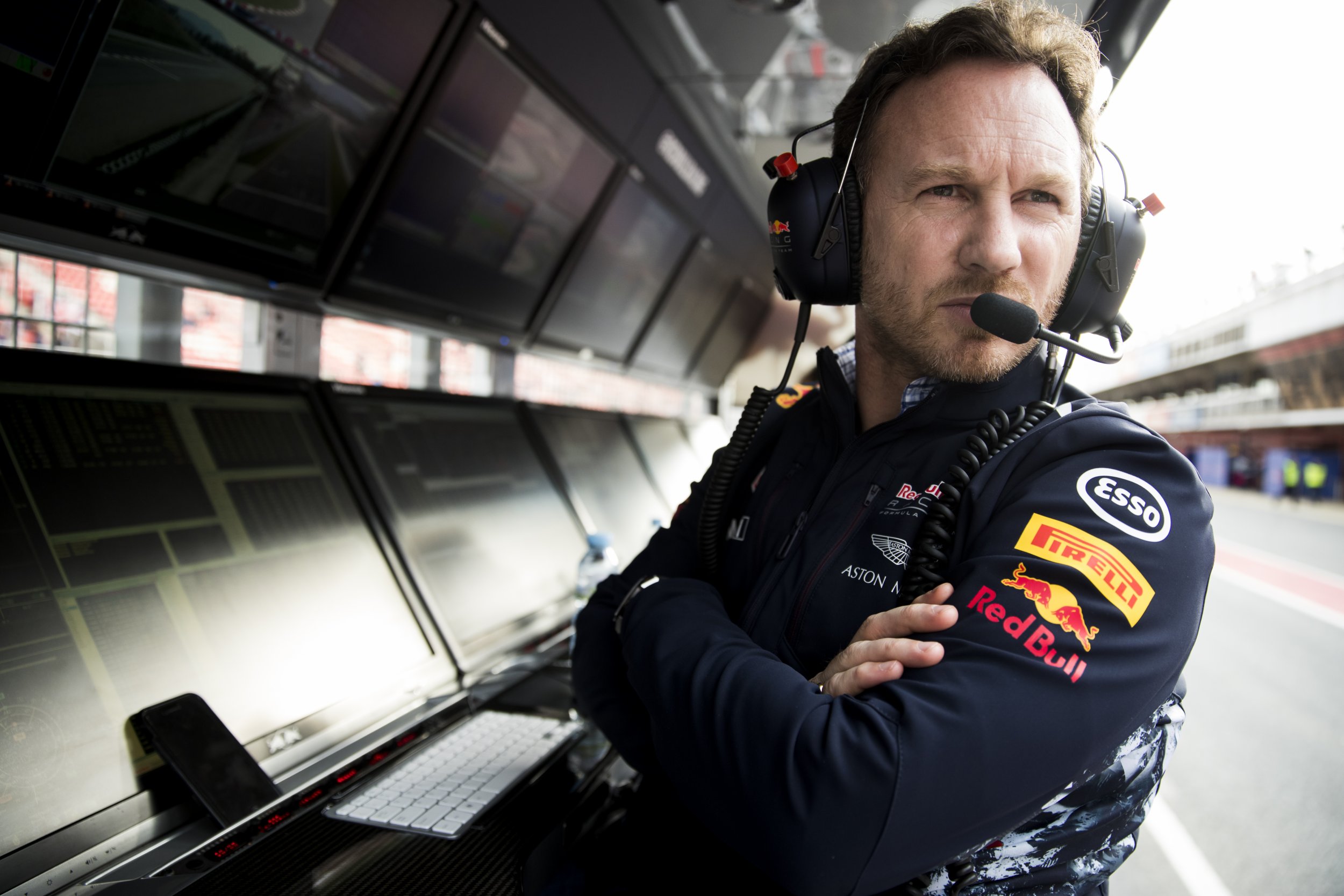 On the wall of Christian Horner's office, at Red Bull Racing's headquarters in Milton Keynes, is a reminder of the glory years here. A large monochrome photograph captures the moment Sebastian Vettel, closely followed by then-teammate Mark Webber, crossed the finish line at the 2013 Japanese Grand Prix.
Vettel's victory in Suzuka saw him storm toward his fourth consecutive world title as Red Bull continued to enjoy dominance in the Constructors' Championship. Downstairs are replicas of both 2013 trophies in a cabinet stretching eight meters high up the wall. At eye level, you can see silverware from Grands Prix in Malaysia, Germany, Singapore, the U.S., Abu Dhabi, Brazil. The year most frequently etched into the metal is 2013.
Since then, Red Bull has been top of the podium just five times, having been overthrown by the might of Toto Wolff's Mercedes. The German team is able to boast not only a world champion but runner-up in the last three seasons, as well as picking up the Constructors' title in each year. Of the 59 Grands Prix raced since 2014, Mercedes has won 50; the crown has certainly shifted.
But, on Sunday, each Formula One team starts back at zero once again. At the first Grand Prix of the season, in Melbourne, Australia, Daniel Ricciardo and Max Verstappen line up on the grid for Red Bull, and Horner is very clear on their objective this year: "Closing the gap down to Mercedes," he tells Newsweek, sitting at a glass conference table, the picture of Vettel and Webber behind him. "They've enjoyed such a huge advantage for the last three years. If we can close that gap down and start to challenge them at races this year on merit then that'll be definite, definite success."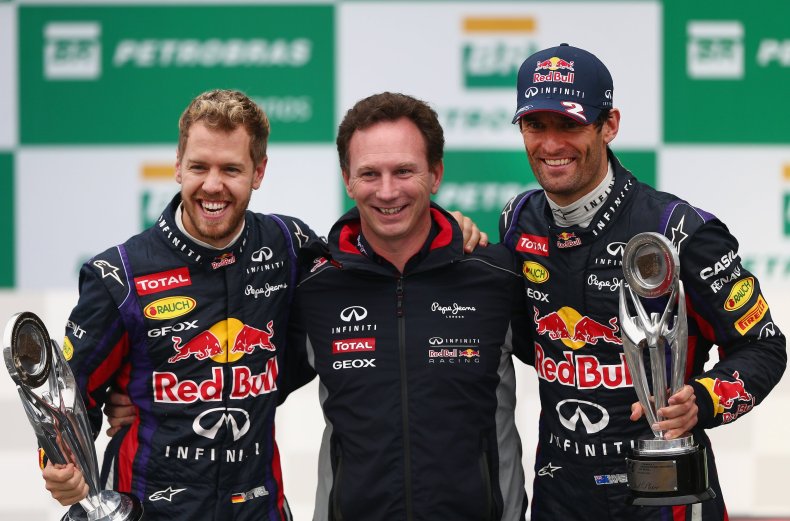 Over the winter, Red Bull's designers were busy producing a car that would close the gulf with Mercedes. They unveiled the RB13 at the end of February and then put it to work at Spain's Circuit de Barcelona-Catalunya for testing, where Ricciardo and Verstappen completed 684 laps to Mercedes' 1,096, while Ferrari proved to have the fastest car. "Everybody always gets sucked into lap times and performance of winter tests when the reality is you don't know car weights due to fuel loads, you don't know power settings, energy settings; they all have a big influence on performance," Horner says, gesticulating for emphasis. "But what you can see is that Ferrari have got what looks like a competitive car [and] Mercedes, for sure, are the team to beat. They have, as the reigning three-time world champions, definitely got a phenomenal package. And we believe we've got the basis of a pretty decent car."
Since testing finished on March 10, engineers have been busy working on the RB13; a little tweak here, a tiny adjustment there, as they monitor the result with a simulator. New rules this season mean bodywork and tyres are wider, creating more downforce for the cars. "Because they're very new regulations, they're very immature, so it's pretty much everything [that we're working on]," Horner, 43, explains. "So the guys are finding gains pretty much all over the car at the moment, rather than one specific area. That, of course, will funnel down over time."
After spending last weekend with his family—he has a baby son with wife and former Spice Girl Geri Halliwell, and a three-year-old daughter from a previous marriage—Horner was due to land in Melbourne today as part of the last group to leave the factory. The Australian Grand Prix marks his 14th season at the Red Bull helm, and Horner expects a familiar feeling to arise in him as he awaits the first flash of green lights. "There's an apprehension," he says, "but it's good. It's good to have that when you're competing. It's exciting as well to know this time next week we'll know where we are performance-wise, what we need to be looking at, what we need to be addressing."
But for some fans and former drivers this realization is one of the sport's perennial problems: Come Sunday afternoon, Mercedes races away from the chasing pack, puffs out its chest, and there is no chance for the likes of Red Bull and Ferrari to catch up again over the course of the season.
Horner, however, sees it in two ways. "It's frustrating and a challenge," he says. "The great thing is that you've got the opportunity to react, so theoretically we can bring a different specification car to every Grand Prix. But it's the speed of reaction, the ability to understand the areas where you need to improve and address that differentiates the teams. So it's department to department throughout the business; they are going head-to-head with their peers, down the road in Brackley at Mercedes or Maranello against Ferrari, so it's an interesting challenge."
Horner's eyes narrow when he speaks. His sentences are frequently broken as he measures and analyzes each word before producing it. His hand gestures, sometimes reminiscent of a politician, buy him time as he considers how to attack a subject, and a slap of his thigh acts as a full stop to the majority of his answers. But when the topic moves to 19-year-old Verstappen, Horner effuses. There's a whispered warmth to his tone, as he describes the former Toro Rosso driver's first Grand Prix for Red Bull as a "fairytale" when he won in Barcelona in May last year.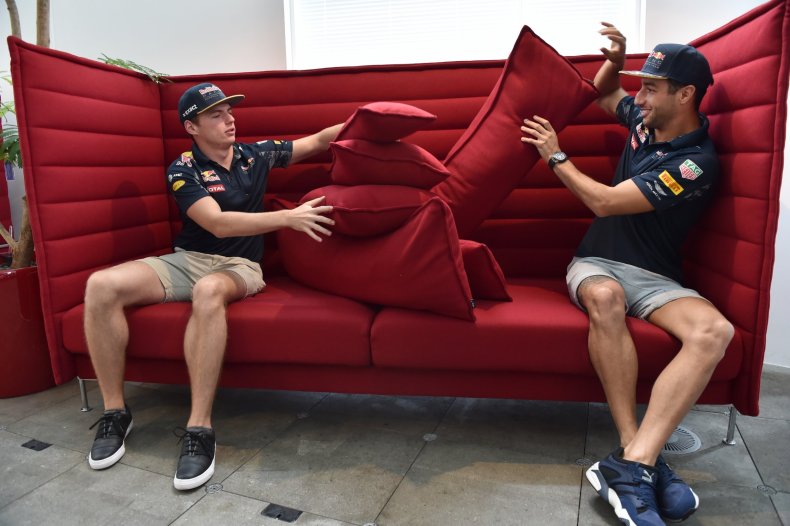 "I think [Verstappen] is still evolving. As he's gaining experience, his knowledge is growing. His spectrum just broadens in the sport. He's enormously talented, he's got a very high work rate, he's a bright, intelligent young guy, and he's just hugely hungry. And you've only got to witness his drive in Brazil last year [when he finished third after making up 13 places in 16 laps] to see that tenacious hunger that he has. I think the prospects for him are hugely exciting."
Verstappen's performance in South America drew comparisons to the likes of Ayrton Senna and Michael Schumacher. Horner is wary of comparing the youngster to any other driver, but says there are "bits of him that remind me of Sebastian when he drove for us." Like a father anxious to avoid any suggestion of having a favorite son, Horner also heaps praise upon Australian Ricciardo, who he believes was the driver of the year in 2016 and is "at the top of his game." Speaking on Monday, Ricciardo said there was a high possibility the competition between himself and Verstappen would create "tension or friction" between them. A concerning prospect, for Horner, perhaps, who had to manage the sometimes hostile relationship between Vettel and Webber between 2010 and 2013.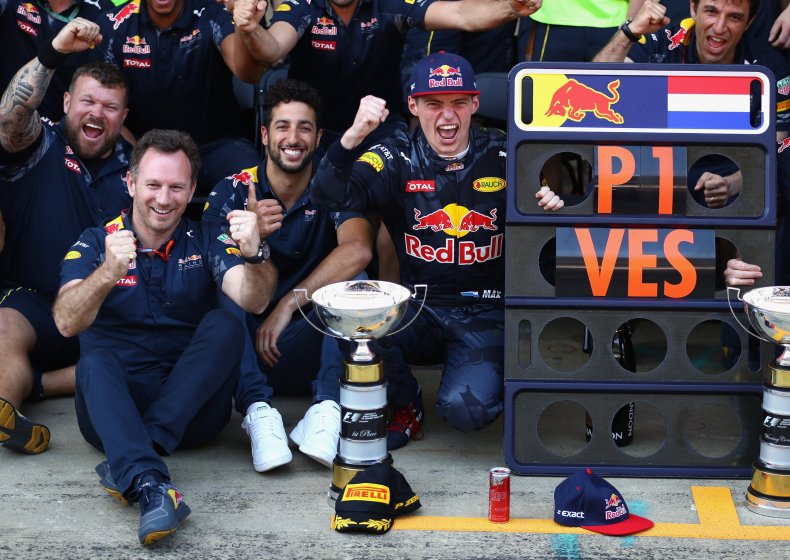 How, then, does he nurture the rivalry to get the best out of his drivers but prevent it from derailing the team's target? Horner begins with a warning: "I think both have dealt with an even hand: they get the same opportunity. They both recognize that they drive for the team and they represent the work for close to 800 people, and, on top of that, the brands and the partners, the shareholders that they drive and represent, so therefore it is vital they show each other respect on the circuit. Of course, that is conflicted by the fact there's two competitions: There's a Constructors' Championship which, for the team, is the most important thing—that's where the revenues are distributed on—and then you've got the individual championship, which is the Drivers' Championship, where the public interest is.
"Of course, I fully expect them to be racing against each other and racing hard against each other—as they did last year. But so long as they find themselves doing that, they show each other respect and just give each other enough room to operate, bearing in mind they are representing that team behind them."
Horner's fear of feuding drivers could also stem from him having a front-row seat to Lewis Hamilton and Nico Rosberg's tense relationship at Mercedes over the past four seasons. "It's important to be clear from the outset, and that's what we've done. When you've got two drivers competing for the biggest trophy in the sport, there will always be tension," he says.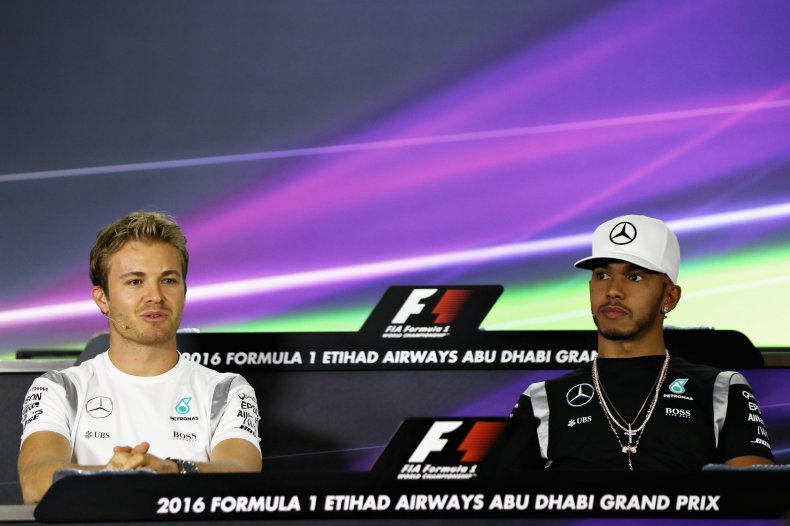 "There was tension last year with Lewis and Nico, there was tension between Mark Webber and Sebastian Vettel; it's nature, it's human nature. But it's finding that balance between healthy competition and not being derogatory toward the overall performance of the team."
Mercedes team principal Toto Wolff struggled to contain the fractious relationship between his drivers last year, with Hamilton refusing team orders in Brazil as he looked to back Rosberg into the field, in an attempt to snatch the title. In the end, Rosberg lifted the world championship, and then retired five days later at the age of 31. "I don't think anybody saw it coming," says Horner. "He'd recently signed an extension to his contract, just won the world championship, [a] big burden off his shoulders. One would have assumed he would want to come back as the reigning world champion and defend his title. So, it's highly unusual for a guy that is still relatively young to effectively walk away."
But surely Rosberg's absence is beneficial to Red Bull? "It's really none of our business. Did it affect us? No. Is it an advantage to us?" He blows out his cheeks. "I think [Valtteri] Bottas [Rosberg's replacement at Mercedes] is a very talented driver. I think he'll fit in and do a very similar job to that of Nico. So the net change for us is very small."
The German champion's departure from racing was just one event that made this offseason one of the most dramatic in recent memory for Formula One. In January, Liberty Media completed its takeover of Formula One, which saw Bernie Ecclestone's four-decade reign as chief executive come to an end. American Chase Carey was appointed as his replacement and Ross Brawn, the former Mercedes team principal, was hired as managing director. Horner is optimistic over the shifting of power.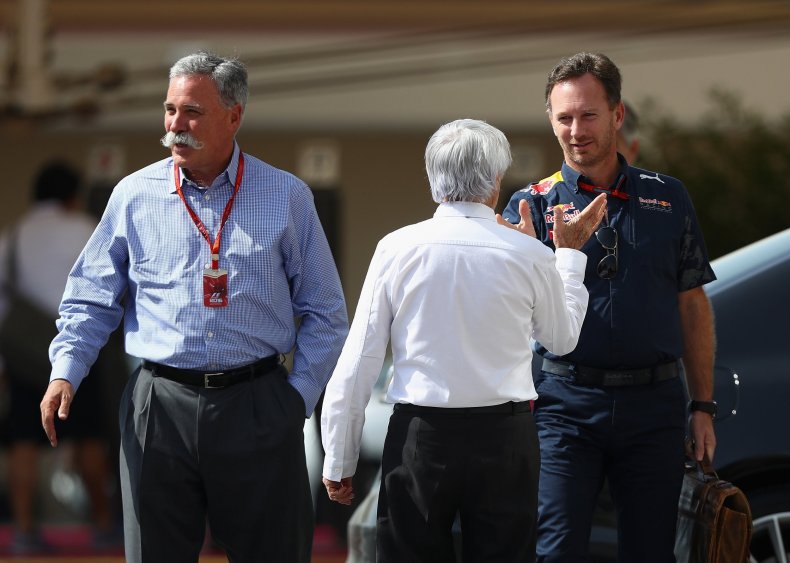 "The great thing is they want to use Formula One as entertainment and engage the fans, so they're looking at opening up some of the previously locked down areas like digital media, social media, engaging drivers with the fanbase.
"Then, what is the future direction of Formula One? What should the regulations look like? What should the engines look like and sound like? How should the racing format be? They're all things they're looking at which I think is good for the sport."
Liberty has held meetings with each of the team principals, and Horner says he and Red Bull have "hundreds" of proposals on how to improve the sport. "It's up to [Liberty] what they choose to use," he says.
Given his ideas and certainty about how Formula One should look in future, could he be tempted by an executive position in the sport one day? "I enjoy the competitive element of what I do. Long-term in this business is three races away, so I'm not really looking that far ahead." The right knee gets a slap.
For now, Horner is fully focused on returning his team to the pinnacle once again. The bare wall opposite his desk is waiting to be filled with the faces of new world champions as Red Bull Racing looks to rise again.