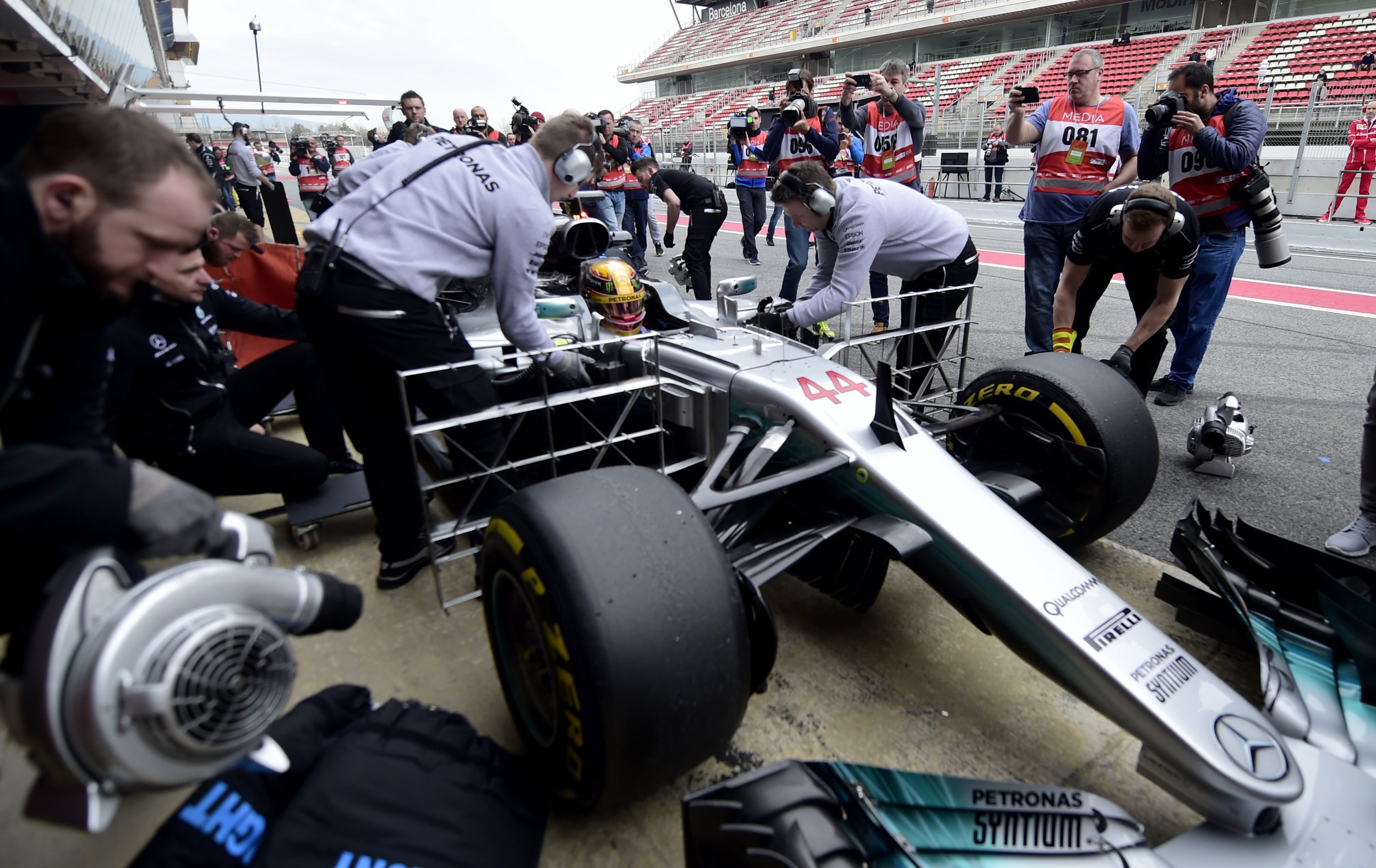 Former world champion Damon Hill believes the continuing dominance of a single team in Formula One is a perennial problem the sport is experiencing and needs to find a solution to.
Mercedes goes into the new season, which starts on March 26, having won the last three constructors' championships. Before then, Red Bull dominated every year between 2010 through 2013.
Hill, who won the drivers championship in 1996 with Williams, says new Formula One owner Liberty Media needs to find a way to even out the field without hindering innovative work.
"You give people a design challenge, they go away and work on it for six months, and they produce what they've designed," Hill says during a sit down with Newsweek and other media last week. "When it comes out, one of them can be considerably better than the others, and then the other has to catch up for the rest of the season. It's impossible. There has to be a way for Formula One [to close the gap].
"You don't want to prevent innovation, because that's part of the attraction for this sport. The thing people like is the cleverness of design, but there needs to be a way, once they've demonstrated their dominance, of letting other people catch up so it doesn't destroy the racing."
Read the rest of Newsweek 's interview with Hill and former driver Johnny Herbert here.
Last year, Mercedes won all but two races, with Lewis Hamilton and world champion Nico Rosberg frequently leading the grid throughout the nine months of racing. That competition and rivalry between teammates can provide a great deal of entertainment, Hill says, but dominance and certainty is a concern for Formula One fans.
"It's great if you've got two teammates who are fighting it out," the Sky Sports pundit said. "So you can have McLaren winning 15 or 16 races, with [Alain] Prost and [Ayrton] Senna, and we don't care because it's like watching [Rafael] Nadal and [Roger] Federer.
"Two rivals are as good in any sport for providing entertainment, but if you've got one driver who dominates, which is what we had in the Michael Schumacher era, it will damage the sport, so we need to avoid that situation. How do we achieve that? This is one of the perennial problems Formula One has, and no one has yet come up with a workable solution."
Fellow Sky pundit Johnny Herbert suggests an evening out of the distribution of funding could help the lesser teams compete more, as Ferrari, Mercedes and Red Bull, the three leading teams, have been given the biggest prize money in recent years.
"Will they still have the extra resources because it's Mercedes Benz? Probably," Herbert says. "Will they still win? Maybe. But at least there is a chance for the underdog to get into play. It's a bit of a balance."
Sky Sports F1® will show all 20 races this season, live in UHD for the first time on Sky Q, starting 26 March with the Australian GP.
Uncommon Knowledge
Newsweek is committed to challenging conventional wisdom and finding connections in the search for common ground.
Newsweek is committed to challenging conventional wisdom and finding connections in the search for common ground.