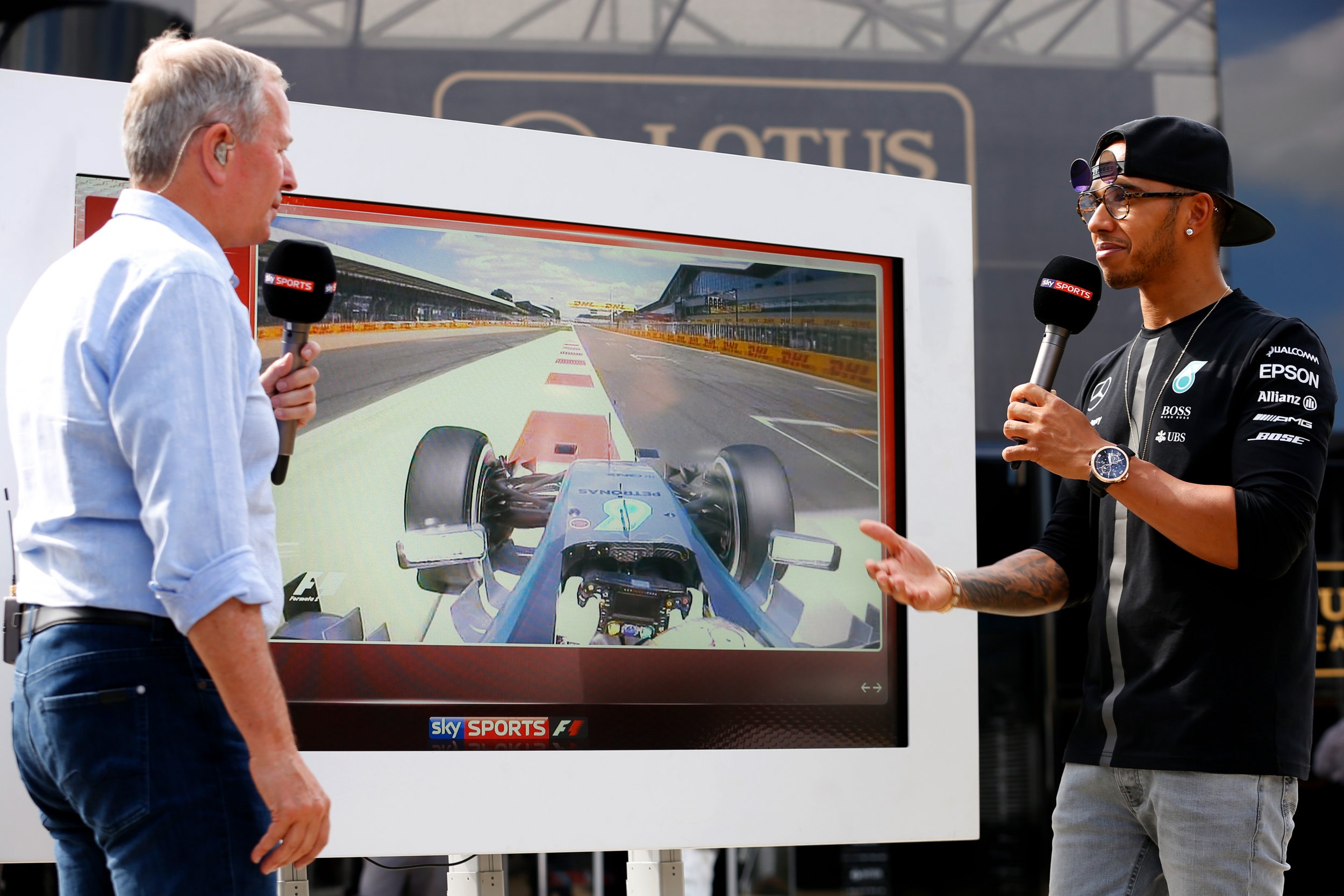 When the Formula One cars are being prepared on the Melbourne grid at the end of the month for the first Grand Prix of the season, there will be a notable absentee.
Pat Symonds, the high-profile engineer who worked for Benetton, Renault and Virgin's teams, has traded the paddock for the studio, becoming Sky Sport's newest pundit.
He will be joined by Martin Brundle, the former racing driver who has been at the broadcaster since 2011, to inform and entertain Formula One viewers over the next nine months.
Newsweek caught up with the pair ahead of the first race in Australia, March 26:
Welcome Pat, tell us about your decision to move to a punditry role.
Pat Symonds : I'm right out of my comfort zone. Forty years of doing the same sort of thing and then joining you guys, reporting on it all. I'm really looking forward to it. My passion is not just racing, it's engineering as well. I enjoy trying to get that across to people as well. I'm going to have a damn good go at trying to improve our communication across the sport through to the punters and I hope it works.
Martin Brundle : I'm really excited Pat is joining, this year of all years because there is obviously a massive reset with the cars and every race we are going to see upgrades. We are going to need to understand the meaning of those and the impact, and whenever Pat writes something I always make sure I read it because he has great analogies to make hugely complex things in a nice bite-size piece. We can lean on Pat's knowledge now.
Is Formula One in a good place to entertain this year or will we find some of the same problems we've had in the past?
MB: I like to wait until Christmas Day to open my presents, so I will wait until we get to the first few races to see what we've got. Formula One is hugely complex and often there is big surprises. Especially when you get invariable races. In my heart of hearts, I think we've gone the wrong way on a number of fronts — and I hope I'm wrong.
PS: I think what we are going to see, though, is some great midfield racing. Like [Martin], I am worried about the front; I am worried about Mercedes dominating again. But I really think back in the midfield, there are people closing up and there is going to be some tough races.
MB: The problem is, it's all about who finishes on the podium, that's the juicy story.
Read More: Damon Hill and Johnny Herbert Talk F1 Problems, Mercedes Dominance and Blocking Senna
What do you make of the idea of driverless racing cars?
PS: Brilliant. Drivers have been the bane of my life. [Pat laughs].
MB: I don't think that's motorsport personally. I think that some kind of technology race, not motor racing. What does anybody mostly want to know about? The drivers. What do the drivers say? What do they look like? What do they do?
PS: I would caution against writing off autonomous racing. If you look at drone racing, which is pretty similar, the popularity that is getting is staggering. It's not motor racing, for sure, but it's not something that is going to go away.
MB: I'm not saying it's bad, just it's not motor sport. My experience is: 95 percent the level of importance is the drivers. The teams hate it because the constructors title gets very little coverage; it is all about the drivers. You can throw as many widgets on your sidepods and most people glide over, but take them to Max Verstappen's home and show him cuddling his mum and they'll love it. Simple as [that].
Should F1 be doing more to try to bring back the races in the European heartland?
PS: I think the important thing is Formula One has got to entertain; that's what matters. If the public want the entertainment [to be] seeing cars flat out through fast corners in those classic circuits, then that's what we've got to provide. If they want my racing, and the Far East has the money to do that, I think we need to have a mixture of both, and I think Liberty are going to make sure we have a true world championship. We do have a true world championship at the moment; it's not as European-centric as it used to be, but that's not a bad thing.
MB: We are a world championship, and I remember we used to have 15 races and 11 of them were probably in Europe. Would I rather go to Spa [in Belgium] rather than Kuala Lumpur? Of course I would. But actually there are some races I think work well for Formula One: Singapore would be one of them, Abu Dhabi actually looks great under the lights; we've had some exciting stuff there. History and heritage plays a massive role in Formula One and we must never forget that. Other sports can't build that. We are 60-odd years into it, we've got the archive and we've got the history and the great characters. We must never lose that, but it doesn't mean we can't try a new race in New York or Miami, or LA, or something like that.
PS: What we want is good races. There's no difference between Old Trafford and Goodison Park, they're big lumps of grass with two goalposts at the end and some white lines painted on, but you have good football at both. So it's not the venue so much, it's just making sure you get good racing.
MB: If the racing is really good, it doesn't matter where you are.
What do you make of the possibility of a non-Championship race?
MB: I saw Ross [Brawn's] comment on that. I don't know where the money would come from to do it, but I'm sure you could sponsor it.
PS: I think it's a good idea because it is nice to trial things and it could be compulsory. It might be a non-championship race but, in order to enter, you do it — and I think the teams would do it anyway. It's not compulsory to go testing; people go testing. And the in-season testing, you don't have to do that, but people go. I think it is an opportunity to trial a few things.
MB: If we need something like a 20-20 cricket kind of idea, instead of trialing it like they did that awful qualifying idea last year, twice, before somebody finally admitted it was rubbish. Give it a try somewhere else.
Is there benefits in VR training for drivers?
MB: I'm going to be completely different to Pat here, I suspect, because I would ban the entire lot. I don't think it [would] bring anything to the fans at all. It costs tens if not hundreds of millions of pounds, and I would rather see it taken off the ticket prices, and ban the whole lot and make the cars a little less predictable with bits hanging off it.
I don't think it brings anything to Formula One. Now, that might be a boring, old-fashioned position, but they just don't excite me. And Pat will now tell me why I'm wrong…
PS: No, funnily enough, I won't. Because one of the things I think we've lost in racing is the unpredictability and one of the reasons we've lost that is because the engineering is absolutely superb these days. And it's not surprising it's superb. When you've got, in Brackley, nearly 900 people spending £200 million you would expect some brilliant engineering. And I agree. We go to a track on Friday, we build a set up, put it into a simulator and we know exactly what to expect, put the car on the track and it does exactly what we think it's going to do. In the old days, it wasn't like that, when [Martin] and I worked together, it was like: right, this is what I think we should do. And then it's wrong, so we try again.
Sky Sports F1® will show all 20 races this season, live in UHD for the first time with Sky Q, starting with the Australian GP, 26 March.
Uncommon Knowledge
Newsweek is committed to challenging conventional wisdom and finding connections in the search for common ground.
Newsweek is committed to challenging conventional wisdom and finding connections in the search for common ground.