Tottenham vs. Liverpool: Five Things We Learned As Harry Kane Starred Again For Pochettino's Title Contenders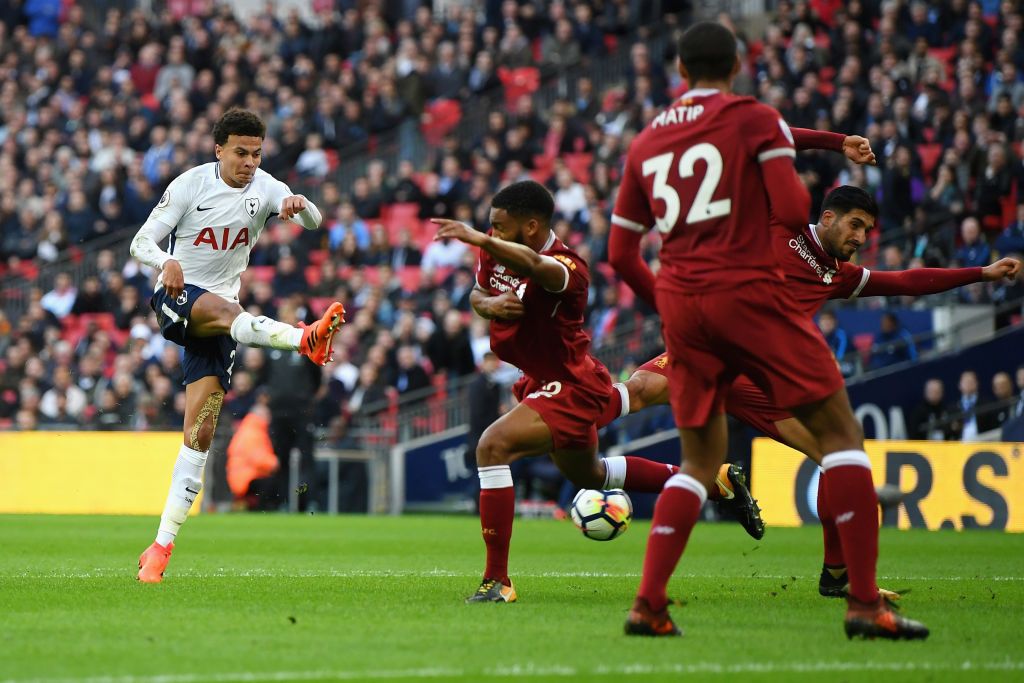 Harry Kane was the star once again for Tottenham as Spurs drew level on points with Manchester United in the Premier League with a resounding 4-1 win over Liverpool.
Kane scored twice for Mauricio Pochettino's team and set up Son Heung-min, with Dele Alli netting Spurs' third of the afternoon. Liverpool had looked to climb back into the game when Mohamed Salah beat Hugo Lloris to make it 2-1, but Alli's goal in the first-half added time deflated Jurgen Klopp's team and they failed to recover.
Here, Newsweek looks at five things we learned as Tottenham continues its ascent as a title challenger once again:
What Can Stop Harry Kane? Maybe An Injury
The majority of Wembley Stadium rose to its feet with just two minutes remaining in the game. The Tottenham fans are used to giving Harry Kane a standing ovation, and this was no different having seen him score a brace for the sixth time this season for club and country.
But this time there was a pang of concern. As Kane was replaced by Fernando Llorente, he stopped short of the dugout to talk to his manager, holding the top of his hamstring. There was little worry on Pochettino's face but he will not want to be without his star man for long. Kane's two goals at Wembley on Sunday were his 16th and 17th of the season already, comparable only to Lionel Messi of Barcelona and Real Madrid's Cristiano Ronaldo. He is Tottenham's game-changer.
Tottenham The Only Title Challenger, Again?
Jose Mourinho criticized his fellow managers this week for "crying" at injuries and the lack of depth in their squads –rather ironically it turned out as plenty of fact-checking went into listing the number of times Mourinho has complained of problems in his squad. But on a weekend when Mourinho's Manchester United lost to Huddersfield, falling five points behind leader Manchester City, Spurs pulled level with United and have done so without a first choice XI.
With the start United and City had to the season, it was expected to be a two-horse race, but Pochettino's pedigree has once again joined the race. And they have done so largely without players Victor Wanyama and Mousa Dembele. The "Wembley hoo-doo" was expected to hinder Spurs but Pochettino's men look set to keep up the pace with Pep Guardiola and City.
Lovren's Wembley Nightmare
Dejan Lovren took his place in the away dugout at Wembley, withdrawn by his manager Jurgen Klopp after just 30 minutes, with the expression of a man pulled from a car wreckage. He looked haunted, eyes glazed. And it was all down to spending half an hour up against Kane, Tottenham's answer to a Rolls Royce in attack. Lovren was one of many members of the Liverpool defense at fault for the Spurs' first goal, but he was the only culprit for the second. Klopp took pity on his defender and pulled him from the lions' den after half an hour, but Lovren will have walked away with more than a few wounds.
Klopp's Stock Falls as Pochettino's Rises
Jurgen Klopp was one of the most sought-after managers when he arrived at Liverpool in 2015 but now, two years on from that anniversary, there are a few question marks being raised. Klopp was brought to Anfield to continue the ascent Brendan Rodgers had created, but the defensive fragility of his team continues to shackle Liverpool, prevent the club from being a title contender.
In the other dugout, Mauricio Pochettino's stock seems to rise almost day by day, especially after his team's brilliance at Santiago Bernabeu in midweek. There, in Madrid, with his midfield limited by injuries and suspensions, Pochettino started Harry Winks, the 21-year-old Englishman who matched Real Madrid's Toni Kroos and Luka Modric. It is the coaching of Pochettino that has seen Winks's breakthrough, the coaching of Pochettino that has seen Kane reach such a level, as well as Alli. So it comes as no surprise that Madrid has expressed admiration for Pochettino and his leading men.
Liverpool Lamentable On The Road
The trip to Wembley Stadium on Sunday afternoon was Liverpool's fifth away game of the Premier League so far, and their woeful form continues. Tottenham put four past Simon Mignolet, taking Liverpool's conceded goals away from home in the league to 15, an average of three per game. Manchester United and Manchester City, meanwhile, have conceded just four times in all nine Premier League games; Tottenham has seen just seven goals go past Lloris. At home, in the comfort of Anfield, it's a different story for Liverpool. Scott Arfield's equalizer in the 1-1 draw with Burnley last month is the only goal Klopp has seen his team concede at home. He'll be relieved to see the next two games are back at Anfield.