Magic Johnson: 'Lonzo Ball Has Same Basketball IQ as Me, You Can't Teach It'
Magic Johnson believes Lonzo Ball has the same "basketball IQ" as him, which can return the Lakers to the NBA summit, according to reports.
Ball was the second pick in last month's draft, being selected by the Lakers, and the 19-year-old point guard has been compared to L.A. legend Johnson.
On Monday, Ball was named the Most Valuable Player of the NBA's Las Vegas Summer League but had to sit out the championship game due to injury. He averaged 16.3 points, 9.3 assists and 7.7 rebounds, statistics that are exciting Johnson.
"If he's getting triple-doubles in the summer league, he is going to get triple-doubles in the regular season," Johnson said, as quoted by ESPN. "Just like me, when I got here, there was pressure. I was the No.1 pick. I didn't care about that. I am going to play my game. Lonzo is going to play his game. The great ones do."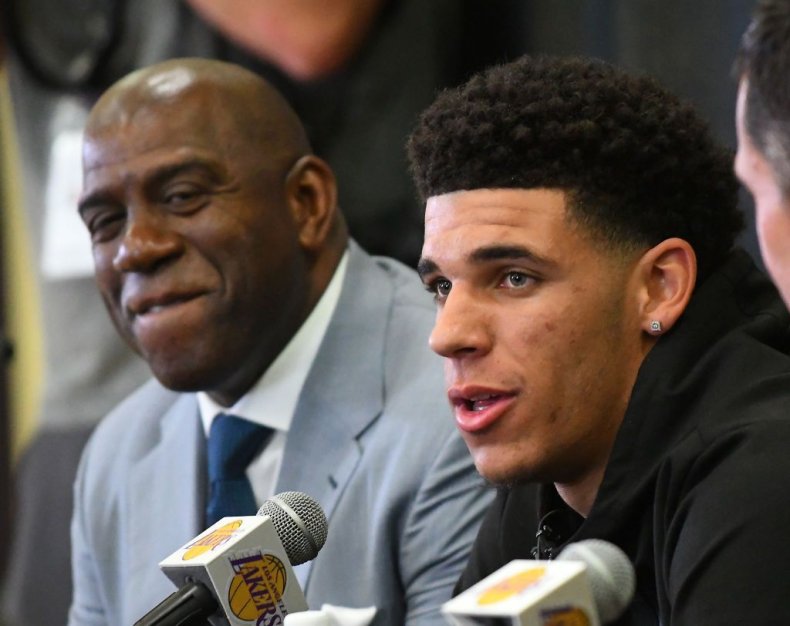 Ball became only the third player from the top-two draft pick to be named MVP in the summer league, following Blake Griffin and John Wall.
"Lonzo is special, no question about it, because he makes everyone better," Johnson added. "He does something you can't teach. He gives you a scoring pass. Very few point guards in this league can do that. I am talking about giving you a pass that leads to the score, not just passing it to you."
Related: LeBron James is Wrong on Super Teams, Says NBA Legend Clyde Drexler
Asked what he and Ball have in common, the five-times NBA champion said: "I think it is the same in terms of the basketball IQ. What is lacking in our game is a guy that can create a shot for somebody else. That is why Golden State, San Antonio and Cleveland are so good. They got multiple guys who can create a shot for somebody else. That is the one thing that he has that you cannot teach."
The only stir Ball has created since joining the Lakers is his choice of footwear. He wore his Big Baller Brand sneakers in the first two games of the Summer League before switching to Kobe Bryant Nikes, James Harden Adidas, Stephen Curry Under Armours and, lastly, a pair of Air Jordan XXXIs. For Johnson, it's more important what Ball does with his hands than his feet.