Manchester United vs. Chelsea: The Final Showdown at the Theater of Dreams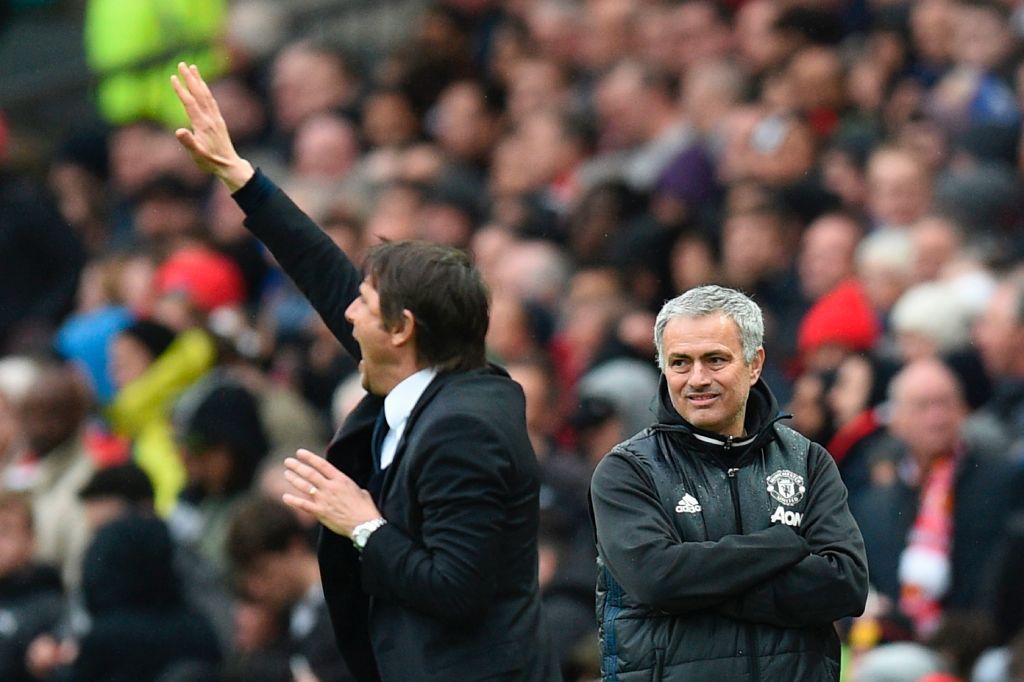 Sunday, February 26 is a date Antonio Conte has likely had circled in his calendar since the turn of the year. It has become increasingly uncertain, in the intervening weeks, whether the impassioned Italian would still be in the manager's seat at Stamford Bridge by then.
Poor results led to increased pressure, as it tends to at Chelsea. But the prospect of heading to Old Trafford on Sunday, to go toe-to-toe with Jose Mourinho once again, will have kept Conte's drive to survive resolute.
A run of five straight draws in all competitions at the beginning of 2018 was followed by three defeats in five games, the last coming in a humiliating 4-1 loss away to Watford. Many didn't expect Conte to last the week. Chelsea had fallen to fourth in the table and their places in those coveted Champions League positions threatened. Talk of his war of words with Mourinho had ceased.
Yet with Chelsea entering a period of renewed vigour, bolstered by the arrival of Olivier Giroud from Arsenal in January, the cloud over Stamford Bridge is lifting. And those unsavoury remarks Conte and Mourinho traded over Christmas are certain to resurface over the next week, in the build up to Chelsea's trip to Old Trafford.
In need of a reminder of those barbs? It began with a vague insult. "Because I don't behave as a clown on the touchline, it means that I lost my passion?" Mourinho said, a shotgun spraying its shells across the Premier League. Was it aimed at Jurgen Klopp? Pep Guardiola? Or Conte? The Chelsea manager was the only one to bite, saying Mourinho was suffering from "demenza senile" which translates to senile dementia.
"I think he has to see himself in the past—maybe he was speaking about himself in the past," Conte said of his adversary. In response, Mourinho referenced how Conte was banned 10 months back in Italy in 2012 after being accused of match-fixing. He was later acquitted of the charges. The final word went to Conte, who described Mourinho as a "little man." The season of goodwill seemed to pass these two by.
Now, there is more at stake than bragging rights. Chelsea remain just a point ahead of Tottenham, Mauricio Pochettino's team snapping at their London rival's heels, while United's place in the top four has become precarious. Two defeats in their last three league games have seen United's cushion in second slip to just two points, with Spurs only four points behind. Neither team can afford to drop points on Sunday.
Chelsea's record at Old Trafford is impressive over recent years, losing just once in six visits. That defeat came in April last year, one of the only blips in Chelsea's march to the title. It was also the only time Mourinho has beaten Conte.
The two managers have met in the dugout on just five occasions, with four of those coming in the Premier League over the past 18 months. Conte has come out as the victor in the other three meetings, thumping United 4-0 in October 2016 when Mourinho complained about the Italian's overenthusiastic celebrations. He also knocked Mourinho's United out of the FA Cup last season. The only other time they've faced each other came in 2009 when Mourinho Inter traveled to Conte's Atlanta in Serie A, a game which ended 1-1.
The noise around Stamford Bridge suggests this could end up being the last encounter between the two coaches in the Premier League, with Conte expected to depart in the summer. Both men will see victory as a form of revenge. Both clubs will see victory as a necessity. Do not lose will be the message in the game these two managers have been waiting for.