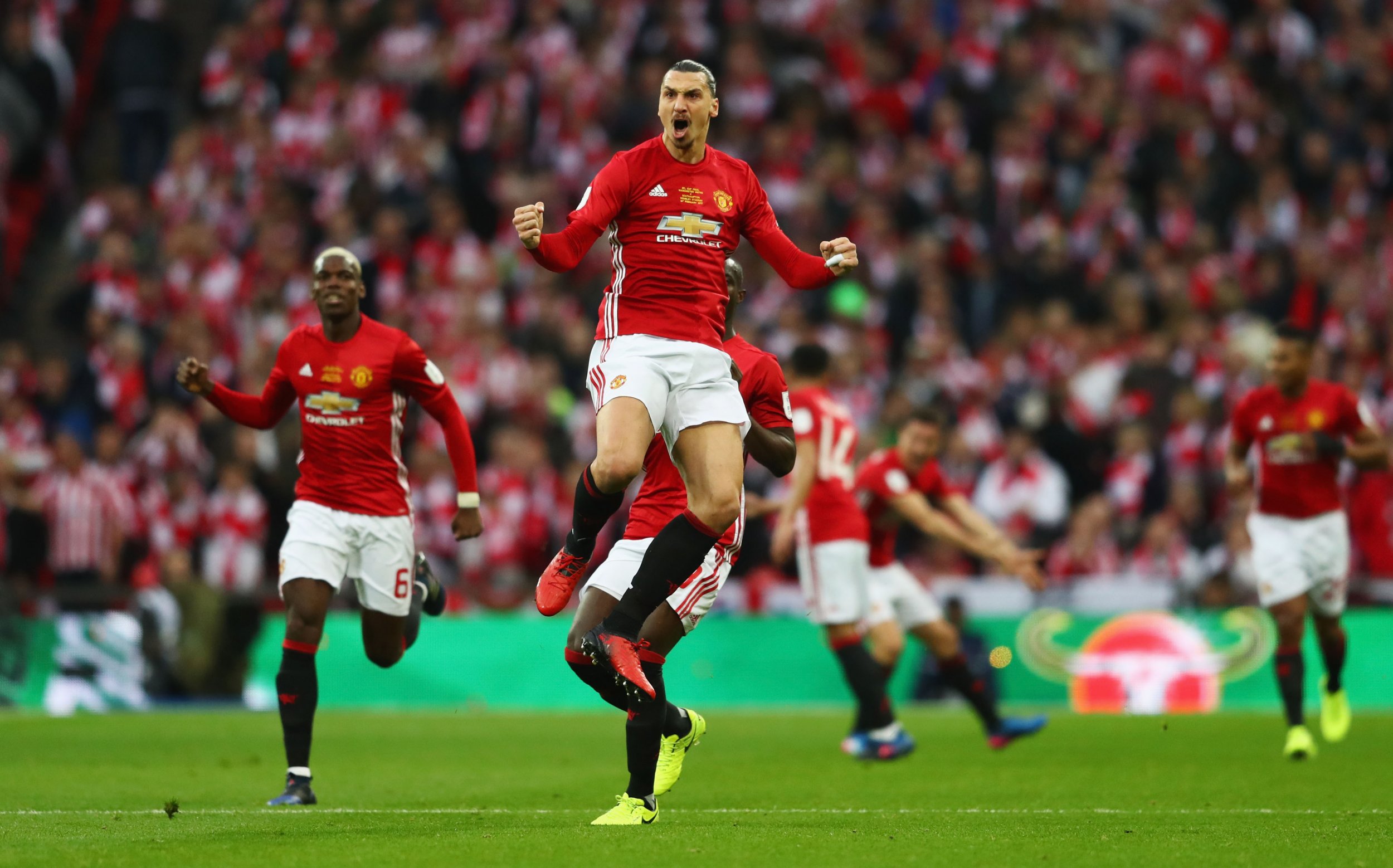 As Andre Marriner sounded the final whistle at Wembley Stadium, Jose Mourinho clasped his hand to his face. He consoled Claude Puel, whose Southampton deserved more from this finall, and then he embraced his son. This had been a long afternoon for Manchester United, but this was exactly the reason Mourinho was brought to Old Trafford.
Trophies are what Mourinho is expected to deliver, but none of this would have been possible without Zlatan Ibrahimovic. Before the season begun, Mourinho insisted Ibrahimovic's influence on Manchester United and English football would be great. Many sniffed at this. At 35 years of age, Ibrahimovic was a veteran of the sport and is supposed to be in his twilight years.
Mourinho has been proven right, of course. At Wembley, Ibrahimovic dragged a nervous Manchester United side ahead with a sublime free-kick and, then, after an inspired Southampton dragged itself back into the game, from 2-0 down to level, the Swede scored a dramatic winner three minutes from time. The EFL Cup becomes his 32nd major trophy as a player.
This was a match befitting a final. But, as the League Cup celebrated the 50th anniversary since its inception in 1967, in recent years it has become a competition sneered at by managers, seen as an unwelcome fixture-congester, in which their main objectives—Premier League and Champions League success—could be harmed as a result. Not Mourinho. Not now, and not in 2005, when the League Cup was the first trophy he lifted in English football, as manager of Chelsea.
Mourinho, now a four-time winner, sees the competition as an early opportunity to drop a taster of success into his players, inject them with a drug that leaves them pining for more. And, evidently, it has worked. Twice at Chelsea Mourinho lifted the Premier League title just three months after his team had won the League Cup. This is what the hierarchy at Manchester United brought him to Old Trafford for, and although the Premier League title will evade them this season, the foundations have been laid for the next.
As the Portuguese manager said in his pre-match programme notes, Wembley is a place he and Manchester United know well. The same could not be said for Southampton. The only visit Saints has made to the new Wembley came in 2010, when it beat Carlisle 4-1 in the Johnstone's Paint Trophy.
Today offered an opportunity for a first major trophy in 41 years, since the 1976 FA Cup final at the old Wembley, which required a late Bobby Stokes goal to beat Manchester United; Mourinho and Puel were just teenagers at the time. Since then, United has gone on to win 46 major trophies, including four League Cups.
But finals can sometimes excel players to higher, loftier levels, as it did here. Southampton began the first-half looking like the team at home at Wembley, with a greater energy and verve going forward. United, meanwhile, looked nervous; Eric Bailly was slow to pick up, Paul Pogba lacked magic; the game was played around Jesse Lingard, deployed as a number 10 for United, behind Ibrahimovic.
Southampton marched forward. Inside 10 minutes, Nathan Redmond, taking up a central position, picked up the ball and drove at United, past Pogba, and saw his shot deflected wide. Two minutes later Manolo Gabbiadini had the ball in the net for the first time of the afternoon.
Cedric won the ball off a rocky Marcos Rojo and sped into the penalty area. His cross was measured for Gabbiadini and he slipped it past De Gea, into the net, and peeled away to celebrate. The away support roared. It was just what Southampton deserved. But, then, the assistant referee's flag was lifted. That certainly wasn't what they deserved: It was the wrong decision.
The stakes were high at Wembley. A crunching challenge from Oriol Romeu on Ander Herrera saw a yellow card shown to the Southampton midfielder, who was a rock in midfield, as he has been throughout the competition. Puel's side had to beat Crystal Palace, Sunderland, Arsenal and Liverpool over two legs to be here. And they did it without conceding a single goal.
But that record was ended in the 19th minute under the illuminated arch at Wembley. A lovely flick over the shoulder by Herrera saw the United midfielder hauled down to win a freekick. Pogba lurked but, as he frequently has been this season, was just a bystander to the senior Ibrahimovic. From 25 yards. the big Swede pictured his shot wrapping around the wall, beating Fraser Forster low to his far post. And he did exactly that, executing it perfectly. Ibrahimovic ran to the centre circle and leaped into the air in jubilation as he celebrated his 25th goal since arriving at Old Trafford in the summer. Incredibly, this was his 223rd goal since turning 30 in 2011; later, he would add the 224th.
Southampton continued to march on. Gabbiadini set up James Ward-Prowse who drew De Gea into a save from just outside the penalty box. Four minutes later, the Spanish goalkeeper was called into action again when Redmond picked out Dusan Tadic, whose shot was saved by David De Gea's feet.
But then the balloon looked to be well and truly burst. As United broke on Southampton, Rojo slipped the ball to Lingard on the edge of the area. Having scored the winning goal against Leicester City in the Community Shield seven months ago, Lingard set himself and slotted the ball cooly past Forster.
The mountain looked impossible for Puel's side, but still Southampton marched on. In first-half stoppage time, Ward-Prowse drove into the United area and delivered for the on-coming Gabbiadini, who guided the ball through the legs of De Gea. The Southampton fans roared with delight, and this time they would not be denied.
Hope was regained. And it was completely restored just three minutes into the second half. The ball, lifted into the penalty area, couldn't be cleared by Pogba. His slight touch saw it fall to the side of Gabbiadini and the Italian swivelled and struck past De Gea with a delicious strike. It was Mourinho and United's turn to be deflated.
Both teams went toe-to-toe. Cedric came close just after the hour mark. Romeu beat Pogba to a cross and his header beat De Gea, but came rebounding off the post. Lingard thrashed over from close-range. The game looked to be going to penalties, and then Ibrahimovic struck. Southampton, resolute for so long in this game and competition, let the giant Swede sneak into the six yard box and power a header past Forster from Herrera's cross. After three painful years, Manchester United has that winning feeling back.
Uncommon Knowledge
Newsweek is committed to challenging conventional wisdom and finding connections in the search for common ground.
Newsweek is committed to challenging conventional wisdom and finding connections in the search for common ground.