Premier League: Is Football's Wealthiest League About to Break The Transfer Record Again?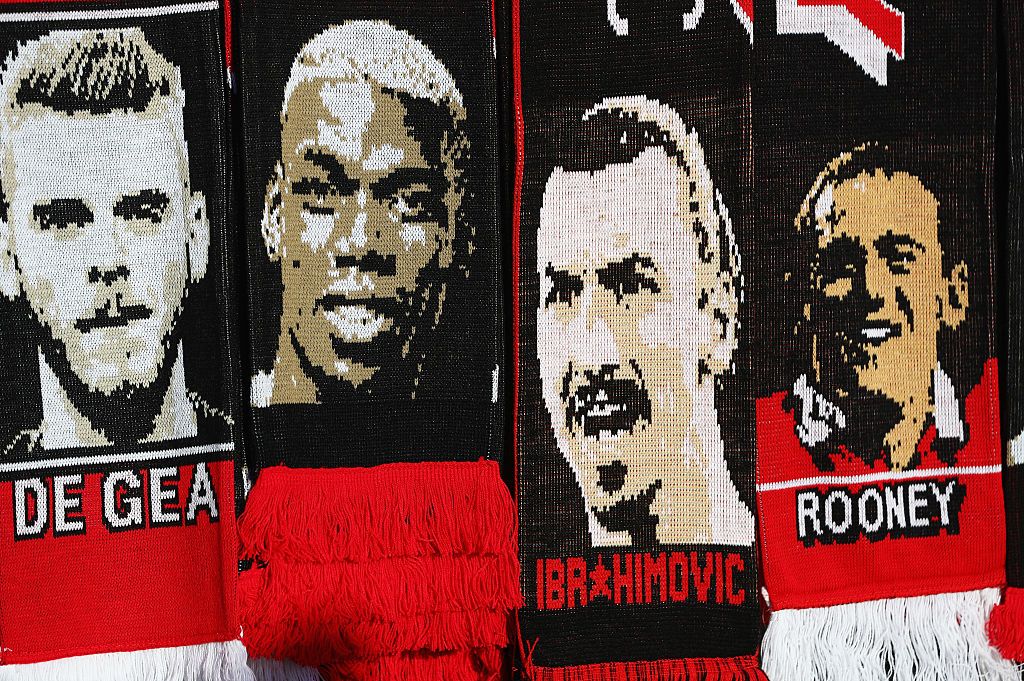 When Manchester United paid a record-breaking £89 million (about $115 million) for Paul Pogba last summer, it signified more than a world transfer record: it marked the resurgence of English football spending, seizing the moneyed crown from Italy and Spain.
Not since 1996, when Newcastle United paid £15 million for Alan Shearer had an English club held the world record. Since then, the financial might has predominantly been in Spain and Italy. Before Pogba, the last five world records were broken by Real Madrid, as the club signed galactico after galactico, including Luis Figo, Zinedine Zidane and Cristiano Ronaldo.
Italian football proved its financial might in the earlier 2000s when Lazio paid Parma £35 million for Hernan Crespo to set a new world record. At the time, the Italian Serie A was the highest spending of Europe's top leagues, but in 2003 English football really began to spend big.
As seen in the graph below, there was a steady increase in a time when Jose Mourinho arrived in English football and was heavily backed by Chelsea owner Roman Abramovich. Manchester United was also capable of giant fees, paying £30 million for Everton's 16-year-old sensation Wayne Rooney.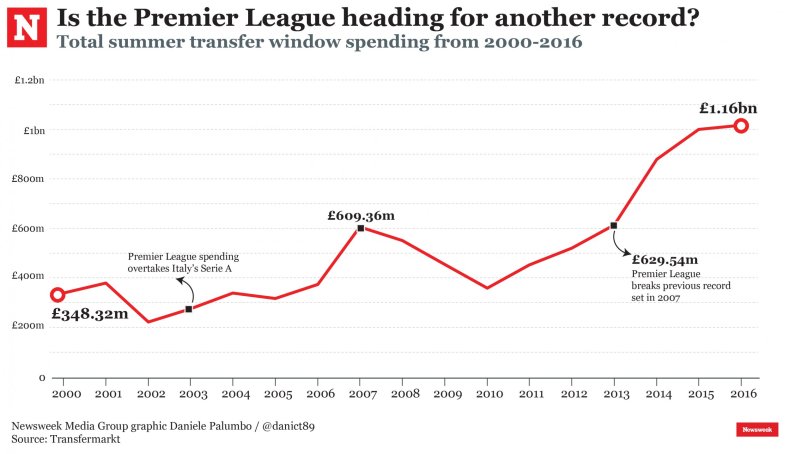 The Premier League took a grasp on spending, setting record after record until its peak in 2007, at £609.36 million. This was the summer Liverpool paid £26 million for Fernando Torres and Manchester United paid £30 million for Nani and Anderson. A dip in spending followed from here, until 2010 when the gradient headed north once again, steeply.
Why did this happen? Well, the clubs need to make the money before they can spend it. The previous year saw a record £1.78 billion deal made by the Premier League to sell its rights to Sky and Setanta. That money filtered into the clubs and could then be spent on the likes of Yaya Toure and David Silva, who both joined Manchester City for £24 million, and Javier Mascherano to Liverpool for £18 million. Over the next three years, this deal allowed clubs to continue spending, and in 2013 the Premier League equaled and later surpassed its 2007 record, eventually spending £629.54 million in the summer window.
Arsenal broke its club record to sign Mesut Ozil from Real Madrid for £42.5 million, Manchester City brought Fernandinho to the Etihad Stadium for £30 million, as well as Stevan Jovetic (£22 million) and Alvaro Negredo (£20 million). Manchester United paid £27.5 million for Marouane Fellaini . Willian and Andre Schurrle cost Chelsea almost £50 million together. Premier League clubs had cash to splash; Even Tottenham bought big, buying Roberto Soldado for £26 million and Erik Lamela for £25 million.
The TV rights deal gave teams the ability to smash the limits on spending. When the deal was renewed in 2015 for the following season, and BT Sport muscled in on the rights with Sky Sports, the price went up to a massive £5.136 billion. The outcome was a massive increase in Premier League spending.
Last summer, the record was set by the Premier League at £1.16 billion. Manchester City spent £181 million alone, with Leroy Sane and John Stones costing the best part of £100 million. Manchester United brought in Pogba for the world-record fee, while Eric Bailly and Henrikh Mkhitaryan took spending to £185 million.
United could be set to break the world record again this summer, with a potential £100 million price tag attached to Romelu Lukaku . A real indicator of how wealthy the Premier League is can be seen from Everton already spending £100 million on players, signing a center back in Michael Keane for £30 million and vying for Olivier Giroud . So-called lowly Bournemouth was able to pay Chelsea £20 million for Nathan Ake. The Premier League just continues to spend and spend, with a new record already in sight.