Lionel Messi Announces Retirement After Missing Penalty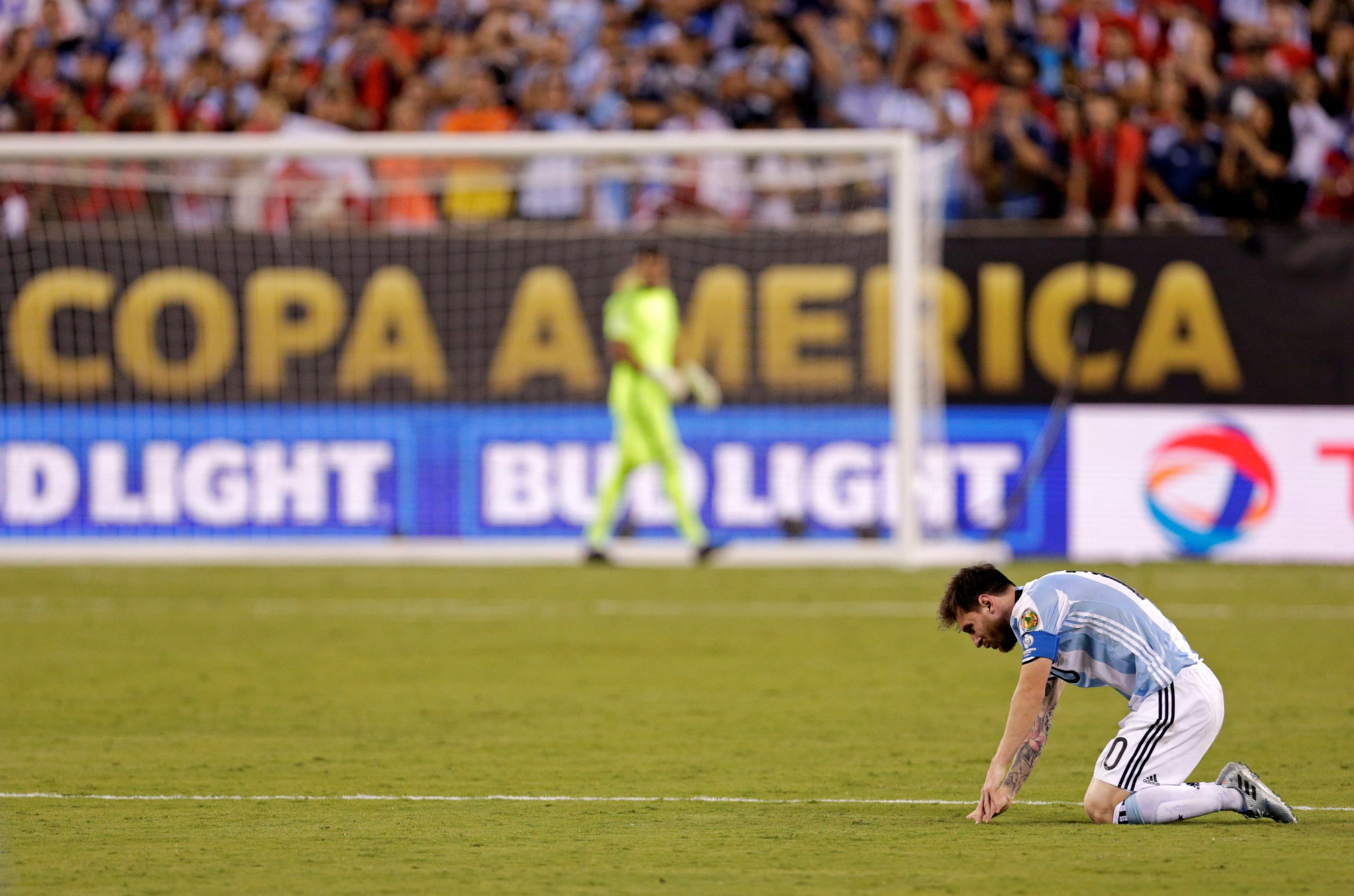 Lionel's Messi's apparent last act in international football was to blast his penalty over the bar as Chile won the Copa America for the second successive year following a 4-2 penalty shootout victory over Argentina on Sunday.
It was the second successive year Chile had beaten Argentina on penalties in the final. Last year's Copa America title was their first.
Messi cut a dejected figure after Argentina's trophy drought at senior level was extended to 23 years. It was the fourth final he had lost with his country and he said later he was retiring from international soccer.
"It's tough, it's not the time for analysis," he said. "In the dressing room I thought that this is the end for me with the national team, it's not for me."I tried so hard to be champion with Argentina. Now I am leaving without having managed it."
The two sides were deadlocked 0-0 after 90 minutes and also after another half an hour of extra time in a match where both teams were reduced to 10 men in the first half.
"It's not easy to explain what happened," said Argentina coach Gerardo Martino. "Argentina should have won that game. It hurts."
The tension of the penalty shootout barely made up for a disappointing game with few memorable moments for the announced sellout 82,000 crowd.
The bulk of first half action involved referee Heber Lopes, who sent off Chile's Marcelo Diaz on 27 minutes for a second crude challenge on Messi, before Argentina's Marcos Rojo was given a straight red for a rough tackle on Vidal about 15 minutes later.
Three others were booked, including Messi for diving, in a first half that had as many cards as shots on goal.
The second half provided more of the same and although Chile, who have never beaten Argentina in open play in 26 previous Copa America encounters, at least managed to call Romero into action, neither side created any clear cut chances.
Chilean substitute Francisco Silva placed his penalty low and to the right of Sergio Romero to score the decider after Messi and Lucas Biglia missed for Argentina and Arturo Vidal missed for Chile.
The 30 minutes of extra time was similar, though Vargas came close for Chile and substitute Sergio Aguero had a header tipped over by Claudio Bravo.
Messi, who surpassed Gabriel Batistuta as Argentina's top scorer in the semi-final against the United States, was heavily marked and had few chances to show his brilliance.
The tournament was played in the U.S. for the first time to commemorate the 100th anniversary of the inaugural competition and expanded to include six teams from North and Central America along with the 10 from South America.