NBA Finals: LeBron James Blames Turnovers as Warriors Smash Cavaliers in Opener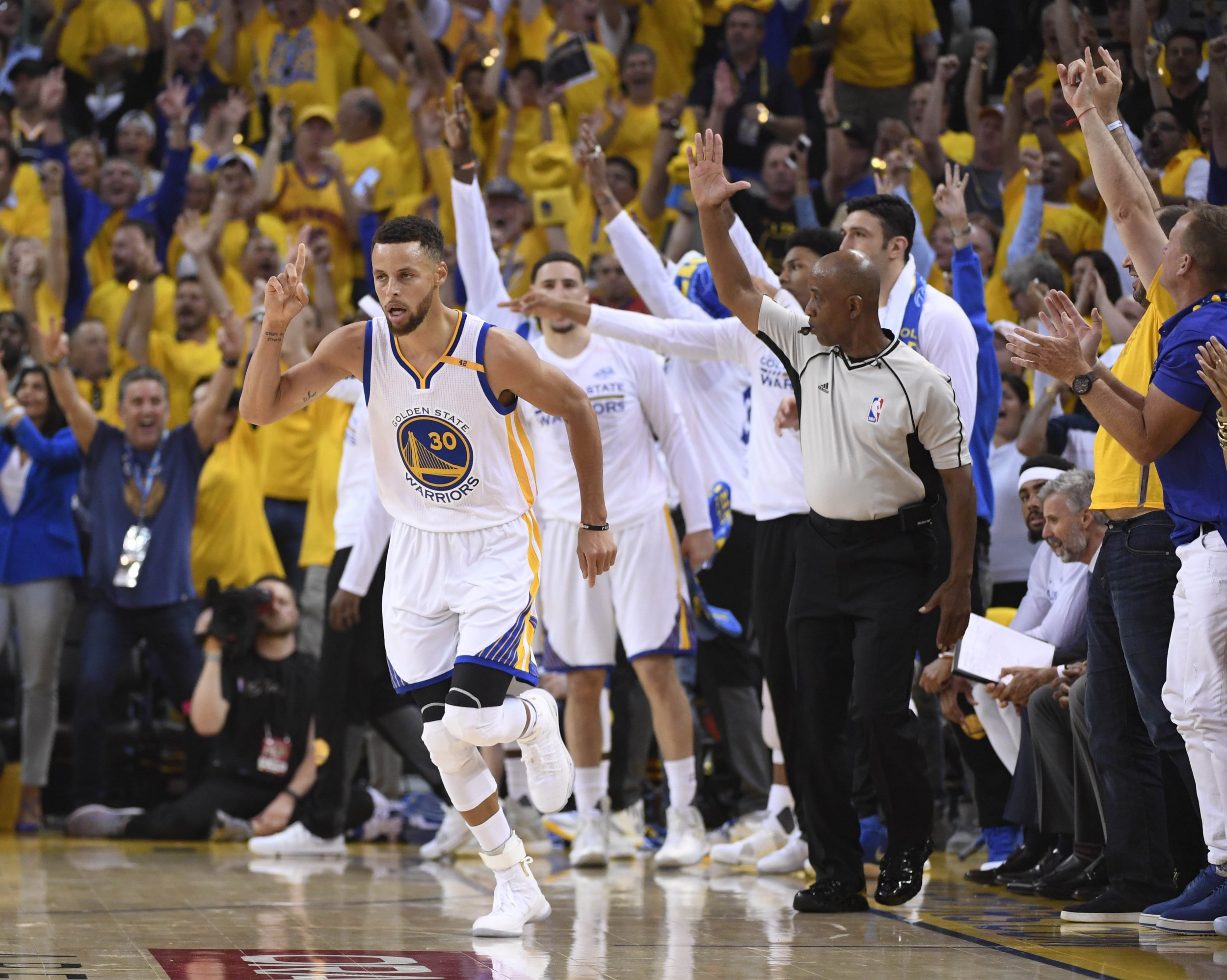 Kevin Durant scored a game-high 38 points and Stephen Curry hit six three-pointers as the Golden State Warriors cruised to a lopsided 113-91 win in the first game of the NBA Finals on Thursday.
The highly anticipated meeting between the defending champion Cavaliers and the top-seeded Warriors did not disappoint initially, with sensational dunks by LeBron James and Durant during a see-sawing first quarter.
But the wheels came off quickly for the visiting Cavaliers in the second half, with Durant sinking a three-pointer and Warriors center Zaza Pachulia hitting a lay-up on their way to a 10-0 run.
The final outcome was all but a formality by the start of the fourth quarter as the Warriors forged 21 points ahead.
The Warriors, who had not played in nine days, were rusty at the outset, missing shots close to the basket and looking anxious when they had possession.
"Our first half was sloppy on the offensive end, we were missing a lot of lay-ups," said Curry.
"A little gun shy with our shots. But our defense allowed us to create some momentum until we got our flow."
But the Cavaliers hurt themselves with 20 turnovers, tying an NBA record for a playoff or Finals game.
The Warriors, meanwhile, committed just four, tying the record for the fewest in a Finals game.
The Warriors and Cavaliers are meeting in their third consecutive Finals, a matchup many predicted when the season began after Golden State signed Durant in a blockbuster move.
The Warriors won the 2015 championship but let a 3-1 lead slip last year as James's Cavaliers finally brought the Larry O'Brien trophy back to Ohio.
The Warriors know better than to relax against James and their rivals, Durant said.
"We're playing a great team, we're playing the champs. You know they're not going to give up at all," he said on court.
The Warriors improved their postseason record to an unprecedented 13-0 while the Cavaliers suffered just their second loss since the playoffs began in mid-April.
"It wasn't just the third quarter, it was the whole game," James, who gave up eight turnovers, told reporters after the Cavaliers were outscored by 13 points in the period.
"It started with myself having some turnovers, especially in the first half. I pride myself on not turning the ball over and I did it too much."
When asked what was different about the Warriors compared to their two previous Finals, James was succinct.
"K.D.," he said, referring to Durant.
"We got to figure out how to combat that, which is going to be a tough challenge for us," he said.
The teams will meet again in Oakland on Sunday for Game Two of the best-of-seven series.