Phil Jackson to Leave 'Toxic Situation' at New York Knicks
Phil Jackson is set to part ways with the New York Knicks Wednesday morning after a "toxic situation" developed over the past season, according to reports.
Jackson, the Knicks president, has been in talks with owner James Dolan this week about the future of the team after the franchise decided not to buy out Carmelo Anthony's contract, ESPN say.
Anthony, a 10-time All-star, has two years left on his contract, which is worth more than $54 million. Jackson, who has been president of the Knicks since 2014, has made clear that he thought the team should part company with Anthony despite the player refusing to waive a no-trade clause in his contract.
The situation with Anthony has grown toxic, according to ESPN, with those close to Dolan asking him to fire Jackson throughout the season. In February, Dolan had said that he planned to honor Jackson's five-year contract in New York but on Tuesday night the two men discussed the future and made the decision for Jackson to leave.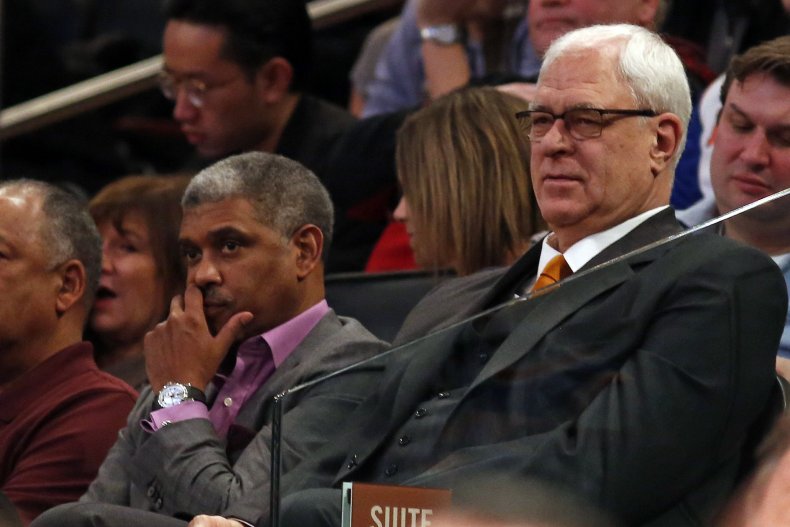 Related: LeBron James' Cleveland Super-Team in Danger as Wizards Woo Paul George
Jackson spent 11 years as a power forward for the Knicks, from 1967 through 1978, and then spent 33 years as a coach in the NBA, before returning to the team in an executive position.
Earlier this week, the New York Daily News suggested the Knicks still wanted to shift Anthony's contract or buy him out, as a move to the Cleveland Cavaliers was being considered.
But the 32-year-old's reluctance to leave looks to have forced Jackson to depart. The ESPN report says that some players and members of the coaching staff in New York had grown frustrated at Jackson's idea of playing a triangle offense in the middle of last season.
The team missed the playoffs last season for the fourth consecutive year after finishing with a record of 31-51. General manager Steve Mills will remain in his role and lead the team during the free agency period.