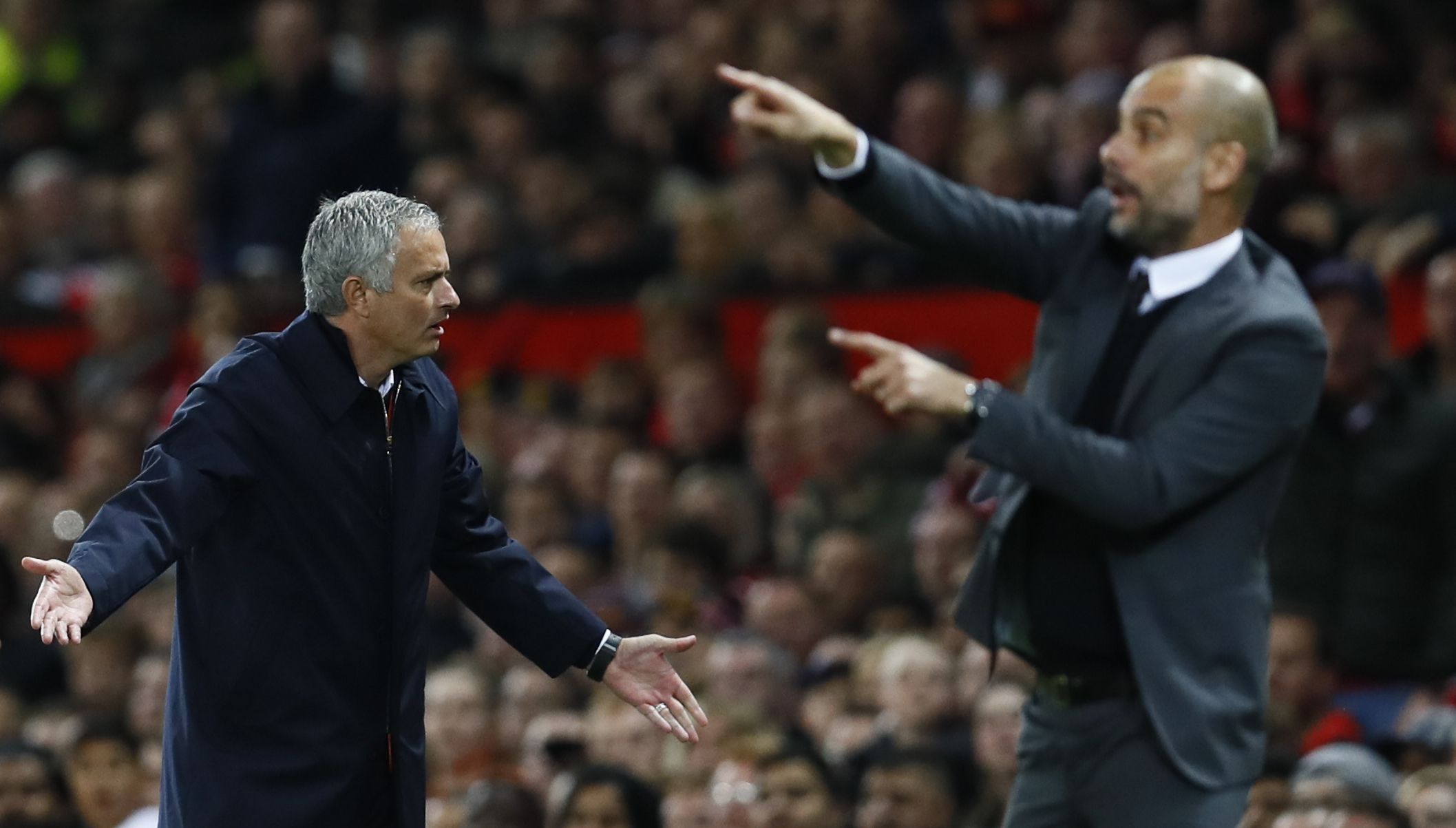 As Chelsea rounds the bend and enters the final furlong of the Premier League season, with the chasing pack still in sight, the jostling for the top four is heating up.
Seven clubs are looking to finish in the Champions League qualification positions, with a place in the most prestigious club tournament in Europe on offer, but three will inevitably fail.
With the number of games remaining in the season swiftly ticking down, Newsweek looks at how the teams are faring in the final stretch:
1. Chelsea —75 points
Barring a disastrous downfall at Stamford Bridge over the next six weeks, Antonio Conte's team will not only be back in the Champions League next season but it will go into the competition as the Premier League champion.
Chelsea still faces challenging trips to Old Trafford and Goodison Park, against Manchester United and Everton respectively, two clubs looking to climb into the top-four this season. And Conte's team also hosts sides with an altogether different objective: Middlesbrough and Sunderland travel to west London in May fighting for their Premier League status.
The seven-point cushion Chelsea enjoys should be enough to ease across the finish line and into Europe next season.
Remaining fixtures: Manchester United, Southampton, Everton, Middlesbrough, West Bromwich Albion, Sunderland
2. Tottenham Hotspur —68 points
Mauricio Pochettino insists his Spurs team has not given up on the fight for the Premier League title. Any slip-up from Chelsea, and Spurs will be waiting, is the Argentinian's message.
Pochettino is looking to guide Spurs into the Champions League for a second consecutive season having finished third last season. He wants his team looking up rather than down in the remaining two months.
While also in the hunt for a place in the FA Cup final on May 27—Spurs faces Chelsea in the semifinal on April 22—Pochettino's side has a run-in filled with hurdles. It travels to an in-form Leicester City and resurgent Crystal Palace, as well as the north London derby at White Hart Lane. The penultimate game of the season sees Jose Mourinho's Manchester United travel to Spurs and Pochettino will hope to have Champions League football confirmed by then.
Remaining fixtures: Bournemouth, Leicester City, Crystal Palace, Arsenal, West Ham, Manchester United, Hull City.
3. Liverpool —63 points
With Sadio Mane's season over, Jurgen Klopp will be relying on Philippe Coutinho to continue the magical form he rediscovered in the Merseyside derby win last weekend.
The most troubling thing for Liverpool in the final stretch of the season is that its run-in looks fairly, well, simple. Klopp's side is the only top-seven club not to face a team in the top seven of the league in the final weeks. But it is against the so-called lesser clubs that Liverpool has struggled this season.
All five defeats Klopp's team has had this season have come against clubs in the bottom half of the table. Whereas, against the top clubs, Liverpool has an outstanding record: undefeated with seven wins and five draws. Klopp and his team cannot afford too many more slips with Manchester United having two games to play on them and just six points behind.
Remaining fixtures: West Bromwich Albion, Crystal Palace, Watford, Southampton, West Ham, Middlesbrough.
4. Manchester City —61 points
In his first year in English football, Pep Guardiola has neither sparkled nor fizzled out. His Manchester City side has shown flashes of brilliance, but the suggestion is that the personnel at his disposal are not what he requires.
City fans' concern will be the unpredictability of the club this season. A 10-game winning run in all competitions at the beginning of the year was following by three draws and three defeats. Guardiola's team has struggled against the top teams, losing twice to Chelsea, and once to Everton, Spurs and Leicester.
Premier League champion Leicester is among the clubs left for City to host in the final games of the season. Guardiola also faces his old nemesis Mourinho in the Manchester derby on April 27. His team will be hanging on to that fourth position.
Remaining fixtures: Southampton, West Bromwich Albion, Manchester United, Middlesbrough, Crystal Palace, Leicester City, Watford.
5. Manchester United —57 points
Mourinho is looking to take Manchester United into next season's Champions League through the back door.
On Thursday, the team travels to Belgium for the first leg of its Europa League quarterfinal with RSC Anderlecht, before the return leg on April 23. United has seven games remaining of the domestic season to finish in the top four, but it is also five games away from automatic qualification for the Champions League, because the winner of the Europa League is bumped up the next year.
Mourinho's choice may be a gamble but it could also pay off, as United faces four of the top teams in its final games of the 2016/17 season.
Remaining fixtures: Chelsea, Burnley, Manchester City, Swansea City, Arsenal, Tottenham Hotspur, Crystal Palace.
6. Arsenal —54 points
Uncertainty is the prevailing feeling around the Emirates Stadium this year. Will Arsene Wenger stay or go? Would he be followed by Alexis Sanchez and/or Mesut Ozil? And, most importantly to Wenger, can the team make a miraculous recovery and snatch a Champions League spot?
No, seems to be the answer at the moment. Arsenal has drifted further and further away since the turn of the year, only beating one professional team in its last nine matches. Wenger still has eyes on the FA Cup, with a semifinal against Manchester City to play later this month but the Champions League is pivotal.
Following the semifinal at Wembley on April 23, Arsenal hosts champion Leicester City and Manchester United at the Emirates with a trip to north London rivals Spurs sandwiched in between. The next six weeks will not only be defining for Arsenal's season but also its future.
Remaining fixtures: Middlesbrough, Sunderland, Leicester City, Tottenham Hotspur, Manchester United, Stoke City, Everton.
7. Everton —54 points
With only six games remaining and seven points separating Everton from the Champions League positions, it would take a mighty change in fortunes for Ronald Koeman's side to be in the European competition next year.
Everton is a club on the up with Koeman in charge and an impressive playing staff. It has lost just twice in the Premier League in 2017 and is putting pressure on Arsenal for a place in the top six.
If a breakthrough is going to happen, it may have to wait until next year.
Remaining fixtures: Burnley, West Ham, Chelsea, Swansea City, Watford, Arsenal.