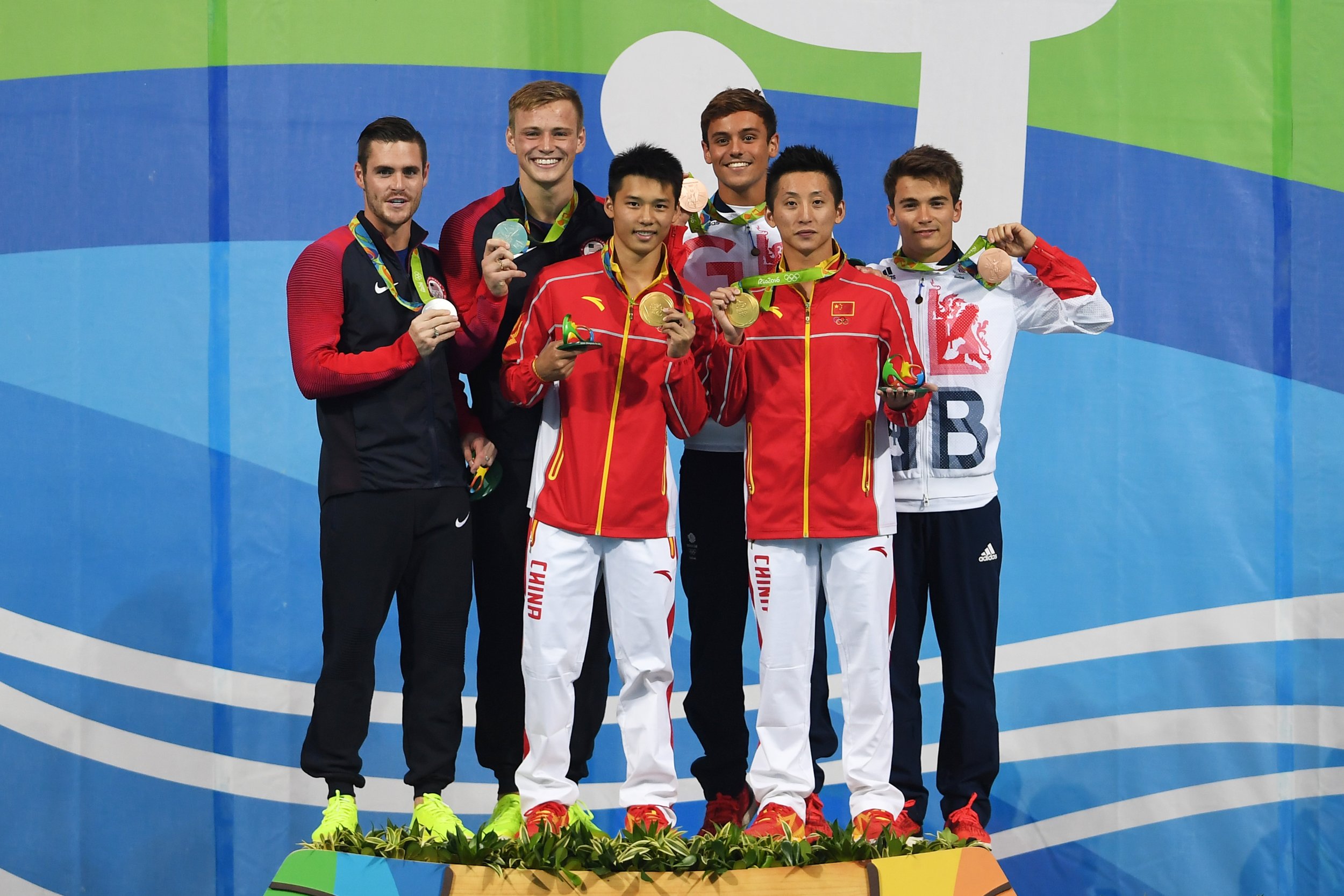 USA and Great Britain added to its medal tallies in the men's synchronized 10m platform at Rio 2016 but China took gold with formidable ease.
Under a gloomy sky at the Maria Lenk Aquatics Center, the first time the diving has taken place outside at an Olympics since Athens 2004, Team Great Britain secured bronze with its last dive.
A slip up in the fourth round for Tom Daley and Dan Goodfellow of Great Britain allowed both Germany and Mexico to come into contention for third place, leaving no room for error in the final round.
After completing a backwards 3 ½ somersault, with a difficulty of 3.6, the pair stood at the side of the pool. They've worked for months leading up to this moment, Goodfellow even moving in with Daley in his London home, to hone their synchronization.
Locked in arms, they stared at the board waiting for the judges result. An 89.64 saw Great Britain retain its place in third and go home with bronze.
Emotions were equally high for the USA as David Boudia, the individual Olympic champion from London 2012, and Steele Johnson had shown their intention and focus from the first dive.
A 95.04 from a backwards 2 ½ somersault with 2 ½ twist in the sixth and final dive saw USA take silver, leaving Johnson in tears and Boudia fighting them back.
But it was the Chinese who stole the show. Chen Aisen and Lin Yue, the world champions of 2015, may have been entering their first Olympics as a duo but this was far, far from amateurish.
From the very first dive the pair jumped, flipped, tucked, twisted and dived as one; their execution impecable. A pair of 57s saw the Chinese heading for gold just two dives down.
The only slight blot on the record came with the fourth dive, when the pair recorded an 85.32 from a backwards 3 ½ somersault. To put it into perspective, Great Britain was awarded an 81.60 for the same dive.
Then the moment of the evening came in the penultimate effort. There was a swagger about Aisen and Yue as they climbed up to the 10-meter board, already elevated way above the challengers.
A 4 ½ somersault with 3.7 difficulty saw the two cut through the air and straight into the water as one, scoring 106.56.
In the end, their lead was a formidable 40 points off its closest challengers and sees China top the gold medals total in Rio.
Uncommon Knowledge
Newsweek is committed to challenging conventional wisdom and finding connections in the search for common ground.
Newsweek is committed to challenging conventional wisdom and finding connections in the search for common ground.