Exclusive: Colin Montgomerie Takes Newsweek Inside The Mind of a Ryder Cup Hero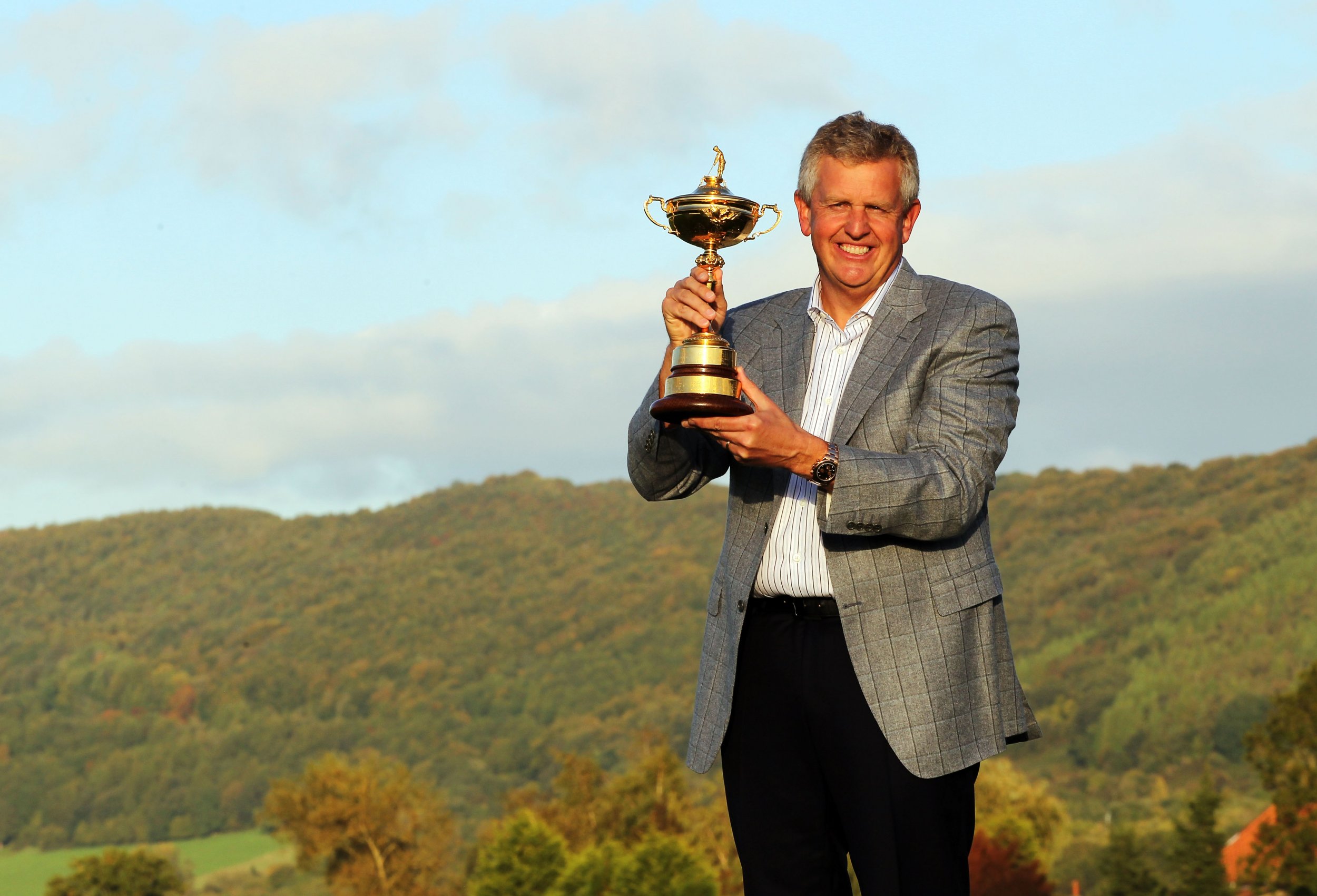 It was back in September 1981, negotiating the famous heather at Walton Heath Golf Club, that an 18-year-old Colin Montgomerie had his first taste of the Ryder Cup. Montgomerie and his older brother Douglas had traveled to Surrey from their family home in Yorkshire to watch the very best from the United States take on Europe. As an amateur playing off a handicap of four at the time, the Scot would never imagine the impact he would later have on this competition.
"I wasn't anywhere near playing off Ryder Cup standard so I didn't really get the feeling of wanting to play in it," Montgomerie tells Newsweek. "I went down as a spectator wanting to enjoy myself and watch the best golfers in the world compete. I never really felt I was ever going to be good enough to play myself, and it is incredible to think 10 years later that I was on Concorde, flying over to Kiawah Island with [Nick] Faldo, with [Bernhard] Langer, with [Ian] Woosnam. I'm thinking: 'Hang on a minute, this is pinch myself kind of stuff here.'"
Montgomerie's career progressed rapidly. After turning professional in 1987 and winning his first competition two years later, he qualified to be part of Bernard Gallacher's Ryder Cup team in 1991. Montgomerie went on to claim one-and-a-half points for Europe in South Carolina in what would be his first of eight appearances. The team format had him hooked immediately.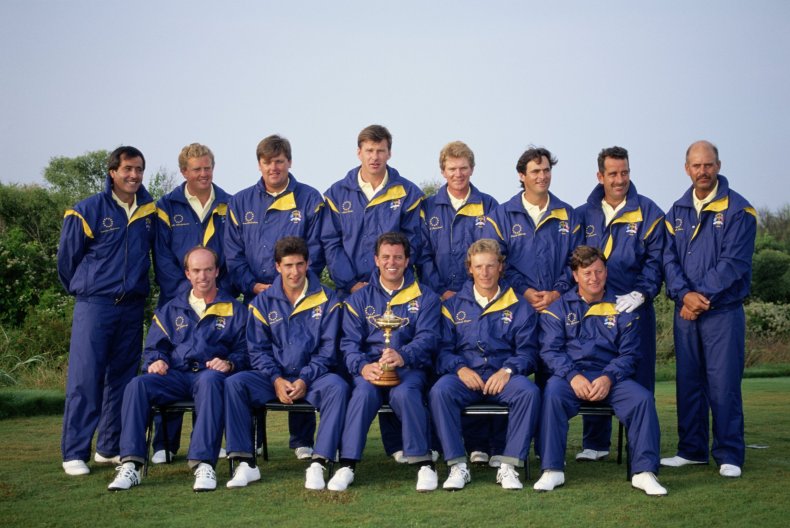 Often labeled as one of the greatest golfers never to win a major, Montgomerie's legacy lies in the Ryder Cup: In 36 matches, he claimed 23-and-a-half points, the third best behind Langer and Faldo; he holds the record for the most singles points won, alongside Neil Coles, with seven; and he is joint third with Seve Ballesteros for the most matches won (20), behind Faldo and Langer, despite participating in fewer than all three.
"I've always seemed to have much more pleasure winning as a team member than winning myself," Montgomerie explains. "I won a few tournaments on my own but I never got the same thrill, actually, out of winning myself. I thought it was great to be part of a team, especially playing against America, the might of America."
Montgomerie, who never lost a singles match at the Ryder Cup, can also boast of being the only European to have claimed the winning point on two occasions, in 1997 and 2004. It was at the former, playing under the captaincy of Ballesteros at Valderrama Golf Club in southern Spain, that the Scot enjoyed his greatest moment in a European team.
"I was last off and left on the course with Scott Hogan as the last singles match to finish," the 53-year-old recalls. "Seve was there when I putted up and managed to secure the half point that we needed, and I'll never forget him coming up to me and giving me a big hug. That's special. It's Seve, someone I've watched in '81 at Walton Heath. I couldn't quite get over that for many, many years. This is some guy who's thanking me for winning the Ryder Cup for him."
But Montgomerie would later understand the significance behind the gratitude. Some 12 years on, he was tasked with wresting the Ryder Cup back from the Americans as captain of the team in 2010. The event was held at the picturesque Celtic Manor Resort in south east Wales.
Having competed in eight Ryder Cups over his career, Montgomerie explains how the role of captaincy is largely undertaken behind the scenes. "What he [the captain] has done is prepared me to do my best," he says. "He's got me in the right psychological mood; he's got my clothes fitting properly; he's got my room the right temperature; he's got the food that I like. That kind of thing.
"Preparation to get that guy on the first tee, ready to bring back his game. So, you send him out there for four hours, or however long it may take, and all you can do as captain is hope and pray that your preparation is good enough, and your choice of player in your choice of position is good enough, so he brings back that point. It's all you can do and, as a captain, that's all I did."
But it was attention to the intricate details that made Montgomerie's captaincy so memorable. Not only did he ensure his players were on the top floor of the building, to avoid any distractions from the floor above, he also recounts a fascinating story of how he ordered the removal of every single bed.
"They wanted six-foot beds and the beds at Celtic Manor were five-foot beds," he says. "I wanted six-foot beds. That's down to preparation. I wanted them to have a good night's sleep.
"It was all done through my experience playing eight times in the Ryder Cup as a player. I was there under the likes of Langer, Woosnam, Seve, [Sam] Torrence, Gallacher, these captains I learned a little bit from every one, and you try to put it in your own context."
One issue that Montgomerie had no control over, however, was the weather. Torrential rain during the Friday session meant the final day would spill over into the Monday for the first time in the Ryder Cup's 83-year history. Officials concluded that the only way to compete was to get all six doubles matches—every single golfer—out on the course at the same time.
"It's never happened at the Ryder Cup before," Montgomerie says. "I was a real advocate for saying I want all six on that course at the one time. So I got the caddies in, got the players in, and told them what I thought: I banged it into them that I believed they, as a 12, were better than America as a 12. I banged it into them that it was my decision to put them all on the pitch at the same time, and go out and prove to me how good you are. Of all the decisions I made, that was the best one."
It certainly was. Europe went on to win five-and-a-half of a possible six points on the Sunday, swinging the tie back in their favor heading into the final round. Monday still went down to the last match, however, with Graeme McDowell, then US Open champion, taking on Hunter Mahan with the scores tied at 13-and-a-half points each. It took until the 17th hole for the match—and competition—to be won. McDowell's one shot lead meant Mahan had to win the hole to take it to the last. His chip onto the green was short. His putt, too, seeing McDowell win the match two and one, and Europe regain the trophy. Champagne cascaded down on Montgomerie as he embraced the Northern Irishman just as Ballesteros had done 13 years earlier.
"Graeme and I will always be close for that very reason," Montgomerie says. "We can always talk about that Ryder Cup match. It was the making of him in many ways, and it also helped me in my career, too. We have a bond between us and always will have. It's a peculiar thing."
Montgomerie is keen to spread the credit to his team of vice-captains from that year, which included Thomas Bjorn, Sergio Garcia, Paul McGinley, Jose Maria Olazabal and this year's captain Darren Clarke. Clarke leads a European team, consisting of six rookies, to Hazeltine Golf Club in Minnesota, where the 41st Ryder Cup begins on Friday.
"He's done everything bang on so far," Montgomerie declares. "His media role has been superb; he's saying all the right things and saying it in the right way. He's not over-confident, he's doing everything he should do. I hear preparation behind the scenes is going extremely well, but unfortunately with the Ryder Cup there is no grey. It's black or white. It's win or lose."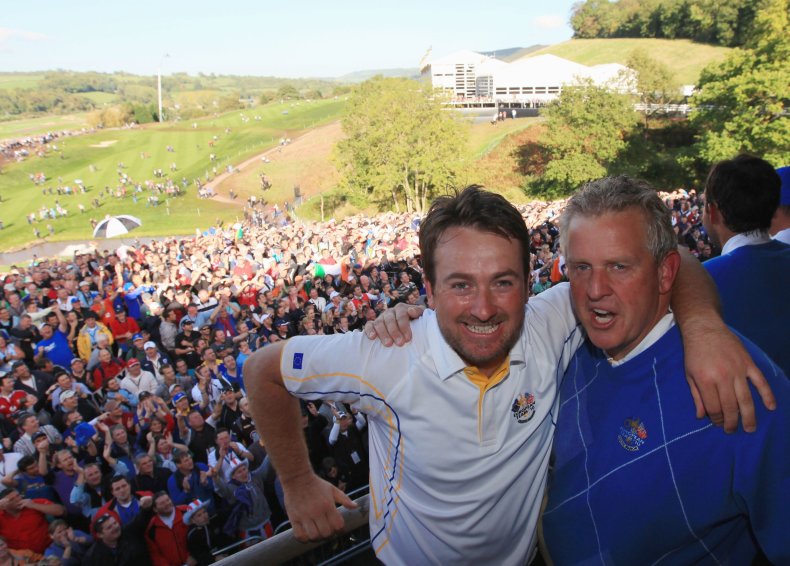 Clarke, Montgomerie explains, showed signs of his leadership skills at Celtic Manor six years ago. With Rory McIlroy in the team as a rookie, partnered with fellow Northern Irishman McDowell, Montgomerie utilized their compatriot Clarke as a "sounding board" on how the pair were fairing. A half on the first day against Stewart Cink and Matt Kuchar was followed by defeat on the Saturday. "Should I keep them together? Should I not? What am I going to do with these?" Montgomerie recalls. "So I used Darren as a sounding board and he was very helpful as to their psyche. I asked him where they are in the moment, in the present time, to put them out again. He was right. We put them out again and they won."
But Clarke faces a determined opponent in Davis Love III's America. "They want it back," Montgomerie says. "They've lost this thing six out of the last seven and this is a biggie. They've put a lot behind it: taskforces, Tiger Woods is vice-captain, they've changed the picking process, they've done this, they've done that. There's a hell of a lot of pressure on America to succeed here, and it will be interesting if they can cope."
Some 35 years on since he stepped on Walton Heath as a spectator, Montgomerie will return to the Ryder Cup, completing media duties for Sky Sports. His legacy in this competition has been stamped on and off the course.
And, from his significant experience, he has only one piece of advice for the new man in charge. "Have belief," he offers. "Belief in yourself and belief in your team. Without belief you might as well not step onto the first tee."