USMNT Crashes Out of World Cup 2018: 'What Are We Doing? WHAT Are We Doing?' (Taylor Twellman Has an Answer, Sort of)
In the end, just a point would have done it. One goal, an equalizer against the weakest opposition in the qualifying group, and the USMNT would have been off to next year's World Cup in Russia.
Instead, Bruce Arena and his players will be watching the tournament from the couch at home. After Friday's 4-0 victory over Panama, the U.S. looked certain to continue its record of reaching the World Cup finals—it hasn't missed a tournament since 1986.
Instead, it will be Panama, with a population of four million people, that joins Costa Rica and Mexico in Russia in 2018. So what went wrong? Speaking on ESPN's SportsCenter, former U.S. international Taylor Twellman went on an epic rant.
Take a look:
A former forward at New England Revolution, Twellman played 30 times for the USMNT, including being part of the 2007 CONCACAF Gold Cup winning team.
Twellman addressed the masses on social media who were trying to find someone to blame for the failure to qualify. He said it was not the fault of Jurgen Klinsmann, head coach from 2011 through 2016, or Bruce Arena who took over from him.
"As a whole, U.S. soccer is just not prepared," Twellman said. "They have not done a good enough job getting this group ready to play, and keep in mind: last two Olympics, no United States." He added: "The players have got to be good enough, too."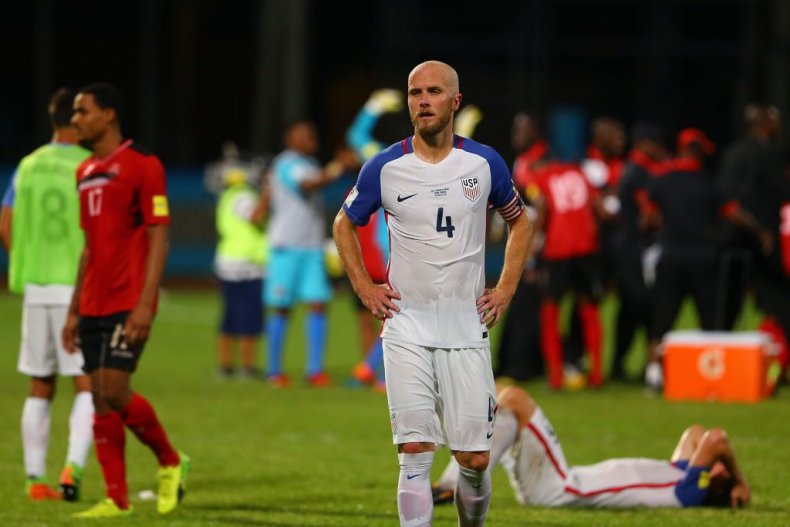 The 37-year-old described it as an "utter embarrassment" that the U.S. couldn't get a draw from Trinidad and Tobago, and left a warning to the players in the team.
"As an ex player, everyone of those players [will have] nightmares for the rest of their lives because this is an utter embarrassment," he said.