Wimbledon: How The Big Four Have Performed in London Since 1999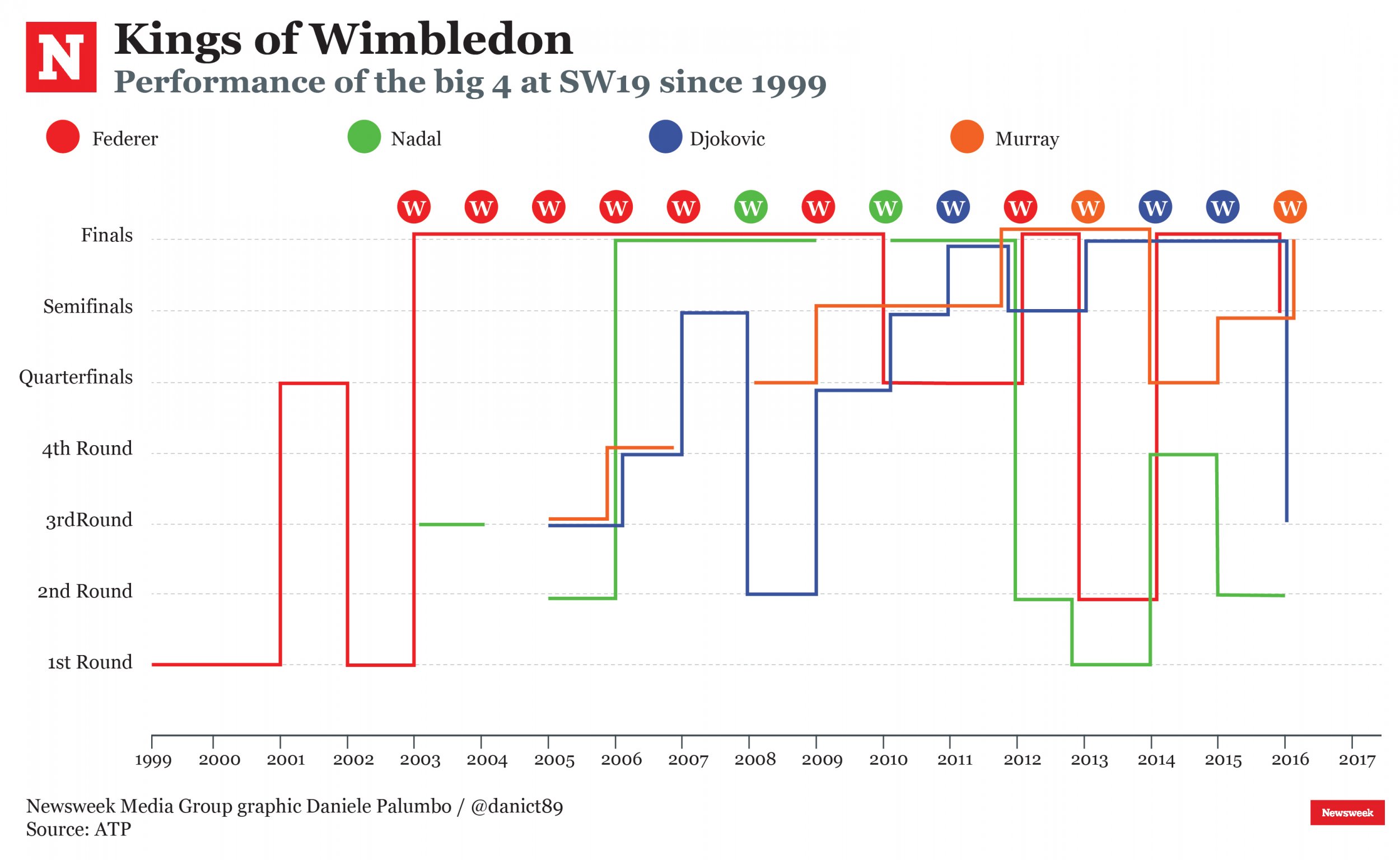 For the past 14 years, the men's singles championship at Wimbledon has been dominated by four modern-day giants of the game.
Roger Federer has won the tournament at the All England Club six times, Novak Djokovic lifted the trophy three times, while Rafael Nadal and reigning champion Andy Murray have two titles apiece.
This year is no different; the four men are favorites for the title, with the Swiss Federer out alone at the front with odds of 2/1, despite not winning the tournament in five years. But it is the 35-year-old who has been playing at Wimbledon the longest.
Almost two decades ago, in 1999, Federer made his first appearance at Wimbledon as a wildcard, but went out in the first round to Croatian Jiri Novak. This was four years before any of his three rivals made an appearance at SW19; that was Nadal in 2003, the same year Federer won the tournament for the first time, which began a run of five consecutive titles.
All four men were in the tournament by 2005, when Nadal went out in the second round, Murray and Djokovic in the third, while Federer retained his title. In the years that followed, we can see the improvement of Djokovic before the Serbian crashed out early last year, as well as Nadal's huge drop in form in 2012 that he still hasn't recovered from on grass.
This year, Murray is the second favorite with odds of 4/1. The 30-year-old Scot is due to play Dustin Brown on Wednesday after beating Alexander Bublik in straight sets in the first round on Monday. But the world No. 1 is also recovering from a hip injury that had threatened his participation and may affect him later on in the tournament.
Whoever makes the final at Centre Court on July 16, the odds are that they will come from the big four. The domination appears set to continue.