Is Sports Gambling Now Legal? Expert Explains the Supreme Court Decision and What Happens Next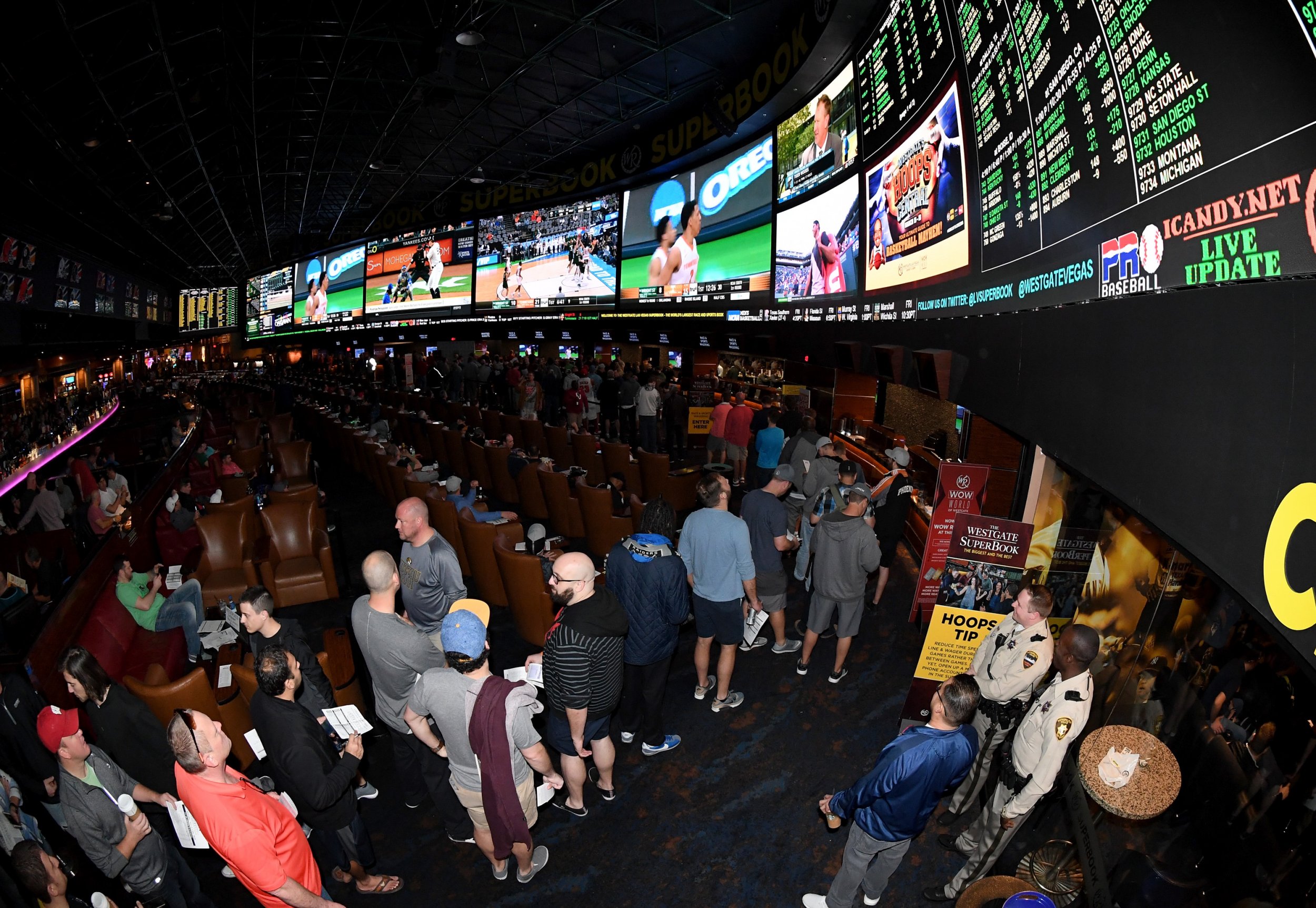 The Supreme Court issued a decision in Murphy vs. NCAA on Monday—and it marked the most important bit of news in the world of sports gambling in recent memory.
The decision, in effect, will allow states to regulate sports betting moving forward, meaning they can legalize and tax it. The court decided the Professional and Amateur Sports Protection Act (PASPA), commonly considered a federal ban on sports betting, was unconstitutional. The process began years ago, when New Jersey passed the Sports Wagering Act that violated PAPSA, which led to the NCAA suing and Monday's Supreme Court decision in favor of New Jersey. (Only Nevada, Delaware, Oregon and Montana managed to have some form of sports gambling grandfathered in before the 1992 law.) Sports Illustrated's Michael McCann has a good in-depth look at the decision here.
The decision, however, doesn't mean you'll wake up tomorrow and be able to gamble on sports. But the times are definitely changing. To better explain what just happened and what's to come, Newsweek called Chris Grove—managing director at gaming consulting firm Eilers & Krejcik and publisher of LegalSportsReport.com—and had a quick chat about the Supreme Court decision. The interview has been edited and condensed for clarity.
For the layman, what does today's decision mean?
There's definitely still some parsing of the decision to be done. But broadly speaking, it appears to open the door for states that are interested in regulating sports betting to do so.
For states that are interested—obviously including New Jersey, which was the one that brought this forward—how fast do you think this moves? How many states do you think might want to go forward with legalizing sports gambling? How quickly will New Jersey be up and running, actually having sports gambling in the state?
I would expect that New Jersey would be one of the fastest. It would not surprise me if New Jersey had full-fledged sports betting—land-based and online—live by the start of the NFL season. They will certainly have land-based sports betting live by the NFL season.
You see a handful of other states that either had enabling legislation already on the books or passed bills recently—Pennsylvania, West Virginia both passed bills within the last year. Delaware, Oregon and Mississippi believe they don't need a bill in order to authorize sports betting because they had existing enabling legislation. So right there you quickly get to about a half-dozen states that could move, conceivably, before the end of this year and have some form of sports betting up and running.
When you start to move into 2019, you are talking about a much broader field of states. We've had over 15 states show some kind of interest in regulating sports betting in the last year or two. How many of those follow through with it and at what pace they follow through—those are much trickier questions. There are a number of factors at play. In any given state you have a complex mix of stakeholders, and reaching consensus among those stakeholders can certainly cause delays in the process. And then you have the professional sports leagues—led by the NBA, MLB and PGA—who have their own vision about how regulated sports betting could go or should go. And if it's not going that way at the state level, there's certainly the potential for that group to cause delays.
It's kind of bringing a lot of parties together, with quite a bit of money at stake, I would imagine.
It's a far more diverse mix than you'd typically see around gambling expansion issues. So you don't typically see professional sports leagues get terribly involved if you're talking about re-negotiating a tribal compact or opening new land-based casinos. You don't see ESPN and Comcast and other major media companies get involved when a state lottery talks about allowing online ticket sales. You do see all of those groups involved in the conversation around sports betting and that reality—the more complex a legislative stakeholder group is, generally speaking, the slower the process moves. If all those groups can get on the same page, then you'll have an incredibly quick process because that group collectively has a tremendous amount of political influence.
Obviously, the Supreme Court case is major, but it seems like there has been a fair bit of momentum for this heading into the case. Why do you think this moment is the moment for sports gambling entering the mainstream?
I think there are a few things at play. At the base level, I think you have this reality that America is a country awash in gambling. I think it has always seemed a little odd to people that the one form of gambling that is arguably the most ubiquitous—maybe the second most ubiquitous to the lottery—was not legal, or at least was not legal in the majority of states. It was one of those things that almost everyone did but still remained illegal. In some ways, you could characterize it as the jaywalking of gambling. So I think that reality is one of the things that helped to create an undercurrent of support for a repeal of PAPSA or a rethinking of our nation's approach to sports betting.
I think that momentum was fostered and accelerated by a concerted lobbying effort from the commercial casino industry. Over the last three or four years, this has been a signature issue for the American Gaming Association. And I think the emergence of the leagues as a voice on this issue also helped to re-frame the conversation and give it additional momentum. Remember NBA Commissioner Adam Silver penned an op-ed in The New York Times a few years ago, if not calling for the regulation of sports betting, at least admitting it was an idea whose time had come. And you've seen other leagues, if not soften their stance on sports betting, then soften their stance on gambling conceptually. The NFL is a great example with the move of the Raiders from Oakland [to Las Vegas].
So I don't know if you can point to any one thing and say: "This is what caused us to be where we are today." But I do think you can broadly look to cultural attitudes around sports betting and how accepted it is an activity, then combine that with a concerted lobbying push from a number of powerful stakeholders, and you get a pretty reasonable explanation for how we got to today's decision.
You mentioned the public perception of sports gambling—did daily fantasy affect that in your mind? Because they had their loophole but a lot of people felt like it was very similar to gambling.
I think that did play into it. I think it heightened the phenomenon of [people wondering] "How is sports gambling not legal?" That question was thrown into sharp relief by daily fantasy sports (DFS) and the fact that they were able to get legalized and regulated in 18 states and continue to operate in another 20 or so. I do think that provided a little more fuel to the fire.
What happens with daily fantasy now? And does this affect Vegas, which is kind of the premier sports gambling location, at all?
Vegas is just Vegas. It won't really affect them too much. Sports betting makes up a single-digit percentage of Las Vegas revenue in any given year. A low single-digit percentage.
But also just look at what has happened as other forms of gambling have spread across the U.S. It used to be very few states had casinos; now, I believe, the majority of states have some kind of casino gaming. Las Vegas is doing fine, in terms of its gambling revenue. Look at poker in the 2000s, when you had that boom of online poker and you had poker rooms popping up in every regional casino. Many people might have thought, "Well, that's going to kill Las Vegas poker." That coincided with the absolute high point of poker rooms in Las Vegas and participation in the World Series of Poker. I think, generally speaking, there's been a trend that gaming at the local level supports gaming in Vegas. And I don't have any reason to believe sports betting will be any different.
As far as DFS, I think it's an opportunity. I think that's a business that was in trouble. And now it's a business that has a far more cogent reason for being. Now it's a product that can be a part of a suite of products built around sports wagering to appeal to different kinds of customers in different markets. Remember, sports betting isn't going to be a thing that is available to all 50 states overnight. It's going to be a slow process. So now, fantasy sports actually make more sense as a part of a sports gaming puzzle than it did before as a standalone product.
Could that be a situation where a bigger gaming company purchases a daily fantasy business to try to bring them in, with all that infrastructure already set up?
I think that you will see—we've already seen—increased interest from traditional casino companies in daily fantasy sports companies. I think, post the Supreme Court decision, you'll see that interest accelerate. And it would not surprise me if you saw a number of strategic investments or acquisitions into fantasy sports companies by casino interests over the next week and months.
You see these large projections about how much gambling is done illegally—those huge numbers around the Super Bowl—how big of a business is this really? And who's going to be making the money here whenever states begin to change their laws?
It's a significant business. Generally, the numbers that are thrown around when people are talking about March Madness or the Super Bowl, those numbers reflect the total amount wagered, not the actual revenue that is taken in by operators. So it's really easy for those numbers to hit the stratosphere. It would be like if a casino described its revenue by the number of coins put into a slot machine as opposed to the amount a casino kept.
We still think that this is a business that by 2023 is going to be worth about $6 billion in revenue in the U.S. You'll be looking at a few dozen states that have been regulated, about $6 billion in revenue. That is a significant pie but it's a pie that is going to be chopped up a number of ways. You have sports leagues looking to take a piece. You have casino operators looking to take a piece. State governments are going to be looking to take a piece. Media companies, in their way, are going to be looking to take a piece. It's a significant pie but it's one that is going to be sliced up pretty aggressively by a number of hungry stakeholders.
Practically speaking, if states change laws, what does it actually look like for consumers in that state? In New Jersey, does that mean walking into a casino and placing bets? In other states, does it mean you can just go online and do it?
It'll look like some combination of [all] that, depending on the state and the attitude it takes toward online sports betting. I don't think you'll see any states that will only offer online and not offer land-based. I think you'll see most states offer both. But I think you will see some states that only allow you to walk into a casino or a similarly authorized retail outlet and place sports bets there. What those retail outlets will look like is a really interesting question. Casinos are the most obvious answer. Racetracks are the second most obvious answer. But in states where the lottery gets involved in sports betting, it may be that lottery retailers become places where you can go in and place a sports bet.
In New Jersey, specifically, I think you'll see land-based sports betting first. They'll get that up and running quickly, and I think you'll see online sports betting follow in relatively short order. It's one of the few states that has regulated online casino poker up and running today. They already have the template.
I'm from Delaware, and I've noticed that when I go back, at bars they have parlay bets now. If they decide they want to fully legalize sports gambling, will I be able to go back to that same bar—if they so choose—and place any type of bet I want?
That's a decision Delaware will have to make. I certainly think the bar will be fighting for that. The tavern association in any given state tends to be a pretty powerful lobby. It's certainly possible.
Moving forward, do you think eventually there's going to be a majority of states where you can do some kind of sports betting?
Yes. I think you'll get to a majority by population probably in under 10 years. It might take you a little longer to get to a majority by actual number of states. Again, that's a question of how aligned various stakeholders are going to be. If they end up being very aligned, then you can get to a majority in five years. If there's a lot of tension or lack of alignment in their agenda, then this is a process that could drag out for a decade or longer.
Who is the most important stakeholder?
It varies from state to state. Broadly speaking, I'd say your professional sports leagues and your commercial casinos in any given state are roughly equal in terms of their power to start or stop legislation, which is what makes this dynamic so interesting.
But in one state, tribal casinos might be very powerful, in another it might be the racetracks, in another it might be the lottery.
Is this the start of the death of the bookie?
It depends on how good the regulated product is. If it's an overtaxed product that doesn't offer competitive pricing and isn't widely available, then I don't think it's the death of the bookie at all. If it's a competitive product that can match on pricing and promotion—it's available on your mobile device, it's convenient—then I wouldn't say it's a death knell for the bookie but it's a significant injury.