Who Is Danielle Herrington? Sports Illustrated Swimsuit Model Becomes Third Black Woman to Grace Cover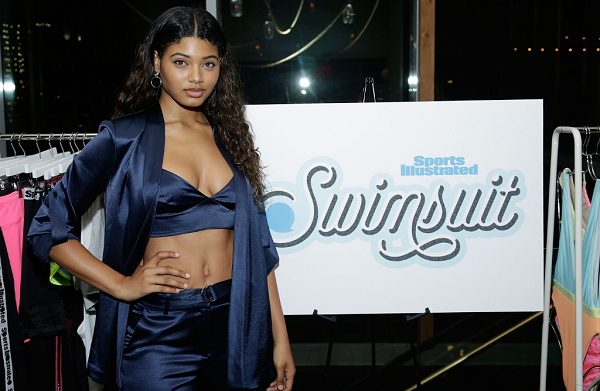 Sports Illustrated made waves Tuesday when it announced Danielle Herrington as this year's Swimsuit Issue cover model. The 24-year-old from Compton, California, is the first black model to appear on the Swimsuit cover in 11 years and only the third all-time. Superstar singer Beyoncé fronted the 2007 issue, 10 years after Tyra Banks became the first black model to grace the cover.
For her cover shoot, which took place in the Bahamas, Herrington sported a pink knit string bikini.
Making the cover of SI's swimsuit issue is a major accomplishment for any model. But the honor had special meaning for Herrington. "I just remember Tyra Banks being on the cover and that's where it all started for me," Herrington told People magazine on Tuesday. "That's what really made me pursue modeling. SI was a goal from that point, from seeing Tyra on the cover. It was love at first sight."
Herrington began modeling when she was 13 years old. She got her first big break when she appeared in SI Swim's Rookie Class in 2017, appearing in a gold string bikini. She made an impression during that shoot, and it directly led to her landing this year's cover.
"Last year, Danielle was a rookie, and yet already an exemplary model," SI swimsuit editor MJ Day said in a statement. "She's an extra hard worker and a natural brand ambassador. All those things separately don't guarantee a cover, though. Danielle was a shy girl, who went from taking her first photos last year to showing up this year a completely different person. All the good things about her seemed to be magnified."
"She owned every single second of her shoot," Day continued. "She had an enthusiasm and effervescence about her—I felt like I was meeting her for the first time. Last year she showed up never expecting to be there; this year she showed up completely claiming her place and status as a Sports Illustrated Swimsuit model."
Appearing on the SI's swimsuit cover will send Herrington's star into the stratosphere. But she has accomplished a lot in her 10-plus years as a model.
Besides swimsuit shoots, Herrington has made the rounds in the fashion world, too. In September, she landed her first major runway moment, walking in Phillip Plein's Spring 2017 show for New York Fashion Week. On Sunday, she returned for Plein's Fall 2018 show.
Who Is Danielle Herrington? Sports Illustrated Swimsuit Model Becomes Third Black Woman to Grace Cover | Culture