Sportsbook Makes Early Assumption on Lamar Jackson As NFL MVP, Announces Payout For Bets On Baltimore Ravens QB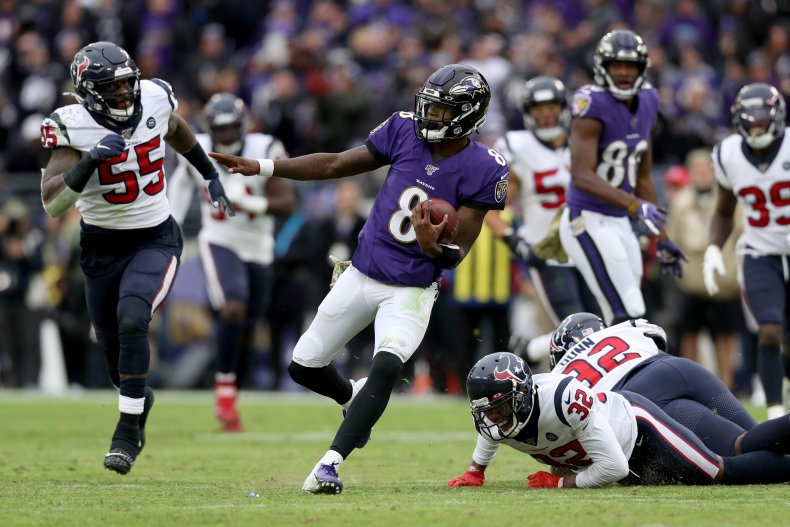 One sportsbook has already called it on who will win the NFL's Most Valuable Player award.
On Wednesday, PointsBet sportsbook announced an early payout system for people who bet on Baltimore Ravens quarterback Lamar Jackson to win the MVP title.
"The first Lamar Jackson bet we took was at 75/1...Now he's the favorite," PointsBet said on Twitter. "We have seen enough over here of the Ravens superstar! PointsBet is paying out ALL Lamar Jackson wagers as WINNERS."
There are currently six weeks left in the NFL regular season where anything can happen, but according to PointsBet, Jackson has done enough in his 10 games to prove himself the MVP.
The payout will reward any person that made an MVP wager on Jackson from the beginning of the season to now, regardless if he wins the award or not.
"We've really enjoyed watching Lamar Jackson make the impossible look easy every Sunday," PointsBet CEO Johnny Aitken said in a statement to the Action Network. "Considering some of his recent performances and looking ahead at the Ravens' remaining schedule, it's pretty clear to us that Lamar is simply a freight train that won't be stopped. He is steaming toward well-deserved NFL MVP honors as he racks up the yards, rewrites the record books and redefines the quarterback position. Given that, we think it's only fair to reward all of our clients who had the foresight to place their bets on the right long shot."
So far this season, Jackson has amassed 2,258 total passing yards, 19 touchdowns and 788 rushing yards. At the start of the season, PointsBet gave him +7500 odds to win but has gone down to +130 since then. Several other sportsbooks also have him listed as the outright favorite, he's sitting at +150 on DraftKings and Bovada while Fanduel has him listed at +140.
To add to Jackson's already impressive MVP resume, Ravens social media director Garrett Downing detailed how the quarterback stacks up against his fellow NFL quarterbacks.
"Lamar Jackon has more passing TDs (19) than Aaron Rodgers, Tom Brady, Carson Wentz, Matt Ryan and Phillip Rivers. He also has more rushing TDs (6) than Le'Veon Bell, Alvin Kamara, Saquan Barkley, David Johnson and Joe Mixon," Downing wrote on Twitter.
Jackson's rushing yards put him on pace to go for over 1,200 yards this season, which would break the single-season rushing record by a quarterback set by former Atlanta Falcon Michael Vick (1,039).
PointsBet said that their early payout program will result in five figures losses. The sportsbook will still payout wagers placed on players other than Jackson if he does not win. Seattle Seahawks quarterback Russell Wilson is currently ranked behind Jackson in betting odds.
Sportsbook Makes Early Assumption on Lamar Jackson As NFL MVP, Announces Payout For Bets On Baltimore Ravens QB | Sports