The Spot With the Most Germs in the Airport Isn't the Bathroom
You touch the filthiest place in an airport every time you take a flight.
Researchers from Finland and the U.K. found that the dirtiest surfaces are the plastic bins used during security. The study, published last week in BMC Infectious Diseases, revealed that the bins have more viruses on them than even the toilet seat in the airport bathroom.
The team of scientists took samples for 90 locations at Finland's Helsinki-Vantaa airport, which serves 18.9 million passengers a year. They timed the samples so they were taken after a traffic spike and before the areas were cleaned. The team tested the samples for viruses to see which remained virus-free and which were covered with germs.
The security bins were by far the dirtiest as half of the tested bins had viruses on them, including influenza A. The bins also tested positive for rhinovirus and human coronavirus OC43, which can cause the common cold. Adenoviruses were also present and can cause many illnesses like pink eye, pneumonia, the common cold, diarrhea and bronchitis, according to the Centers for Disease Control and Prevention. Not only does everyone touch the bins with their hands, the bins touch just about everything you own, from your keys to your bags, shoes and cellphone.
The second dirtiest spot in the airport was a plastic dog toy found in the children's playground, and some buttons used for payments at the pharmacy. The scientists also located a virus at the desk and divider glass in the passport control area, in the air in the security check area, and on the handrails of stairs, but only one of many samples tested positive for viruses on those surfaces.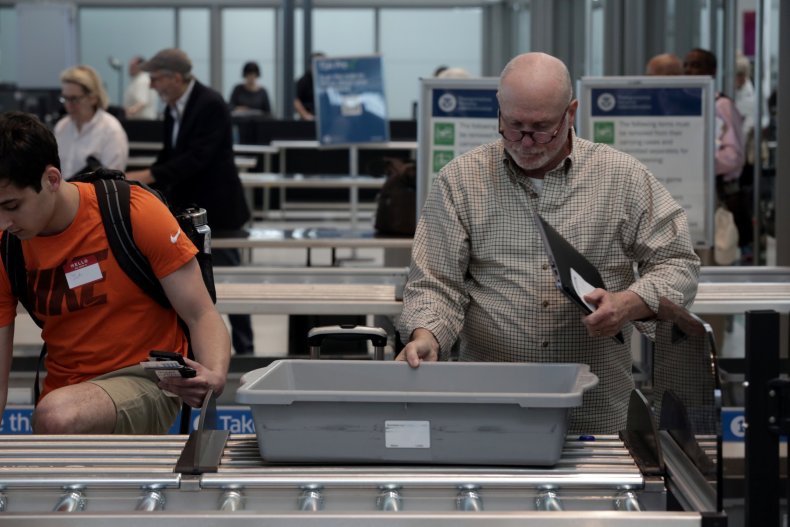 Surprisingly, every area of the bathroom tested (the upper surface of the toilet bowl lid, the button to flush the toilet, and the lock on the bathroom stall door) all came back negative for any viruses, despite the team taking 14 different samples of those locations.
Overall, the scientists found that 10 percent of the surfaces they tested had at least one virus present. Since the study only focused on one airport in Finland, the results could be different around the world. The scientists warn that since security trays are used by virtually all passengers, they pose a risk for a dangerous pathogen to spread internationally if one ends up on a bin.