Is Spotify Down? Streaming App Crashing for Many Users
Spotify is not working on iOS, according to thousands of users. When attempting to open the Spotify app on an iPhone, it immediately crashes.
The problem is not resolved by deleting the app and redownloading it, either. It seems to be a problem within the iPhone app alone, as users have reported Spotify working normally on Android devices, as well as on desktop and through the web version.
Facebook confirmed that the crash was caused by an issue with its iOS software developer kit (SDK) that is embedded in the Spotify app. Other apps that use the software to manage their log-ins also experienced issues today, including Pinterest, Tinder, PUBG Mobile, and Mario Kart.
On its developer platform, Facebook said: "We are aware and investigating an increase in errors on the iOS SDK which is causing some apps to crash."
The website Down Detector received more than 10,000 reports of the Spotify app crashing, with most reports coming out of Western Europe. There are also reports of Spotify being down on the East Coast, including in New York and Boston.
Spotify has acknowledged the problem, with the Spotify Status Twitter account posting: "Something's out of tune. We're currently investigating, and we'll keep you posted here!"
The Spotify Cares Twitter account has also acknowledged the issue, in a tweet that said: "We're aware of some issues right now and are checking them out! We'll keep you posted."
The app has appeared to have been down for around an hour, according to the tweet from Spotify and the reports from Down Detector.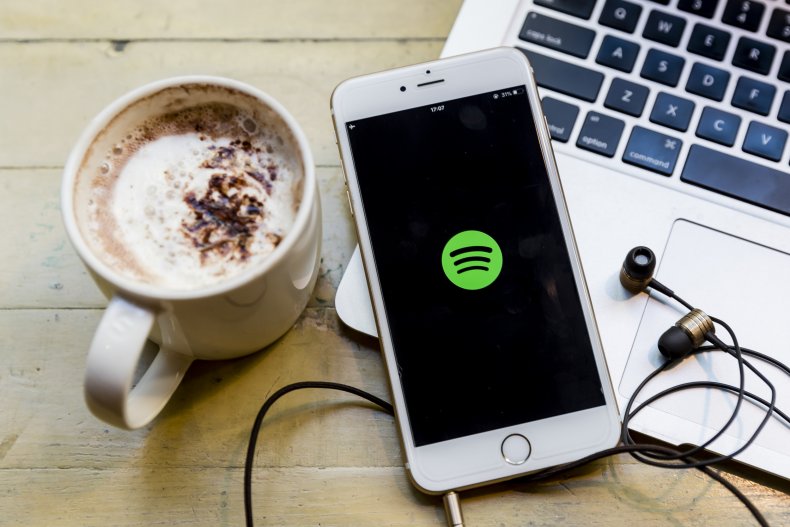 One workaround has already been discovered. It seems that turning off the iPhone's mobile data and WiFi allows the user to open the Spotify app in offline mode. The user can switch WiFi on again to access Spotify's online features.
This method was recommended by a Twitter user who responded to the Spotify Status account. Newsweek was able to verify this working on one of its iPhones.
Alternatively, to continue listening to music while the app is down, Spotify users can use the open.spotify.com website on their iPhones. When logging in, reject the option to open the app, and begin streaming music via the website.
There were also reports of Spotify crashing moments after the posthumous Juice WRLD album was released on July 10. However, it is not believed the current problem users are facing is related to the earlier crash.
The last time Spotify crashed was on May 7, when the Spotify Status Twitter account acknowledged two separate issues within a few hours of each other on the same day.
Spotify users are expressing their disappointment on social media, with some saying they will switch to Apple Music and others asking for a month of Spotify Premium for free. According to Twitter, more than 800,000 users are currently tweeting about Spotify.
Update: (9:06 AM ET) Around two hours after the initial crash, Spotify seems to up and running again. The Spotify Status Twitter account said: "Good news! Everything is good to go and looking happy. Still having issues? Give @SpotifyCares a tweet."