Spotify Draws Line Between Slurs, COVID by Removing Some Joe Rogan Episodes
Spotify recently removed episodes of The Joe Rogan Experience after a video made the rounds on social media that spliced together instances of host Joe Rogan using a racial epithet. However, the company has left up episodes of the popular podcast that feature COVID-19 misinformation, despite those episodes igniting a massive controversy about the comedian.
The most recent round of episodes being pulled is said to be due to Rogan's use of the N-word, while those with questionable talk about the coronavirus—which prompted artists such as Neil Young to demand their music be removed from Spotify—remain on the platform with only a warning label attached.
It's not currently known if all of the 70 episodes of Rogan's show that were removed Friday include the host saying racist slurs, and Spotify has not publicly commented on the matter. In total, 113 episodes of Rogan's podcast have been removed from the streaming service, according to the website jremissing.com.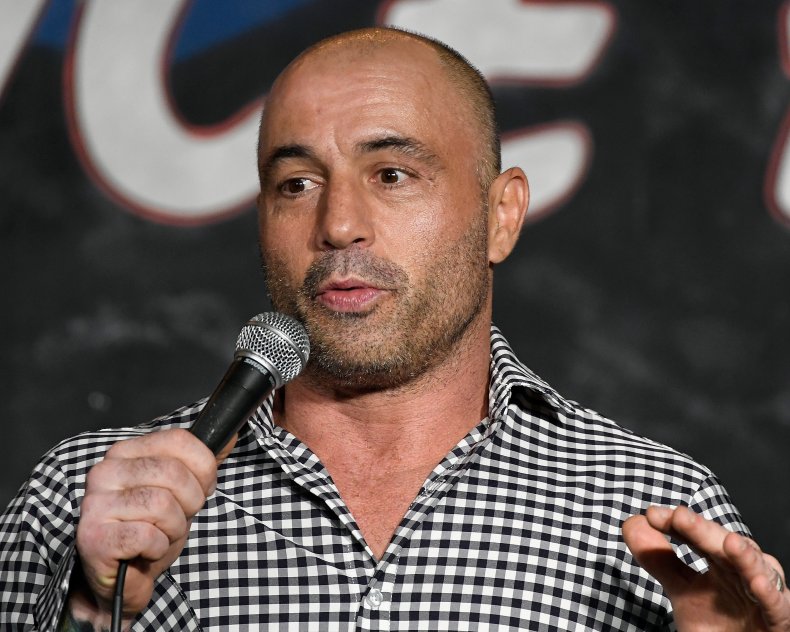 Newsweek contacted the company for comment but has not heard back as of press time.
One of the most controversial episodes of the podcast remains available on Spotify. In the December 31 episode, Dr. Robert Malone, a scientist who worked in mRNA technology used for COVID-19 vaccines, made multiple false claims including the baseless statement that vaccines leave people who already have had the virus at higher risk.
The listing for the December 31 episode of The Joe Rogan Experience with Malone currently features a blue label affixed to the top that features a link to information on COVID-19.
On January 30, Spotify CEO Daniel Ek posted a statement online announcing content advisories would be placed on "any podcast episode that includes a discussion about COVID-19."
Ek wrote, "It is important to me that we don't take on the position of being content censor while also making sure that there are rules in place and consequences for those who violate them."
The CEO did not mention Rogan by name in the statement.
In addition to Young, Joni Mitchell and past Young collaborators David Crosby, Graham Nash and Stephen Stills have also asked for Spotify to remove their music due to Rogan featuring guests who spread COVID misinformation.
Singer India Arie made her stance against Rogan known on January 31 when announcing she was pulling her content from Spotify.
The Grammy Award-winning artist wrote on Instagram: "I find Joe Rogan problematic for reasons other than COVID interviews...For me it's also his language around race."
A couple of days later, Arie posted the video compilation of Rogan using the N-word. She wrote in a post, "He shouldn't even be uttering the word. Don't even say it, under any context. Don't say it. That's where I stand. I have always stood there."
Rogan has since apologized for his past use of the N-word. Discussing the supercut video made of him uttering the epithet, Rogan said in an Instagram post on Saturday that it was "the most regretful and shameful thing I've ever had to talk about publicly."
"I know that to most people, there is no context where a white person is ever allowed to say that word, never mind publicly on a podcast, and I agree with that now," Rogan said. He also added that he did not have racist intent when using the word in the past while emphasizing it was still wrong to use such words.