Is Spotify's Car Thing the Best Way to Stream Music While Driving?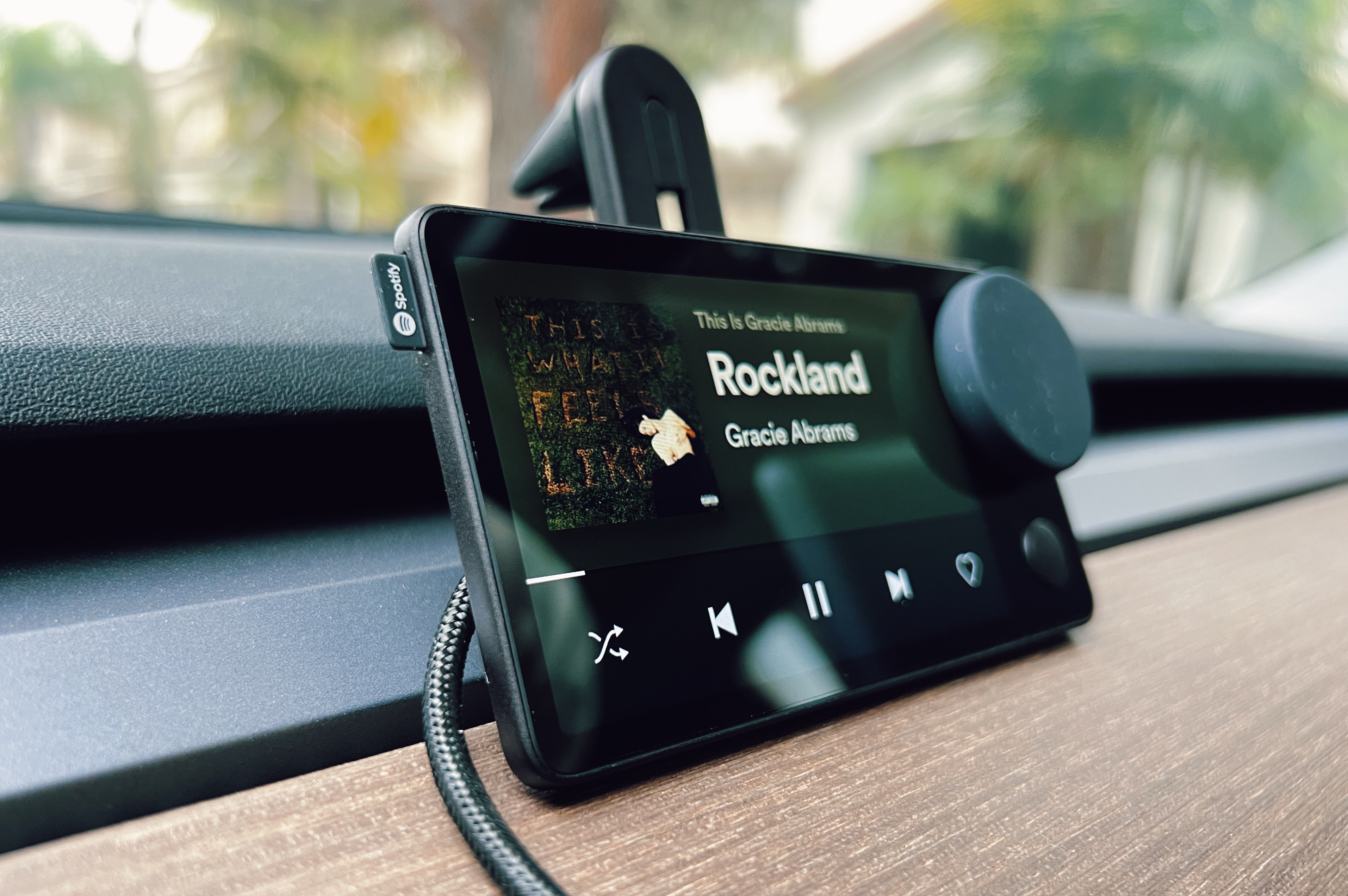 The need to buy a dedicated, third-party device to stream music in your car is fading fast—if it isn't completely gone already. So in 2021, going into 2022, it's a bit of a head-scratcher as to why Spotify's first piece of hardware, Car Thing, exists. Even more perplexing is that Car Thing doesn't even stream audio itself. It needs to connect to a phone that has a data connection and Spotify's app installed to work.
Car Thing is a glorified music controller. I found myself asking repeatedly, Why does Car Thing exist? Spotify's marketing answer centers around letting your phone do phone things while presumably this new device handles music things.
Car Thing does feature a touchscreen, buttons and knob as well as voice controls. But this is its redeeming quality: It has easy song navigation, especially for recent and heavily listened to music.
Despite not needing it in my vehicle, I tried out Car Thing to see if I could get a grasp on what it's good at, and who might benefit from it.
TL;DR
Pros:
Multiple ways to use it: voice, buttons and touchscreen
Comes with three types of car mounts
Cons:
Still needs your phone for internet connection
Needs constant power and to be plugged into a 12-volt outlet
Ideal consumer: Dedicated Spotify subscriber with a vehicle that's 10 to 12 years old.
Buy at Spotify.
What Is Spotify's Car Thing?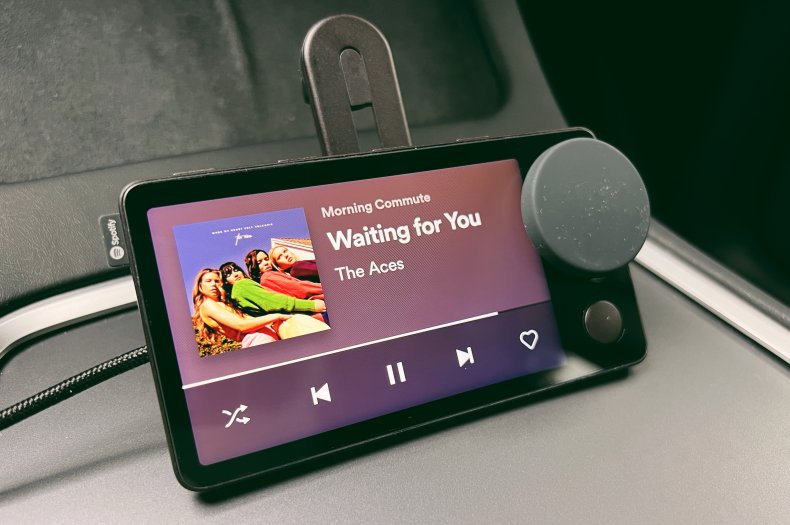 Before we get into how Car Thing works, let's start with the basics. Car Thing has a 4-inch diagonal touchscreen. It has four microphones to listen for voice commands. What it doesn't have is an internet connection. It doesn't even have a battery. It needs to be powered by your car. There's also no speaker on the unit itself.
Remember when I said it was a glorified music controller? I meant it. It's connected to your phone via Bluetooth and becomes the interface for the Spotify app in the car.
If your car is so old enough it doesn't have Bluetooth, then you'll need to connect your phone to Car Thing with an auxiliary cable. Adding more complexity, if you use a newer phone without a headphone jack for that aux cable, then you'll need an adapter, too.
Basically, connecting Car Thing to an old car could be a nightmare and connecting it to a new one may be pointless.
The Pros and Cons of Spotify's Car Thing
Unfortunately, there are more things to nitpick about Car Thing than there are to praise. But let's start with the positive.
It's nice that Car Thing comes with three different types of mounts. One of these mounts should be able to cover most people's needs. There's a vent mount for an air vent. There's one for a CD player slot, and there's a general-purpose one with a sticker on the back. The Car Thing has a magnet embedded on the rear and sticks to the mounts via a strong magnetic connection. (That also means a MagSafe mount may also work if you still need more options.)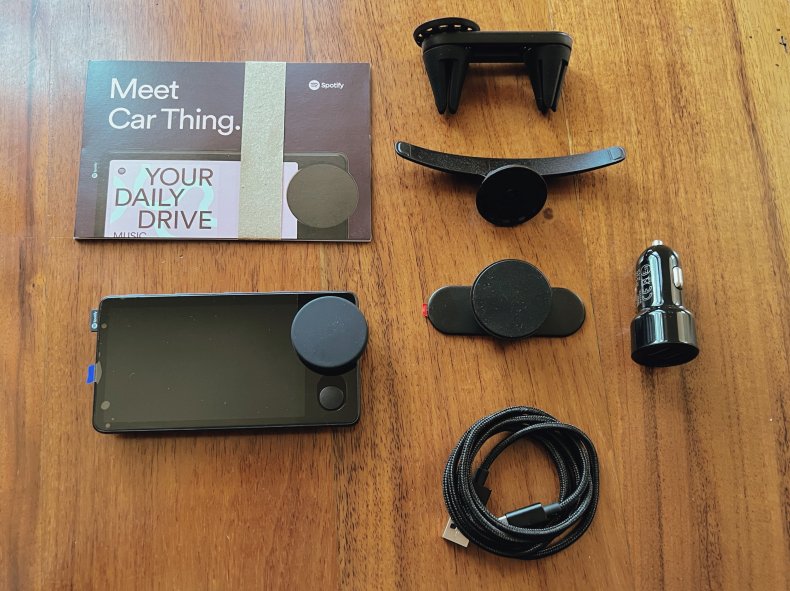 I really enjoyed voice control for playing music in the car. For iPhone owners with an Apple Music subscription, Siri can handle that. But, for Spotify, there hasn't been a great, dedicated, solution across any platform.
The trigger phrase for voice controls is, "Hey Spotify." It's not embarrassing or awkward to say out loud, but it is really close to "Hey Siri." More than once I tripped on the phrase and got the two mixed up. The device heard me nearly every time I asked it for music, but it didn't always understand what I said. It understood just enough to keep me using voice commands.
The four buttons along the top can be programmed to an artist, a playlist or an album. That's handy. The physical buttons are mostly easy to find and press blindly (at least the outer ones on the left and right) while keeping your eyes on the road. Even more handy is the ability to set or trigger these presets by voice, asking Spotify to play preset No. 2, for example.
I like Car Thing's simple interface with large text and big images. Spotify's mobile app is not the easiest to navigate while going 70 miles per hour. All this is good and makes it fine to use once you commit to it. Unfortunately, it's not very easy to get to that point.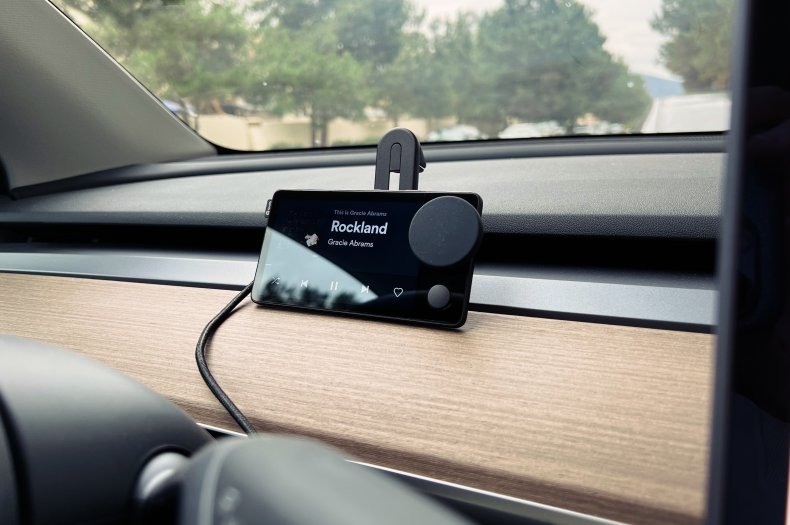 Since Car Thing doesn't have a battery, it always needs to be plugged in. I tried to plug it into one of my car's USB ports, but it didn't have enough power, and the device displayed a note on-screen saying it needed the power cable and adapter that came with it. That means that you'll need to use a 12-volt DC outlet in your car and hope it's within range of the roughly 2-foot USB cable connecting it.
Get used to that cable hanging or wrapping around your center console, too, because it will always be there. The device is very thin, but it didn't need to be. If it had a battery, I think my impressions here would have been more favorable overall. With a rechargeable battery, Car Thing could be mounted in the back seat for passengers to control or in more places around the vehicle.
Car Thing costs $89.99. The price isn't so dramatically low that bumping it up a little to accommodate a battery would have dissuaded anyone from buying it.
Even though not all the feature choices make sense to me, I do understand why there's no internet connectivity for Car Thing. Adding that feature directly to the device would have cost significantly more, including potential monthly fees, and introduced a lot of complexity.
The interface speed was adequate, but it wasn't amazing. It did occasionally feel like it was a half step behind, and it regularly felt like it was a few fast taps away from freezing up. For example, after asking Spotify to shuffle my Liked songs, I quickly skipped the first song using my car's media controls. The song changed and played immediately through the speakers, and updated the album art on the car's screen, but the Car Thing screen continued to display the first song for about 10 seconds before catching up.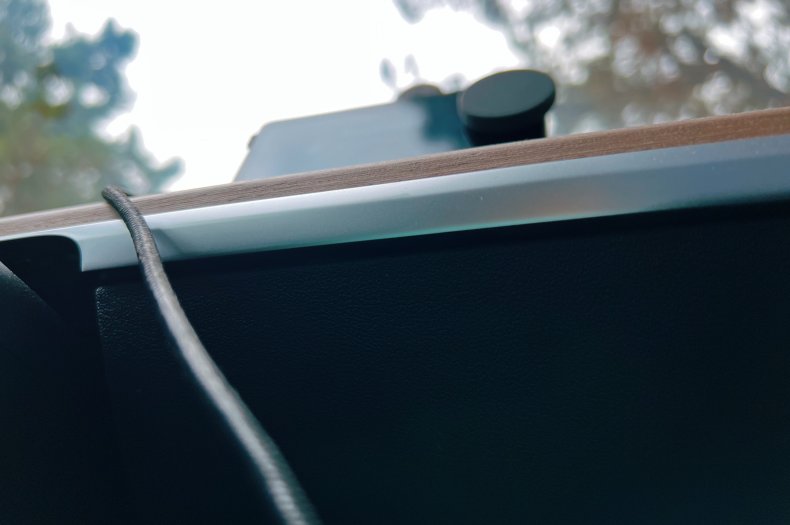 It's hard to criticize a device for things it doesn't do or doesn't claim to do, but they're worth mentioning here. If it wasn't already clear, there's no navigation or maps of any kind on Car Thing. Again, it's just a Spotify interface. The time and date aren't even shown on the screen. Is anyone mounting their phone in their car only to see a music interface? It seems unlikely, and so having a second device for navigation seems to introduce more clutter into the driving space, where there should be less.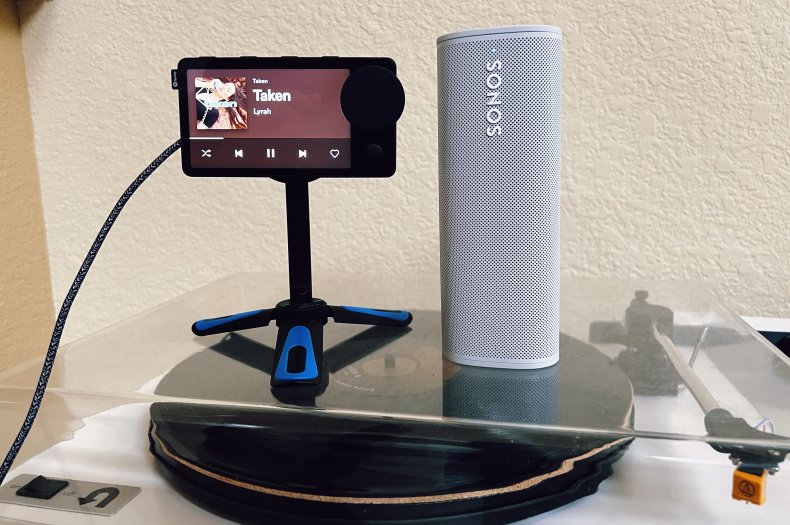 A Few Other Notes
The name Car Thing implies only vehicle use, but there's nothing stopping you from using it somewhere else. I attached it to a Moment MagSafe compatible mount on a tripod and played audio through a Bluetooth speaker connected to my phone. It worked just fine in the living room connected to a wall outlet via a USB-C cable.
When my phone was connected to an AirPlay speaker, I couldn't get Car Thing to work properly—despite the Spotify mobile app working just fine when connected to a HomePod. And despite having four microphones, Car Thing's voice recognition from 10 or more feet away is pretty bad.
Should You Buy Spotify's Car Thing?
I have a car with a native Spotify app in the media console, so this device is purely hypothetical for me. I didn't need a new interface for music, but I could certainly benefit from a better one. Car Thing could be tempting to some people for that reason. I might have even considered using it long-term if it didn't introduce a power cable strung through the car's cabin.
If your car doesn't have any great built-in media services and you're currently mounting your phone to the dashboard to play Spotify, then you are a candidate for this device. But, be aware, it may also just lead to your having two devices mounted to your dash—one for music and one for navigation.
It's not that Car Thing is a bad idea, but the list of cars that it fits into elegantly is very small. Further complicating things, the person in need of this exact solution will also need to be a Spotify Premium subscriber.
Buy at Spotify for $89.99.
Newsweek may earn a commission from links on this page, but we only recommend products we back. We participate in various affiliate marketing programs, which means we may get paid commissions on editorially chosen products purchased through our links to retailer sites.