Spouse Inviting Themselves on Husband's Business Trips Dragged: 'Go Home'
A woman has been slammed online after inviting herself to join her husband on a business trip, before discovering that she hated the experience, leading to the couple departing early.
In the Reddit post, which can be seen here, the woman wrote: My husband and I hadn't been spending much time together even though we've only been married 4 months, so I asked him if I could join him on his business trip."
"It took some convincing...He was supposed to be in Berlin for a week but it somehow turned into him going to 5 different countries in 9 days," she added.
The woman then revealed that she had found the trip "awful" after becoming "severely jet-lagged. After a lot of arguing, [the husband] eventually slowed the pace down," the woman wrote.
Although she said she would go home alone, her husband did accompany the woman back to their home country. However, he did tell his wife that she shouldn't complain as she had invited herself onto the trip, and that because of her he'd had to alter his work schedule to spend time with her.
The Redditor, who posts under the social media username @Autumn893, had called on Reddit users to assess whether she had behaved poorly in the situation.
Since being shared to the social media platform on January 31, the post has been upvoted 6,800 times and has received 1,800 comments. Those who engaged with the post voted that the original poster been the A****** in the situation, and that she'd overstepped the mark by coming on her husband's business trip.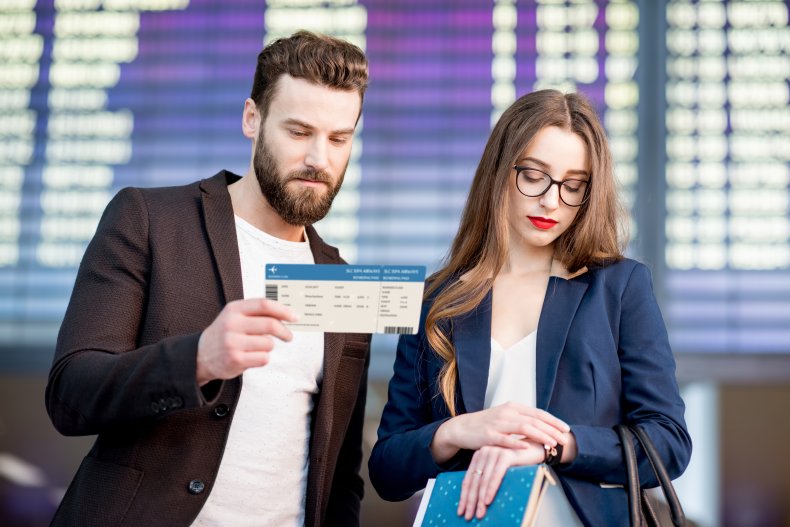 How Should Couples Make Time for Each Other?
Melanie Cooke, a licensed mental health counselor and the founder of her own counselling group, told Newsweek: "Time has always been a finite commodity, but in this day and age—where capitalistic work ethic meets unlimited access to external stimulation—it is especially precious."
"Making time for your partner has to be an active choice and an intentional top priority among all the other priorities and choices we have to make in the day," she added.
The counselor went on to tell Newsweek that she often sees couples assume that any 'leftover' time in their day is what will be dedicated to their partner, but that there are issues associated with carrying such a passive stance that hasn't been mutually agreed upon.
"Realistically, we don't have as much 'extra' time as we think we will and free time and availability are two very different things. Partners don't just need your time, they need you to be emotionally available and engaged," Cooke said.
If you're feeling like you're no longer a priority to your partner, Cooke advises that you share how you feel with openness and curiosity, but only when any tensions or emotions have settled.
"When tensions and emotions are running high, sharing that you feel like you're no longer a priority in the moment might only make your partner more defensive, rather than receptive and open to collaborative solutions," she added.
Communicating Your Needs
In a similar vein, Michelle Keinan, a somatic therapist, told Newsweek that the issue at hand for the couple mentioned in the Reddit post is not being able to effectively communicate their needs.
"This results in them blaming each other when they're disappointed and that pattern is continuing," she added.
Keinan told Newsweek: "The thing about a relationship is it's a dynamic, both people are responsible. When partners blame each other for why they're not getting their needs met, no one is going to make time to communicate or spend more time together because the undercurrent is resentment."
"Making time for your partner isn't difficult, if the desire is there," she added. "If your partner isn't choosing to spend time with you, it's because they're not enjoying what they feel like when they're with you. Instead of talking about why you're not a priority, perhaps talk about what would make spending time together more exciting."
What Do the Comments Say?
Most Redditors engaging with the post chose to slam the woman for encroaching on her husband's space.
"You can't honestly believe you're in the right in any way. You invite yourself on his BUSINESS TRIP. Complain the whole time. Husband tries to accommodate. You still complain," one user wrote.
Another user added: "I can't believe that people like OP don't have any self awareness".
Have you noticed any red flags that made you end a relationship? Let us know via life@newsweek.com. We can ask experts for advice, and your story could be featured on Newsweek.