On Tuesday, the U.S. Food and Drug Administration approved Spravato (esketamine) nasal spray, a new antidepressant drug by Janssen Pharmaceuticals. The fast-acting drug, chemically related to the powerful anesthetic ketamine, is intended for adults with difficult-to-treat depression.
Although doctors have been prescribing a generic version of the ketamine anesthetic for several years, Tuesday's announcement marks the first time esketamine has been approved for use. Esketamine works in a different way than drugs like Prozac, and studies suggest patients may feel its effects within hours or days rather than weeks or months.
This could be good news for the 5 million out of 16 million people in the U.S. living with major depression that is resistant to treatment.
"There has been a long-standing need for additional effective treatments for treatment-resistant depression, a serious and life-threatening condition," said Dr. Tiffany Farchione, acting director of the Division of Psychiatry Products at the FDA's Center for Drug Evaluation and Research.
According to the FDA, patients are classified as having treatment-resistant depression when they have (1) been diagnosed with major depressive disorder, (2) have been treated with adequate doses of two or more antidepressants and (3) have not responded to the treatment.
Spravato's effectiveness in treating cases of difficult depression was evaluated in three short-term clinical trials, each four weeks long. During the placebo-controlled studies, patients were broken into two groups. One group received Spravato and the other a placebo nasal spray. In one 90-patient study of adults 65 years old and younger, those treated with Spravato saw a significant improvement in their Montgomery-Åsberg Depression Rating Scale (MADRS) score four weeks after starting treatment when compared with the placebo group.
The results of the other two studies, however, were inconclusive.
In a longer-term study of the drug, patients whose depression was in stable remission and continued treatment with Sprvato and an oral antidepressant saw a longer span of time pass before depressive symptoms resurfaced than patients treated with the placebo.
Spravato Side Effects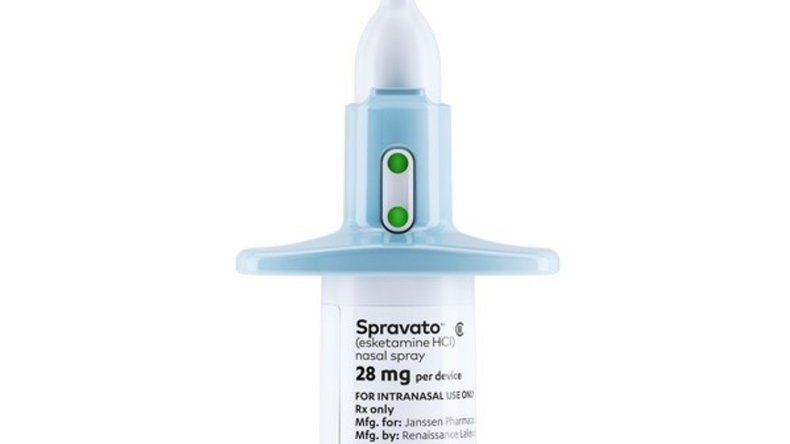 Though Spravato could provide much-needed aid to those with severe cases of depression, the antidepressant properties and long-term effects of ketamine are not well understood. Ketamine has been known to induce sedation and dissociation, which made it a popular club drug (Special K) in the '80s and '90s.
Though Spravato is considered a less potent version of the anesthetic, some of the most common side effects experienced by patients treated with the nasal spray were:
Disassociation
Dizziness
Nausea
Sedation
Vertigo
Decreased feeling or sensitivity (hypoesthesia)
Anxiety
Lethargy
Increased blood pressure
Vomiting
Feeling drunk.
The FDA acknowledged the risks and potential for abuse of Spravato and has approved its availability only through a restricted distribution system under a Risk Evaluation and Mitigation Strategy (REMS), and has classified it as a Schedule II controlled substance.
How Much Will Spravato Cost? When Will It Be Available?
Informa Pharma Intelligence predicted that once on the market, the drug could reach yearly sales as high as $2.3 billion by 2024. Previously, ketamine infusions for depression treatment were paid out of pocket and ranged from $350 to $700 a session. According to the FDA, the wholesale price of Spravato is listed at between $590 and $885 per session and would likely be covered by insurance. While no dates have yet been announced for when Spravato would become available, you can sign up for official updates about the drug at Spravato.com
Uncommon Knowledge
Newsweek is committed to challenging conventional wisdom and finding connections in the search for common ground.
Newsweek is committed to challenging conventional wisdom and finding connections in the search for common ground.