Spring Break is Back in 4 U.S. Cities as Hotel Occupancy Nears Pre-COVID Levels
While health officials across the nation have warned that spring break travel could lead to another surge in COVID-19 cases, four U.S. cities are projecting hotel occupancy rates close to those reported prior to the pandemic in 2019.
Miami Beach, Florida is generally known as a spring break hot spot, and data provided to Newsweek from the Greater Miami Convention & Visitors Bureau (GMCVB) shows that the city is expecting close to pre-pandemic levels in hotel occupancy rates.
According to the data, Miami is projected to reach 72 percent hotel occupancy rates in March and 70 percent in April. In comparison, hotel occupancy rates reached 88 percent and 84 percent in March and April 2019, respectively.
While the information shows that the city is not yet at pre-pandemic levels, the projected occupancy rates are higher than those from 2020, when a majority of the country was shut down due to the ongoing crisis.
On the other hand, the data also shows that projected occupancy rates for home sharing are much higher than in previous years. According to the data, Miami is projecting 74 percent occupancy rates for home sharing in March and 66 percent for April. Prior to the COVID-19 pandemic, Miami saw home sharing occupancy rates of 58 percent and 48 percent for March and April.
GMCVB Chief Operating Officer Rolando Aedo told Newsweek that the increase in occupancy rates from the previous year shows that "people are returning to travel in a very gradual and deliberate way."
Aedo explained to Newsweek that Miami saw its lowest occupancy rate in April 2020, which came after hotels in the city closed down due to COVID-19. According to Aedo, the city saw a low of 11 percent occupancy in April, but this number has continued to rise on a weekly basis.
"Every week was an increase," Aedo said. "We actually hit about 75 percent occupancy about two weeks ago."
Aedo told Newsweek that on the week ending on March 6, Miami reported a 66 percent occupancy rate, while the same week in 2019 had a 75 percent occupancy rate.
As Miami's occupancy rates have increased over the past months, Aedo noted that the city has continued to take extra precautions because of the pandemic, so "that whatever volume of spring breakers we do get, the message is clear that we want them to vacation responsibly in our destinations."
In an effort to attract more tourists as COVID-19 cases dwindle, the city launched a roughly $5 million campaign called "MIAMILAND." According to the GMCVB, the campaign achieved 161,833 hotel bookings and nearly $100 million in hotel revenue.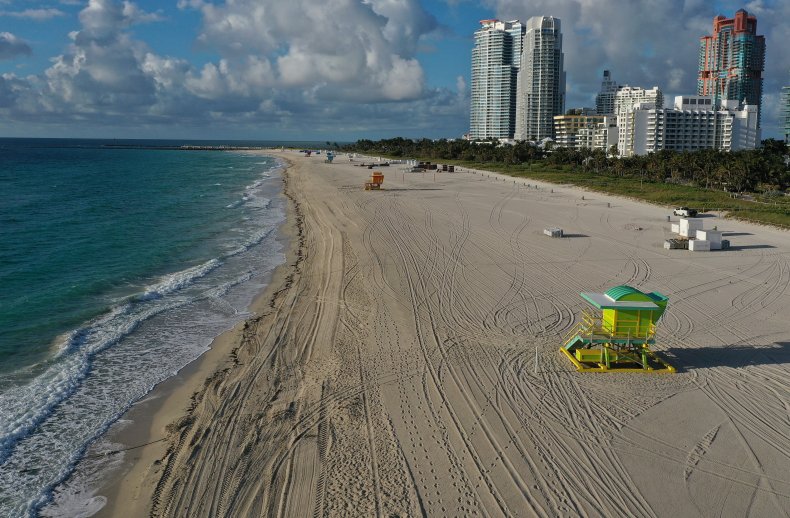 Aedo told Newsweek that the MIAMILAND campaign has been "quite frankly, probably the most successful marketing and advertising program that we've done in the history of the bureau."
In addition to Miami, several other spring break destinations are also projecting an increase in travelers from the previous year.
Daryl Cronk, a senior director of market research for Visit Orlando, stopped short of saying that the city will return to pre-COVID levels but told Newsweek that the area "should be well above last year."
"Last year the pandemic onset, unfortunately, coincided with the spring break period and so some of our lowest occupancy rates happen to be around that late-March and April time frame," Cronk said. "We were seeing occupancy rates as low as 12 to 15 percent. This year we've looked back at the December holiday period from Christmas to New Year's where we were in the low 50's. So I look at that as kind of the baseline or benchmark and I'm confident, based on what we're hearing that we'll hit those levels."
While Orlando is expecting an increase in travelers during the spring break period, Cronk noted that "it's way better than where we were this time last year."
Similar to Miami, Orlando has also launched a campaign to encourage tourists to travel to the city as COVID-19 cases have started to decline, titled "The Wonder Remains" campaign. According to Visit Orlando, the $8 million campaign was first launched in February and has been extended through June.
"Even though it's only been running for about two months now, it looks like the campaign, we've been able to track about $2.5 million in visitor spending that could be related to bookings tied to the campaign," Cronk told Newsweek. "So, that's just a very preliminary number and that number will continue to grow."
Two other popular spring break destinations, Gulf Shores and Orange Beach, Alabama, are also expecting occupancy rates similar to those prior to the pandemic, according to data provided to Newsweek from the Gulf Shores and Orange Beach tourism bureau.
The data only shows vacation rentals in both Gulf Shores and Orange Beach, which make up 85 percent of lodging in both areas. According to the data, the two cities, known for their white sand beaches, are projecting about 60 percent occupancy for all of March, and an average of 73 percent for the weeks of March 15 and March 29. The occupancy rates for March are similar to those that were recorded in March 2019, before the pandemic hit the U.S.
"For April, we are hovering just below 30 percent, but that is normal and expected after the mass of spring breaks have taken place," a spokesperson for Gulf Shores and Orange Beach tourism told Newsweek.
Panama City Beach is another popular spring break destination for families and couples. The city was previously a known area for college spring breakers, but in 2015 they announced an alcohol-ban on the beach for the month of March.
Dan Rowe, President and CEO of Visit Panama City Beach, told Newsweek via email that "bookings are looking very strong this spring through the summer season."
"Now that vaccinations are more prevalent across the country, we are seeing great traction in reservations across our portfolio of accommodations," Rowe added. "We still encourage everyone to vacation responsibly by wearing masks and social distancing as appropriate."
Park City, Utah, a spring break destination for skiiers, is also expecting a rise in hotel occupancy rates for the upcoming week when compared to 2020.
Dan Howard, director of communications for Visit Park City, told Newsweek that hotels are currently reporting occupancy rates around 50 percent for the week beginning on March 29. According to Howard, during the same week in 2020, the occupancy rate was around 30 percent.