Spring Breakers Party on South Padre Island Sans Masks as Texas Reopens, Lifts Mandate
With spring break season now underway, popular warm-weather destinations are beginning to see the usual crowds of young people who arrive annually around this time of year. Videos shared on social media this week confirmed Texas' South Padre Island is one spring break locale currently experiencing a resurgence of packed beach parties, as clips showed groups of seemingly college-aged individuals gathered along the shoreline.
Those captured in Instagram videos posted by Clayton's Beach Bar—a venue that has promoted an extensive upcoming event lineup online in preparation for the expected attendance spike—can be seen standing closely together while talking, drinking and celebrating. None are wearing face masks, which is permitted statewide in Texas as of Wednesday.
Texas Governor Greg Abbott announced his plans to lift coronavirus mitigation orders, previously implemented across the state to reduce transmission risks, last week. The Republican leader's directive formally took effect Wednesday, terminating Texas' mask mandate, and permitting businesses to resume operations at full capacity.
Abbott's move faced criticism from politicians and public health experts, including President Joe Biden's chief medical adviser, Dr. Anthony Fauci, who warned that officials are "inviting" an oncoming spike in COVID-19 cases by rescinding safety requirements. The mask mandate's expiration coinciding with spring break season has given rise to mounting concerns, especially considering the steep increase in virus infections that followed similar celebrations in 2020.
Hours before Abbott's mask repeal became effective at midnight local time on Wednesday, South Padre Island Mayor Patrick McNulty signed an additional order walking back social distancing restrictions that formerly dictated spacing requirements for beach vendors and visitors.
Individual business across Texas retain rights to continue requiring patrons to wear masks and practice social distancing inside their establishments. However, Clayton Brashear, the owner of Clayton's Beach Bar, said he viewed the governor's updated statewide COVID-19 directive as an opportunity to regain profits after a downturn in tourists visiting South Padre Island. In comments to local news station KVEO, Brashear noted that he would not ask customers to wear face masks.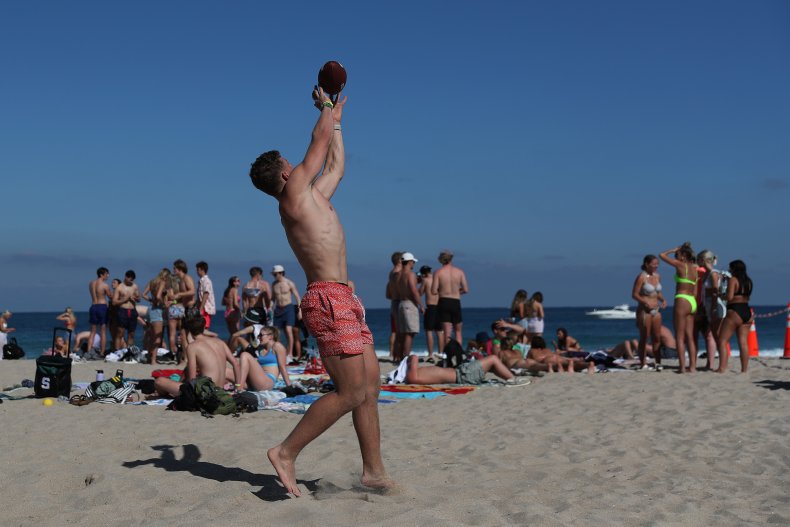 "People are ready to get out again and enjoy their lives," he said, according to the outlet. "On South Padre Island, we rely on tourists...Come on out, have a hamburger, have a piña colada on the beach, enjoy yourself."
Newsweek reached out to McNulty's office and Clayton's Beach Bar for further comments, but did not receive replies in time for publication.