Spring Fire Map: Colorado Wildfire Grows To 38,000 Acres, Arson Suspect Arrested
The latest massive wildfire in Colorado, dubbed the Spring Fire, reached over 38,000 acres Sunday afternoon, Rocky Mountain Incident Management fire officials confirmed. Fueled by high temperatures, strong winds and low humidity, the spreading fire was still zero percent contained.
Burning five miles east of Fort Garland, Colorado, the fire started Thursday. Officials said the cause was under investigation but that it was believed to have been started by human activity. One person was arrested for arson, KXRM reported. Some 275 fire personnel were on scene working toward containment.
Mandatory evacuation orders were in place for communities near the fire, including Forbes Park, Wagon Creek Estates, Tres Valles, Paradise Acres, Raspberry Mountain, Pine Haven and the Cuchara Valley. Under pre-evacuation orders were La Veta, Navajo Ranch subdivision, parts of Pinon Hills and Majors Ranch, and areas east and north of Trichera Ranch Road and south of Highway 160, according to KXRM. Highway 160 and Highway 12 were both closed.
At least two evacuation centers were set up, including one at the Huerfano Community Center and one at the Blanca Fort Garland Community Center. Evacuation centers for animals were open at the Las Animas County Fairgrounds and the 4H barn in La Veta.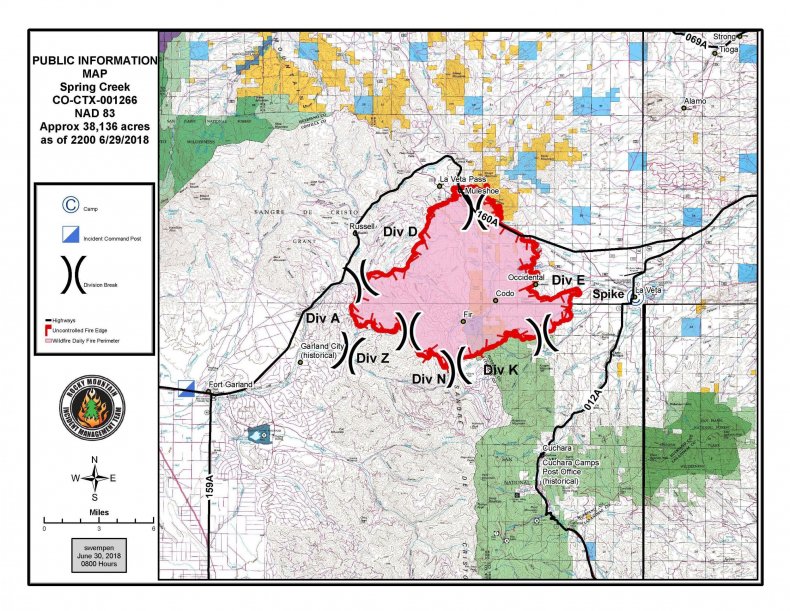 Fire officials said their main priority was protecting homes at risk from the flames. It was unclear whether any had been destroyed or damaged, but the sheriff's office said it would begin to identify lost structures over the next several days.
Forecasts predicted continued hot, dry and windy conditions Saturday–prime conditions for a spreading wildfire.
At least 11 other wildfires were burning in Colorado this week, aided by weather conditions. Another new wildfire, in Teller County, was reported Friday afternoon, prompting evacuations and pre-evacuations in the Florissant area.