Spring Freeze Damages French Wine Production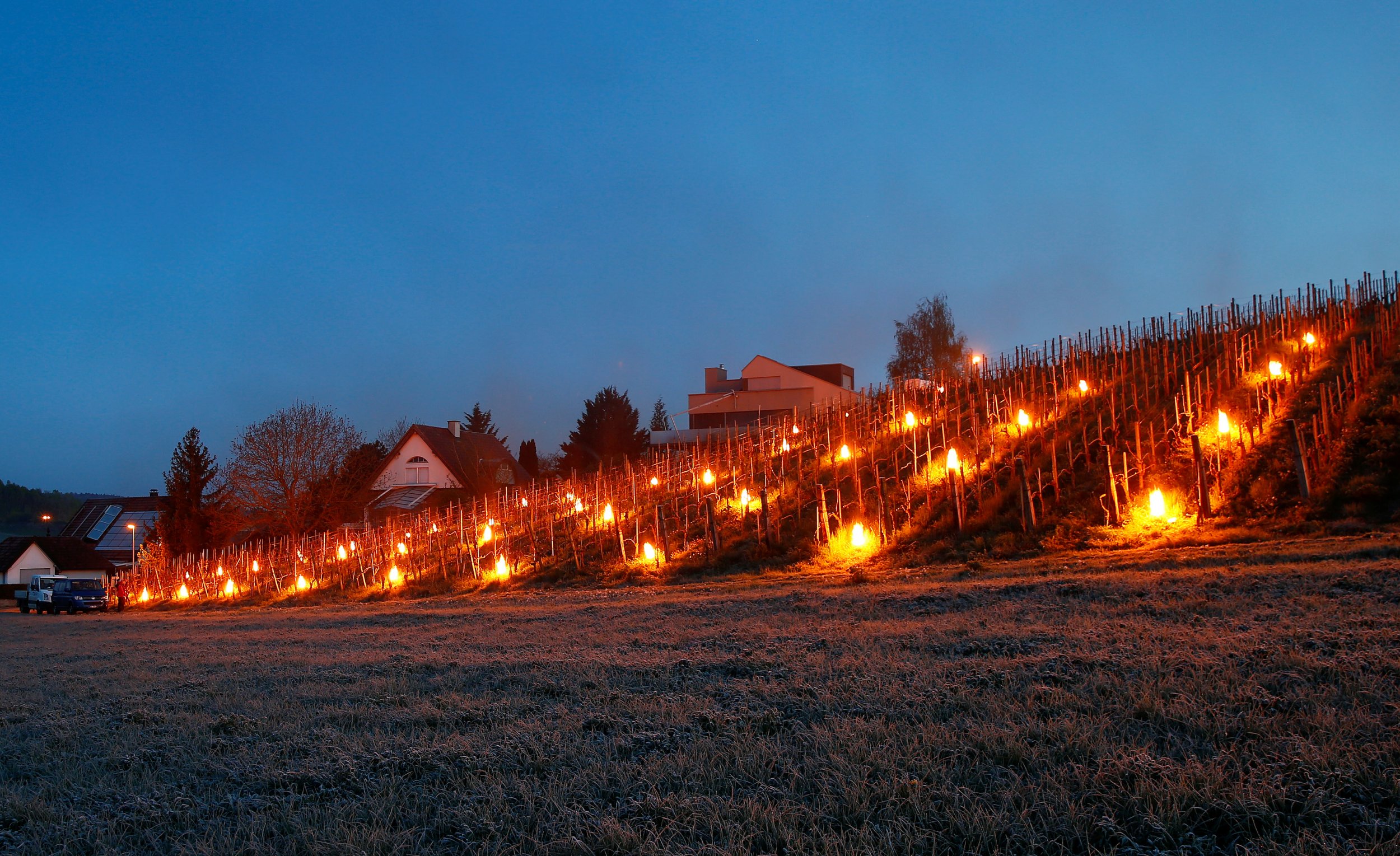 Sharp spring frosts are damaging production in some of France's most famous winemaking regions, including Champagne, Bordeaux and Burgundy, posing a threat to growers' incomes.
Vineyards report temperatures plunged in all three regions last week, sometimes to below 19°F, hurting shoots already well-developed because of earlier mild weather, and growers fear a new cold snap could cause more damage.
They have been using candles, heaters and even the down-draught from helicopters to try to save crops.
"All areas of the Champagne are hit to very varying degrees," said Thibaut Le Mailloux from the Champagne Committee (CIVC) industry group. "It's too early to estimate the extent of the damage, but the frost impact is worse than last year's."
France's total wine output fell 10 percent last year due to adverse weather conditions. Champagne was the worst hit, with the harvest down more than 20 percent on the previous year due to spring frosts followed by other problems such as mildew.
CIVC said that on average 20 to 25 percent of vine shoots had been destroyed in Champagne by Tuesday, against 14 percent last year. That estimate did not take into account potential damage from overnight frosts in the past two days.
Le Mailloux noted, however, that producers could use reserves from previous harvests if necessary. Unlike many other wines, Champagne is often made of wine from several harvests.
In the Bordeaux region, farm unions estimated that several thousand hectares of vineyards across the region, out of a total of 115,000 hectares, had been hit by last week's frosts, with some experiencing damage between 50 and 100 percent.
"Today we are likely seeing the most important freeze since 1991. And there are more frosts forecast for the coming night," Patrick Vasseur, vice chairman of the FDSEA33, the local branch of France's largest farm union FNSEA, told Reuters.
The entire Cognac vineyard has also been severely impacted, industry group BNIC said, calling the situation "very worrying," with new frosts forecast for tonight. A more precise estimate of the extent of the damage will be made next week.
In the Bugey region near Lyon, winemakers said the damage was extensive, with some vineyards totally destroyed.
"The vineyard was three weeks ahead in its growth, shoots were already well developed. Frost destroyed everything—shoots are dead," Julien Hubail, expert at the Bugey wine union, said.
"In winemakers' memory it had never happened, no one had ever experienced such a severe freeze."